Relapse Records this week officially unleashes Flies Will Starve, the anticipated third full-length from Swiss grind battalion MUMAKIL.
As enthusiastic reviews and reactions from internationally-based journalists and media outlets continue to rush in, it's now time for the impact of MUMAKIL's twenty-four track, thirty-six minute bloodbath Flies Will Starve to be witnessed by the public masses. The oppressive percussion on the album only relaxes for a second at a time to build-up the next blinding blast, the jackhammering riffs hurling forth their most death-influenced riffing and ferocious vocal bloodbath, the attack captured at their prime killing capacity, produced by the band at Terrier 5 in Geneva.
Today, Decibel Magazine is hosting an exclusive track-by-track breakdown of each track on Flies Will Starve alongside a stream of the entire gutting album RIGHT HERE.
With several European shows and festival dates confirmed, including a hometown Flies Will Starve record release show in Geneva this Friday, June 28th, more tour plans are coming together to be announced in the coming days.
MUMAKIL Live:
6/28/2013 Moloko – Geneva, Switzerland *Flies Will Starve release party
7/05/2013 Obscene Extreme Festival 15 – Trutnov, Czech Republic
8/11/2013 Sylak Open Air Fest @ Stade Regis Perrin – St Maurice de Gourdans, France w/ Haemorrhage
8/30/2013 La Neuville @ Festival des arts bourrins 2013 – Chant d'Oisel, France
"…you can't question the power. When Mumakil drop a big overhand right… you're going to be floored." – Decibel
"…Flies Will Starve fucking slays… they're carrying a torch for the genre high above the legion of stagnant ne'er-do-wells and posturing thieves. 9/10" – Outburn
"…Mumakil have been blowing my mind for years. Each of their albums are more brutal than the previous and their new album Flies Will Starve is no different." – American Aftermath
"Uber-intense, sound-crushing vicious audio…" – Cvlt Nation
"…while there are potential pitfalls in including so many songs in one album, Mumakil is able to avoid most of them thanks to their proficiency in truly tasty riffage. 8/10" – Dead Rhetoric
"Mumakil has gone for a very modern production style that emphasizes intensity but cleans up the sound a bit, making the bass drum completely tear through the wall of sound and hit you right in the chest." – Cosmos Gaming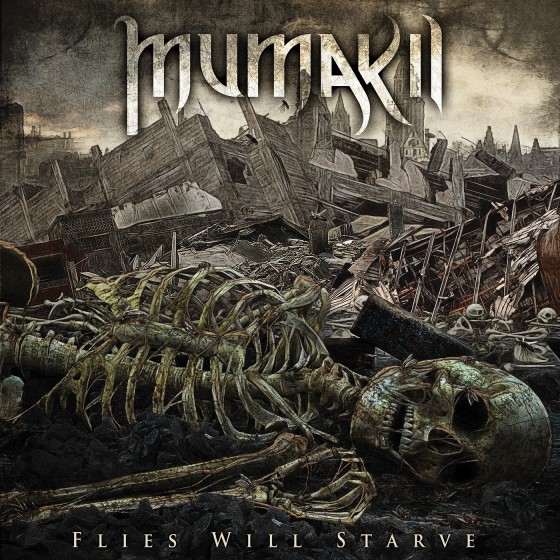 https://www.facebook.com/Mumakil
http://www.relapse.com
http://relapserecords.bandcamp.com
http://www.facebook.com/RelapseRecords