Washington-based power trio MOS GENERATOR will bring their heavy riffing to stages this fall on a US/Canadian headlining tour. Set to commence September 21st in Port Angeles, Washington and run through nearly two-dozen venues upon its conclusion October 13th in Portland, Oregon, the journey includes stops at Descendants Of Crom Fest in Pittsburgh, Pennsylvania as well as Doomed & Stoned Fest in Indianapolis, Indiana. The latest tour follows the band's month-long US trek earlier this year which included sixteen dates supporting Fu Manchu as well as an appearance at the 2018 edition of Hellfest in Clisson, France. See all confirmed dates below.
Comments MOS GENERATOR founding guitarist/vocalist Tony Reed, "This will be our first time out on the road with the new album Shadowlands at the merch table. We were hoping to have them on the Road Rats tour with Fu Manchu in May but that didn't happen, so we'll make it up to you here and make sure to bring plenty. We will be playing a large majority of the new material as well and that's a treat for us. This is also our first tour across Canada. There are some hard drives, but we are excited to get to those territories.
MOS GENERATOR released their Shadowlands full-length in North America earlier this year via Listenable Records. Heavy Blog Is Heavy hailed an, "appetizing, fun slab of heavy rock songs that should please any fan of the genre," while Metal Nexus championed an album of, "…power, melody and heart… classic rock, infused with stoner tendencies and superb musicianship." Shadowlands was recorded in three sessions – June 2017, November 2017 and January 2018 – at the HeavyHead Recording Company in Port Orchard, Washington and comes swathed in the cover art of Adam Burke (Pilgrim, Satan's Satyrs, Hooded Menace, Artificial Brain et al).
Stream Shadowlands in full below.
Find physical ordering info at THIS LOCATION or HERE. For digital orders go HERE.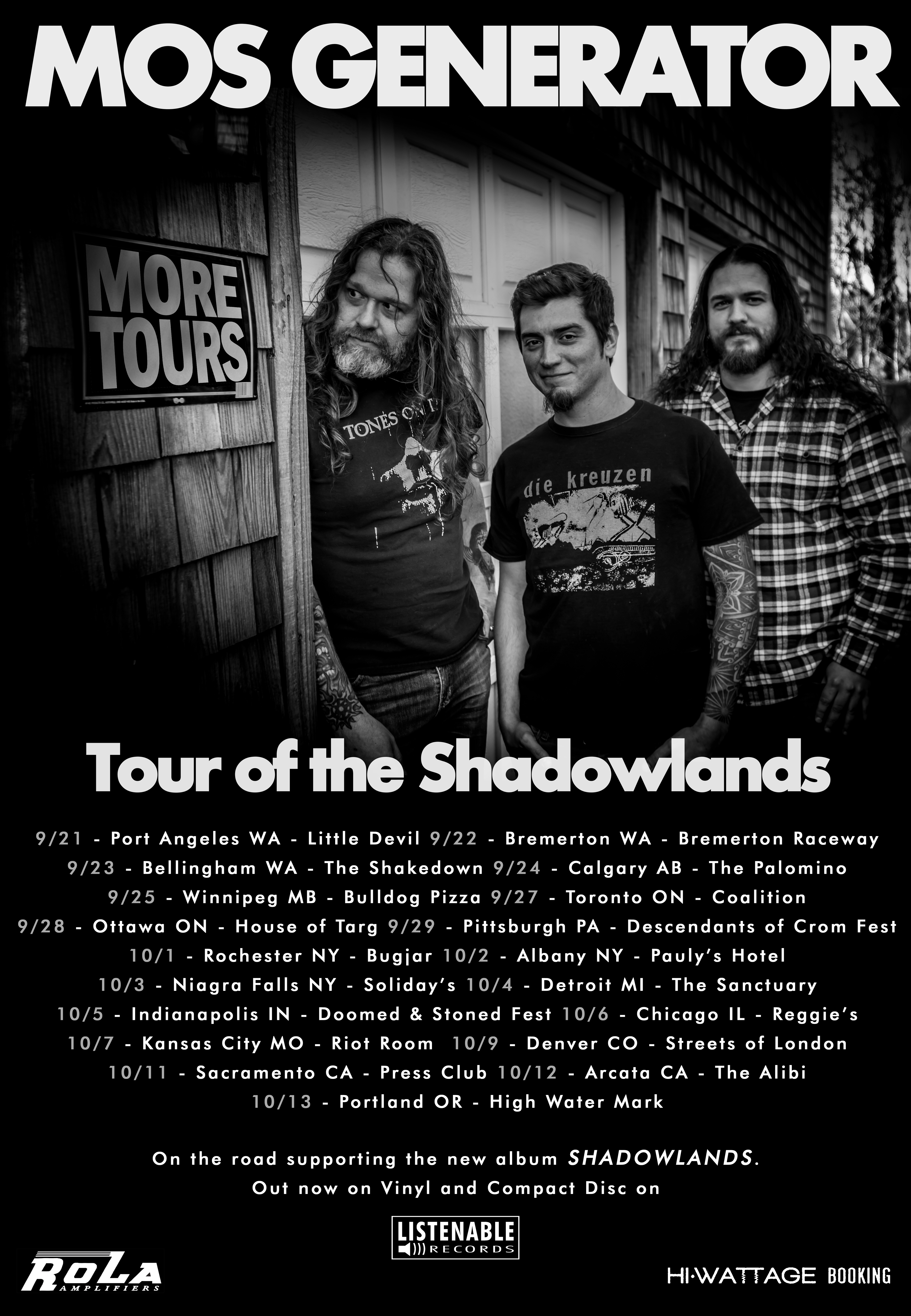 MOS GENERATOR – Tour Of The Shadowlands 2018:
9/21/2018 Little Devil's Lunchbox – Port Angeles, WA
9/22/2018 Bremerton Raceway – Bremerton, WA
9/23/2018 The Shakedown – Bellingham, WA
9/24/2018 The Palomino – Calgary, AB
9/25/2018 Bulldog Pizza – Winnipeg, MB
9/27/2018 Coalition – Toronto, ON
9/28/2018 House Of Targ – Ottawa, ON
9/29/2018 Descendants Of Crom Fest – Pittsburgh, PA
10/01/2018 Bug Jar – Rochester, NY
10/02/2018 Pauly's Hotel – Albany, NY
10/03/2018 Soliday's – Niagara Falls, NY
10/04/2018 The Sanctuary – Detroit, MI
10/05/2018 Doomed & Stoned Fest – Indianapolis, IN
10/06/2018 Reggie's – Chicago, IL
10/07/2018 Riot Room – Kansas City, MO
10/08/2018 Lookout Lounge – Omaha, NE
10/09/2018 Streets Of London – Denver, CO
10/11/2018 Press Club – Sacramento, CA
10/12/2018 The Alibi – Arcata, CA
10/13/2018 High Water Mark – Portland, OR
MOS GENERATOR formed during the wWinter of 2000 in Port Orchard, Washington from the ashes of a decade-long on-again-off-again collaboration between its three members, all of which are long time veterans of the road and studio. The need to strip down to the basics of hard rock was apparent from the start and continues to be the foundation for the band's recent material.
MOS GENERATOR has released seven studio albums, a retrospective album, a live album, and a plethora of split releases. 2015 brought in a new rhythm section and touring possibilities far beyond the limitations of the original lineup. This new lineup has changed the band into a relentless touring machine, delivering critically-acclaimed performances both states and abroad.
"The title track is a bluesy, fun rocker, demonstrating exactly why MOS GENERATOR have become a fixture in the underground." – Decibel
"…if 'Shadowlands' at the beginning of the album is depression, then surely 'Gamma Hydra' is the accompanying mania….From the hard-driving opening salvo of 'Shadowlands,' 'The Destroyer,' and 'Drowning In Your Loving Cup,' down through the frenetic payoff of 'The Wild & Gentle Dogs,' MOS GENERATOR prove once again to be a group unto themselves in the quality of their work and the clear-headedness with which they execute their creative will." – The Obelisk
"Shadowlands opts for a heavier direction without losing sight of MOS GENERATOR's '70s rock roots." – Sputnik Music
"…a fun, energetic album…" – Mxdwn
"…in terms of mindset, Shadowlands may be one of their darkest records thus far." – Riff Relevant
"There's something to be said about an album that not only lasts multiple play-throughs, but instills the urge to immediately run it through again…" – Metal Assault
"The almost effortless brilliance that is displayed by MOS GENERATOR on Shadowlands is nothing short of awe inspiring…. If you dig Fu Manchu, Black Rainbows, Orange Goblin or the like and you aren't familiar with this band, you need to be…" – Outlaws Of The Sun
"Never cumbersome as the album falls into a tidy under forty-minute vinyl timeframe, Shadowlands gives listeners another US band unafraid to take Ozzy-era Sabbath and add in that southern/stoner/bluesy charm to make quite a final product that entertains and translates easily live." – Dead Rhetoric
"…genuine and consistent MOS GENERATOR, delivering classic and melodic heavy rock with Tony Reed's fine voice and guitar leading the way. Get your groove on and get the album. Recommended." –Danger Dog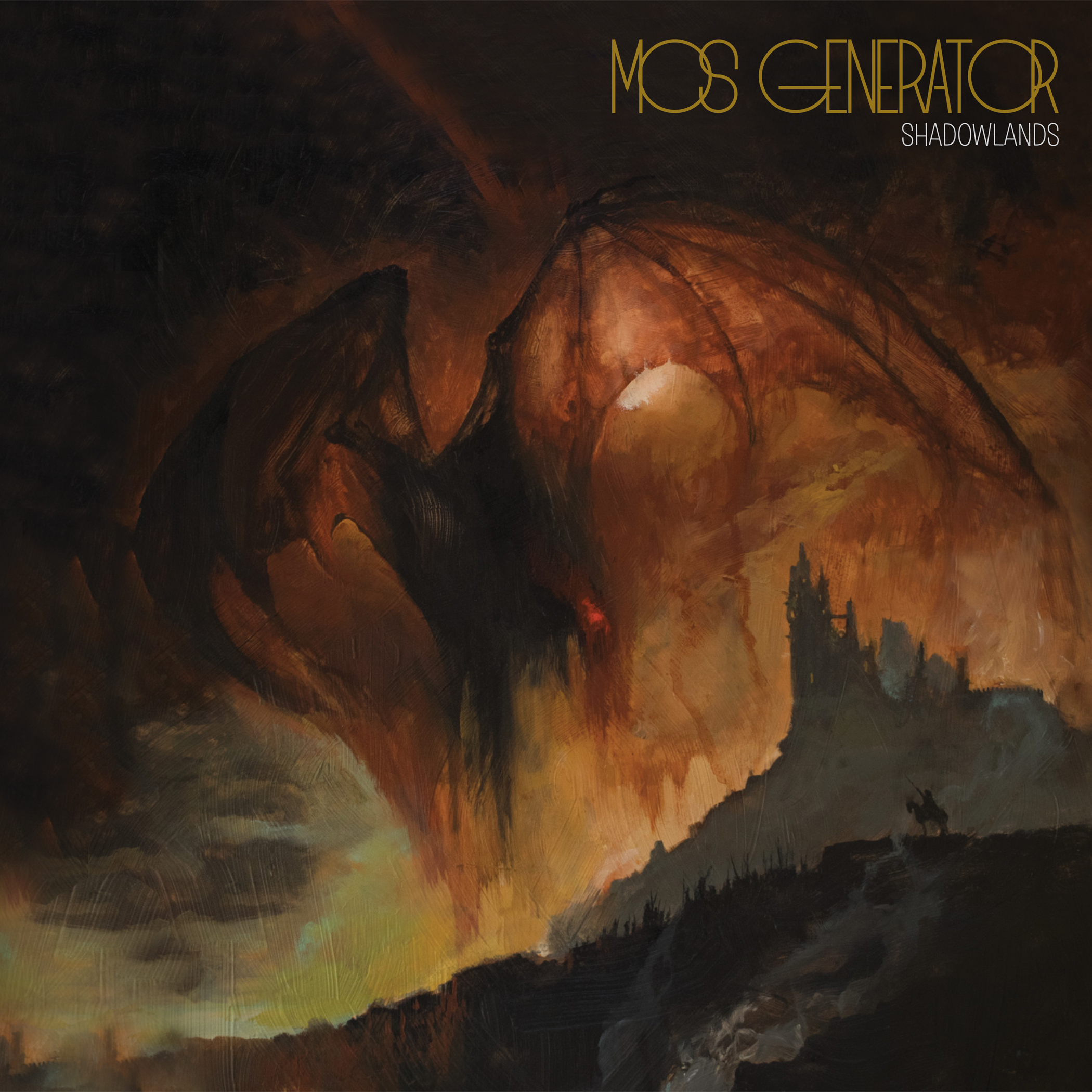 http://www.facebook.com/MosGenerator
http://www.instagram.com/mos_generator
http://www.facebook.com/listenablerecs
http://www.listenable.net