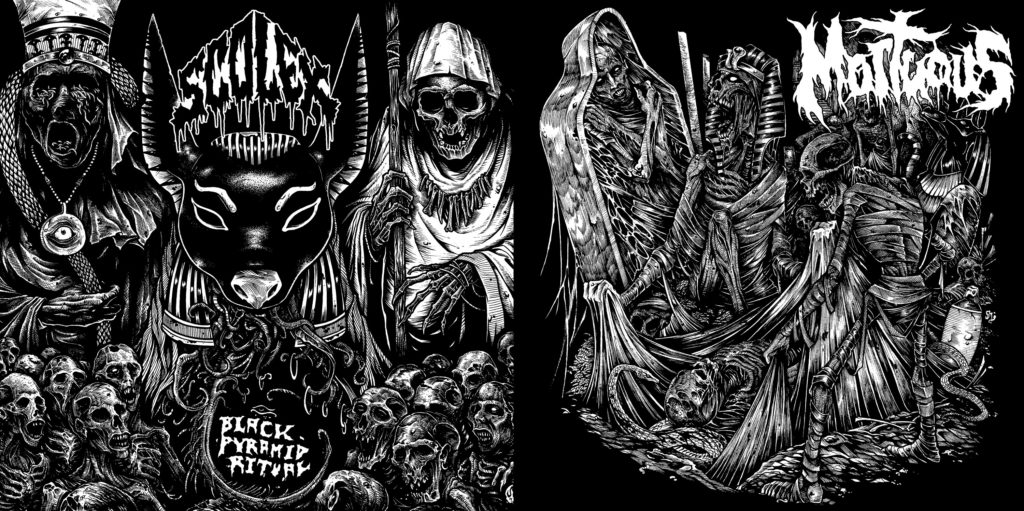 The death dealers in San Jose's MORTUOUS and Oakland's SCOLEX recently united to release a split seven-inch of barbaric heaviness. Set to drop via the newly-launched Carbonized Records, spearheaded by MORTUOUS drummer Chad Gailey (Necrot), the limited two-song offering will see official release on October 31st and be available in two color variants – 250 gold and 250 black.
SCOLEX's mutinous ode was recorded by Salvador Raya and Greg Wilkinson (Vastum, Noothgrush, Autopsy) at Earhammer Studios in 2012 and 2017 and mixed by Wilkinson in October 2017. MORTUOUS' ripper was also recorded and mixed by Wilkinson at Earhammer in March 2018. The release was mastered by Dan Randall (Ghoul, Fucked Up) at Mammoth Sound Mastering in May 2018 and comes swathed in the grisly art of Sebastian Mazuera.
For preorders, visit the Carbonized website at THIS LOCATION.
Split Track Listing:
SCOLEX – Black Pyramid Ritual
MORTUOUS – Desiccated
MORTUOUS was forged in San Jose, California in 2009 from the ashes of guitarist Colin Tarvin's previous project Funerealm. Tarvin began writing music in the vein of Incantation, Autopsy, and Viogression with lyrics centered heavily on philosophical views on death and anti-technological themes. Later that year he released the Mors Immortalis demo on Skeleton Plague Records which received praise and recognition throughout the underground death metal community. By 2010, MORTUOUS had a full lineup which included former Exhumed members Col Jones and Mike Beams as well as Al Tarvin-Kibler, and Nick Scarboro. In 2013, the band parted ways with Tarvin-Kibler, and Scarboro and recruited bassist Clint Roach. Drummer Chad Gailey of Necrot joined the fold that following year completing the band's current incarnation. MORTUOUS released the bestial fruits of its Through Wilderness debut in North America earlier this summer via a joint partnership between Carbonized and Tankcrimes Records.
SCOLEX was formed in Oakland, California's in 2010 by drummer/vocalist Justin Green (Extraction, ex-Population Reduction, ex-Ghoul) and bassist/vocalist Erika Osterhout (Necrosic, Trepanation, ex-Extremity, ex-Lycus). Handling guitar duties themselves with occasional guest appearances from Danny Coralles of Autopsy, the duo recorded four tracks of doomy, punk-influenced death metal in late 2011, and released "Torn From Beyond" as a twelve-inch mini-LP on Osterhout's own label, Lunar Tomb Records. With a live lineup in place, SCOLEX did several mini-tours through 2012 and 2013 with bands like Necrot and Undergang. The band went on hiatus shortly thereafter but kept busy with other projects including Femacoffin, Extraction, and Necrosic.
In 2018, SCOLEX returned with a new lineup featuring guitarists Sonny Reinhardt (Necrot, Saviours) and Paul Riedl (Spectral Voice, Blood Incantation) for a West Coast tour with Acephalix, Mortiferum and Fetid. With an exclusive European appearance at Killtown Deathfest and their impending split with MORTUOUS, SCOLEX is back and heavier than ever. Fans of Autopsy, Nihilist/Entombed, and Runemagick pay heed.
http://www.facebook.com/Mortuous
http://www.mortuousdeath.bandcamp.com
http://www.instagram.com/mortuous
http://www.facebook.com/DeathMetalScolex
http://www.scolexdeathmetal.bandcamp.com
http://www.facebook.com/Carbonized-Records
http://www.carbonizedrecords.bandcamp.com
http://www.carbonizedrecords.storenvy.com