France's unconventional rock/fusion trio, MORGLBL, will release their sixth full-length later this month via Free Electric Sound, a division of The Laser's Edge. Two weeks early, a new single from the volatile Tea Time For Punks album has been issued to the public through a premiere of opening track, "Banjovi."
Comprised of guitarist Christope Godin, bassist Ivan Rougny, and drummer Aurelian Ouzoulias, MORGLBL's virtually vocal-free exploratory musical concoctions, and madcap jazz/jam metal fusion energy have been infiltrating the airwaves for over eighteen years, and while Tea Time For Punks doesn't deviate from their standard formula, the album delivers it all with more astounding creativity than ever. The album was recorded during December 2014 — drums by Vincent Thermidor at Studio TF, guitars at Gnõ-Gnõ Studio and bass at Van's Studio — mixed by Enzo d'Agostino at Elia Studio and mastered at Conkrete Studio by Mobo, and delivers over an hour of nonstop freakshow entertainment fit for virtually any open-minded rock fan.
In advance its release, the album-opening "Banjovi" has been issued by Heavy Blog Is Heavy in an exclusive premiere. Offers the site's write-up accompanying the track of MORGLBL, "While the name might confuse some, I think it attributes itself to the music, and how hard it is to classify this group. They have equal parts funk, metal, and prog, and their style is executed extremely well."
Stream "Banjovi" by MORGLBL via Heavy Blog Is Heavy now at THIS LOCATION.
PureGrainAudio previously issued the album's "God Shaved The Queen" RIGHT HERE.
Envision equal parts vocal-free fusion and crushing metal power chords, then inject a healthy dose of tongue-in-cheek humor, like Primus, Steve Vai, Allan Holdsworth and Frank Zappa in a high-speed blender, and you've got a grip on what Tea Time For Punks beholds.
Free Electric Sound, the instrumental subdivision of progressive rock/metal label group, The Laser's Edge, will release Tea Time For Punks digitally and on CD worldwide on May 26th. Stand by for further music and info on the album to see release in the coming days.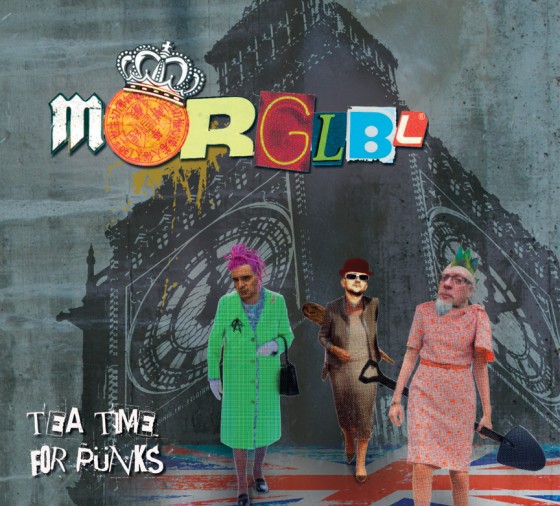 http://www.morglbl.com
http://www.lasersedgegroup.com/labels/free-electric-sound
http://www.facebook.com/TheLasersEdge
http://twitter.com/thelasersedge