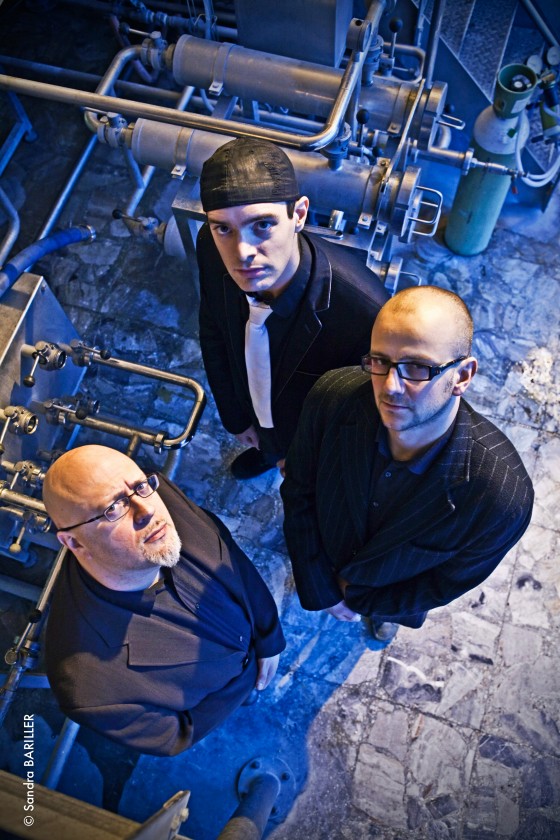 As Free Electric Sound prepares Tea Time For Punks — the explosive sixth album from French fusion trio, MORGLBL — to hit late this month, today a brand new track, "God Shaved The Queen," has been released through PureGrainAudio.
Comprised of guitarist Christope Godin, bassist Ivan Rougny, and drummer Aurelian Ouzoulias, MORGLBL has become known throughout the cosmos for their exploratory energy and bizarre musical concoctions, their madcap jazz/jam metal fusion style virtually void of vocals, but their tunes communicating a language all their own. Having toured extensively around the entire globe, the band has successfully performed all over Europe, and has raided the United States, Russia, China and more, sharing the stage with the likes of Liquid Tension Experiment, Bumblefoot, and Umphrey's McGee among countless others.
Now in their eighteenth year as a unit, MORGLBL prepares their thunderously sixth studio full-length Tea Time For Punks for release through Free Electric Sound, the instrumental subdivision of progressive rock/metal label group, The Laser's Edge. These three virtuosos are well endorsed clinicians and have developed a following individually but when they come together the fireworks really start. Tea Time For Punks doesn't deviate from the tried and true MORGLBL formula, just delivers it with more astounding creativity than ever, aiming to capture new fans through their new US label partner. Envision equal parts vocal-free fusion and crushing metal power chords, then inject a healthy dose of tongue-in-cheek humor, like Primus, Steve Vai, Allan Holdsworth and Frank Zappa in a high-speed blender, and you've got a grip on what Tea Time For Punks beholds.
The first single from Tea Time For Punks is playing at PureGrainAudio; swing by to check out the exclusive stream of "God Shaved The Queen" now at THIS LOCATION.
Recorded during December 2014 — drums by Vincent Thermidor at Studio TF, guitars at Gnõ-Gnõ Studio and bass at Van's Studio — Tea Time For Punks was mixed by Enzo d'Agostino at Elia Studio and mastered at Conkrete Studio by Mobo. Completed with artwork by Pierre Bernard and Peter Puke including a collage by Puke, Tea Time For Punks boasts over an hour of nonstop freakshow entertainment fit for virtually any open-minded rock fan.
Free Electric Sound will release the album digitally and on CD worldwide on May 26th. Stand by for further music and info on the album to see release in the coming days.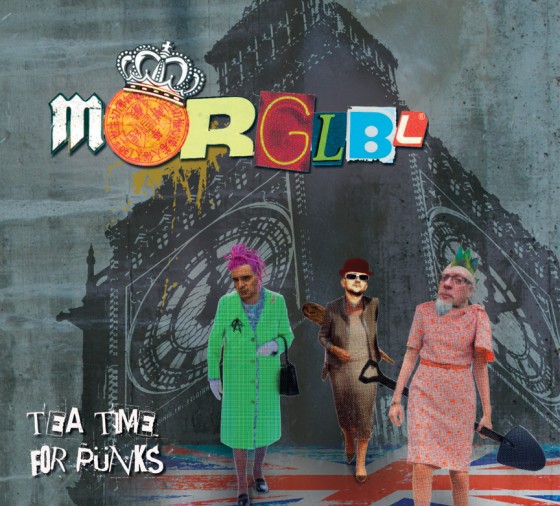 Tea Time For Punks Track Listing:
1. Banjovi
2. Rood
3. Tea Time For Punks
4. Chinese Buffet
5. Mariachi's Burger
6. Untoon That Geetar
7. Far Tea Time
8. Treeball
9. God Shaved The Queen
10. Atomic Tom Mohawk
11. Big Ben Shaved The Queen Interlude
"Crazy French phenomenon Christophe Godin applies his nothing short of bonkers rock guitar abilities to this ferocious yet tongue-in-cheek display of post-Vai/Zappa composition and musicianship. Jazzy it ain't, but full of immense playing technique and cool tones it most definitely is. Be afraid." – Guitarist Magazine
http://www.morglbl.com
http://www.lasersedgegroup.com/labels/free-electric-sound
http://www.facebook.com/TheLasersEdge
http://twitter.com/thelasersedge