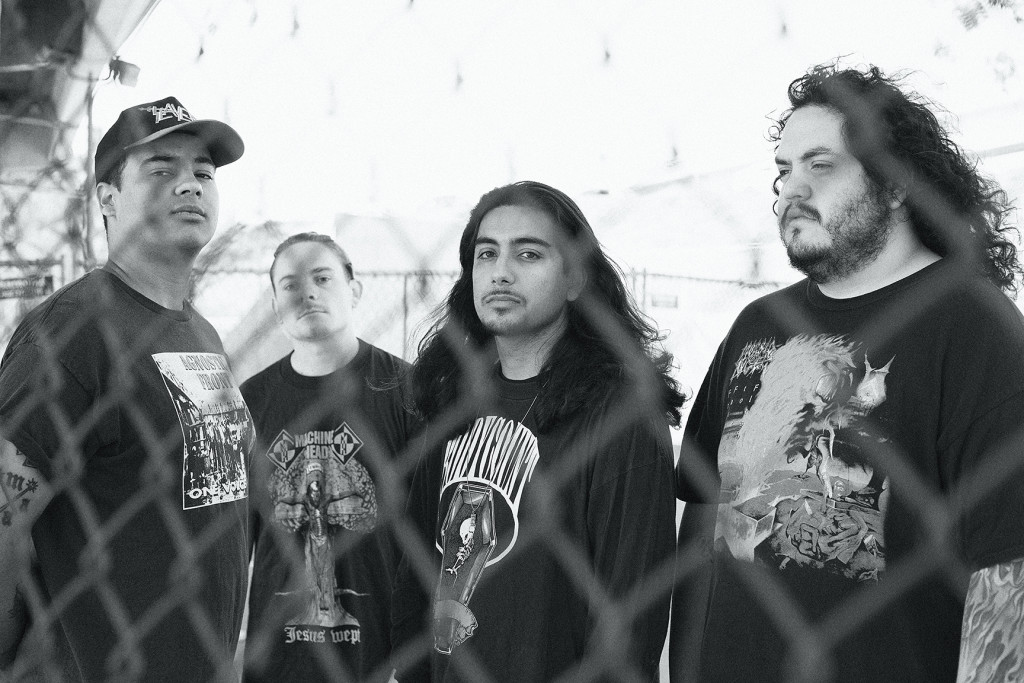 [photo by Nic Samayoa]
Absolute Light, the searing debut LP by SoCal crossover/hardcore quartet, MIZERY, will be released via Flatspot Records this Friday, and advancing its street date, BrooklynVegan is streaming the entire record early.
Formed by ex/current members of Twitching Tongues, Downpresser, Gods Hate, Xibalba, The Beautiful Ones, and others, MIZERY's hard-driven sound falls somewhere in between the direct energy and grit of NYHC icons Cro-Mags, Leeway, and Crown Of Thornz, and the melodic edge of thrashers Megadeth, Anthrax, and Suicidal Tendencies, retaining vintage tones and classic styles yet delivering them with a modernized approach.
BrooklynVegan issues in part alongside the early album stream, "MIZERY have cranked out a fun slice of 80s-flavored crossover, with thrash riffs for days and a healthy balance of hardcore anger and thrashed-out party vibes. Fans of old-standbys like Suicidal Tendencies and Cro-Mags, not to mention contemporaries like Power Trip and Municipal Waste, should find a whole lot to like here."
Stream MIZERY's Absolute Light at BrooklynVegan RIGHT HERE.
Absolute Light drops ten tracks where the hard edge of MIZERY's music contrasts tastefully with the poetic lyrics, influenced by spiritual topics and philosophical questions. Recorded at The Pit Studios with Taylor Young (Nails, Twitching Tongues, Rotting Out), Absolute Light was mixed and mastered by Arthur Rizk (Power Trip, War Hungry) at Solomon's Gate's, bears artwork by Sam Octigan (Iron Mind, Warbrain, Outsiders Code), and features guest vocals by David Wood (Down To Nothing, Terror), Dan Weinraub (Downpresser), and Anthony Herrera (Take Offense).
Flatspot Records will release Absolute Light this Friday, July 22nd, with a European pressing licensed to Reality Records. Preorders can be placed HERE.
Following their set at Sound And Fury 2016 in Los Angeles and a subsequent cross-country tour, MIZERY is preparing to embark on another new run. The next tour will see MIZERY heading out on Merauder's final US tour, which doubles as a twentieth anniversary run for their classic Master Killer album, circling the Eastern half of the country from August 20th through September 2nd, with Homewrecker, Lifeless, and others joining throughout the tour. Additional stateside and European touring is imminent; watch for further updates to be announced.
MIZERY w/ Merauder:
8/20/2016 Strange Matter – Richmond, VA w/ Homewrecker, Left Behind, Purgatory
8/21/2016 Drunk Horse Pub – Fayetteville, NC w/ Homewrecker, Left Behind, Purgatory
8/22/2016 Rockin' Hard Saloon – Myrtle Beach, SC w/ Homewrecker, Left Behind, Purgatory
8/23/2016 The Local 662 – St. Petersburg, FL w/ Homewrecker, Left Behind, Rhythm Of Fear, Purgatory
8/24/2016 Cloud Springs Deli – Ringgold, GA w/ Homewrecker, Left Behind, Rhythm Of Fear, Purgatory
8/25/2016 The High Note – Birmingham, AL w/ Homewrecker, Rhythm Of Fear, Sentenced To Burn
8/26/2016 Walter's – Houston, TX w/ Homewrecker, Rhythm Of Fear, Sentenced To Burn
8/27/2016 RBC – Dallas, TX w/ Homewrecker, Rhythm Of Fear, Sentenced To Burn
8/28/2016 Jackpot Music Hall – Lawrence, KS w/ Lifeless, Rhythm Of Fear
8/30/2016 Beat Kitchen – Chicago, IL w/ Lifeless, Rhythm Of Fear, Detriment
8/31/2016 The Sanctuary – Detroit, MI w/ Lifeless, Rhythm Of Fear, Detriment
9/01/2016 4th Street Bar – Mansfield, OH w/ Lifeless, Rhythm Of Fear, Detriment
9/02/2016 Cattivo – Pittsburgh, PA w/ Lifeless, Rhythm Of Fear, Detriment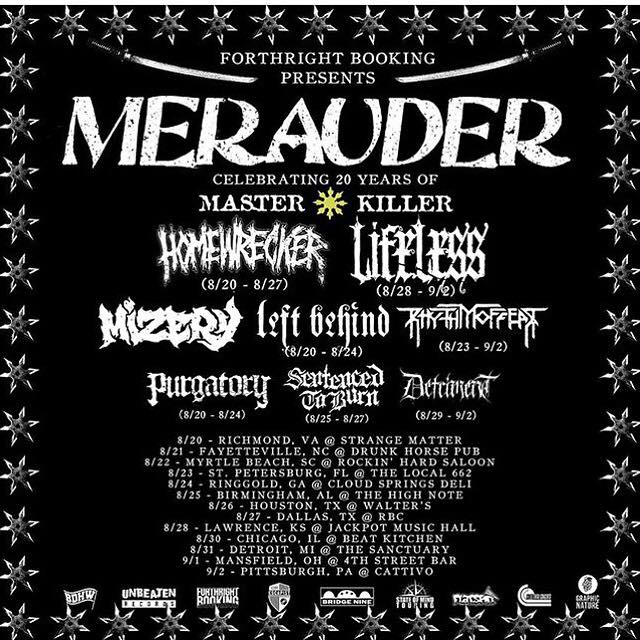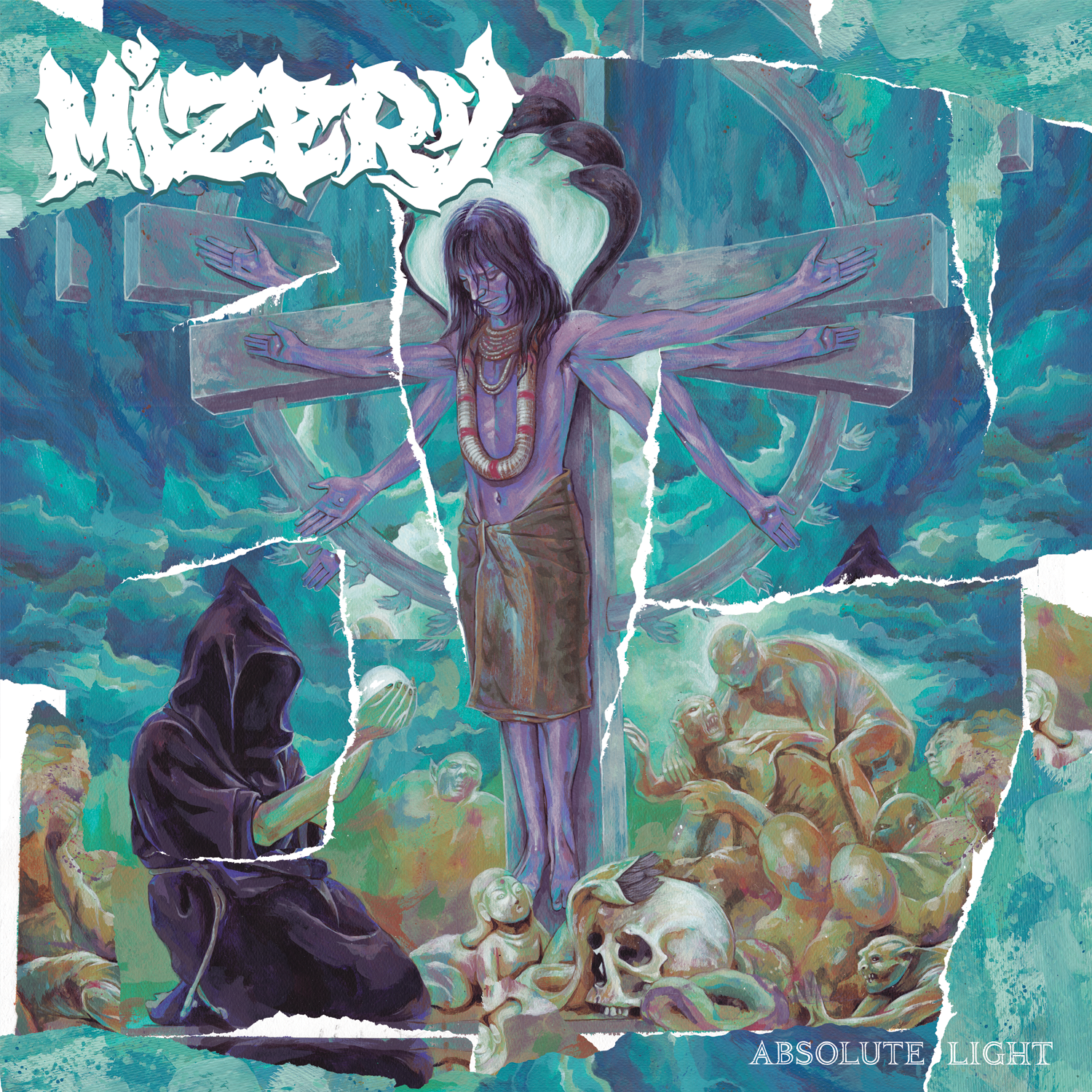 http://www.facebook.com/mizeryhardcore
https://mizeryhardcore.bandcamp.com
http://www.twitter.com/mizeryhardcore
http://www.instagram.com/mizeryhardcore
http://www.flatspotrecords.com
https://www.facebook.com/flatspotrecords
https://flatspotrecords.bandcamp.com