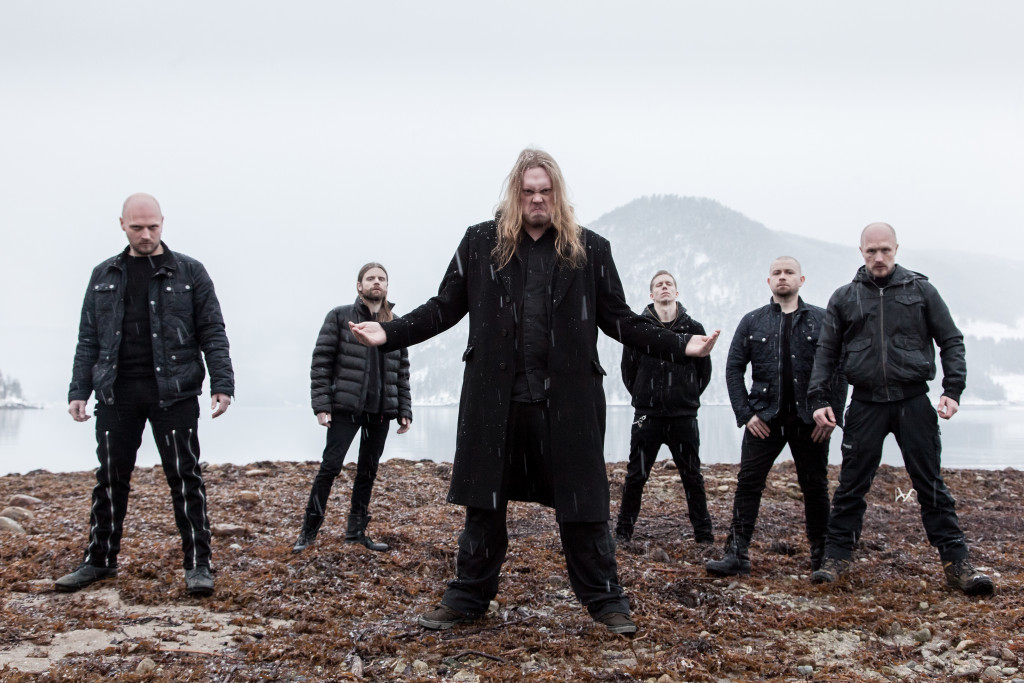 In Memoriam is the latest full-length from MISTUR. Their first record since 2009's lauded Attende offering, In Memoriam sees MISTUR return with a masterpiece fielding long and layered arrangements, clever melodies and progressive elements mixed with its signature brand of "Sogna metal." Already issued in Europe late last month via Dark Essence Records, the label will unleash In Memoriam in North America tomorrow, May 27th, 2016
In celebration of its release, Decibel Magazine is streaming the record in full at THIS LOCATION.
To order In Memoriam, go HERE.
Forged in Sogndal, Norway by Espen Bakketeig and Andre Raunehaug, and joined shortly thereafter by Stian Bakketeig (Vreid, ex-Windir, ex-Cor Scorpii), MISTUR recorded just one demo, before landing a deal with Einheit Produktionen, who would release the band's critically-adored Attende debut in 2009. Apart from some festival shows and a tour however, the band fell dormant for a short time, before the work on the follow up album started.
With new vocalist Oliver Øien and new drummer Tomas Myklebust, MISTUR is back and more potent than ever before. In Memoriam was captured in Conclave and Earshot Studios as well as the band's private studio, produced by MISTUR mainman Espen Bakketeig, and mixed by Bjørnar E. Nilsen (Black Hole Generator, Vulture Industries). With In Memoriam, MISTUR brings new elements into the "Sogna metal" style without losing its unique core. The album is a must for all fans of Windir, but will certainly appeal to devotees of Amon Amarth, Insomnium, and Månegarm.
In a near-perfect 4.5/5 score, Sea Of Tranquility notes, "If your love of black metal leans towards the progressive, symphonic, epic, and adventurous spectrum, you have to check out In Memoriam… it's that simple… a seriously good album, and a welcome return from a truly talented band that are firing on all cylinders." In a 4/5 review, Sputnik Music elaborates, "the 'bigger is better,' or in this case, the 'grandeur is grander, attitude has been taken into account in more ways than just one with MISTUR's latest… Every motif, every change of direction, every placement, all points towards a larger image. The unknown, impending doom induced by MISTUR's ruinous forays is magnificent. It may not extend its arms into the realms of pure ingenuity, but In Memoriam is 2016's Brobdingnagian king." In an 8/10 rating, Soundscape Magazine concurs, "In Memoriam is a great album, and one you'll keep wanting to come back to. A highly recommended listen, particularly for those who are fans of Windir," while Eternal Terror notes in a 5.5/6 verdict, "The dark vocals are superb, while the clean version adds to the national-romantic feel of the music, add flawless sound and production, and MISTUR is definitely a force to be reckoned with, and a serious contender to album of the year." Adds No Clean Singing of the track "Distant Peaks," specifically, "The song really does sound like the majestic soundtrack to a mythic saga – it's panoramic, sweepingly powerful, and warlike, and the guitar and keyboard hooks are sharp as scalpels. When the storming pace slows, the music becomes heart-aching, but no less compelling. The tale told in the lyrics fires the blood, too."
http://www.mistur.no
http://www.facebook.com/Mistur
http://www.darkessencerecords.no