"…a high-speed chunk of ripping death metal that simultaneously grooves and grinds, showcasing MISERY INDEX at their finest." — Decibel on "Rituals Of Power"
Rituals Of Power is the imminent new full-length from long-running American death metal powerhouse MISERY INDEX. Set to drop March 8th via Season Of Mist, the record boasts nine crushing tracks centered around the concept of "truth" and its use throughout history as a means to uphold power, regimes, and ideologies.
In advance of the record's release, Decibel Magazine offers up the official lyric video for Rituals Of Power's title track noting, "The sixth out of nine songs, 'Rituals of Power' is a high-speed chunk of ripping death metal that simultaneously grooves and grinds, showcasing MISERY INDEX at their finest. Oh, and the song is catchy without sacrificing its extremity."
Offers the band, "'Rituals Of Power' represents the album's title track and most musically dynamic offering. We wanted to create something that captured the tension of this modern era; something that conjures visions of civilizational collapse and lost ideals gone astray and embeds them in riffs as monolithic as they are haunting. It is an anthem of hope as much as it is a cautionary tale; an end times farewell letter from the front lines of history. Turn it up and enjoy the ride…"
View "Rituals Of Power," courtesy of Decibel Magazine, at THIS LOCATION.
And check out MISERY INDEX's previously-released video for first single "New Salem" below.

Rituals Of Power will be released in several formats including standard jewel case CD and digitally as well as limited LP, limited cassette, and limited deluxe digibox which includes bonus cover tracks – Nailbomb's "Wasting Away" and M.O.D.'s "Man Of Your Dreams" – as well as a carabiner with key strap and bottle opener, a patch, and three vinyl stickers.
For preorder options visit: shopusa.season-of-mist.com/list/rituals-of-power.
In conjunction with the release, MISERY INDEX will play two shows in Japan with Napalm Death, Eyehategod, and Melt-Banana before heading to Europe for a two week headlining tour with Wormrot, The Lion's Daughter, and Truth Corroded. The Rituals Of Power: Phase 1 tour sees the band traveling through eight countries with a final curtain at the Turock in Essen, Germany. See all confirmed dates below.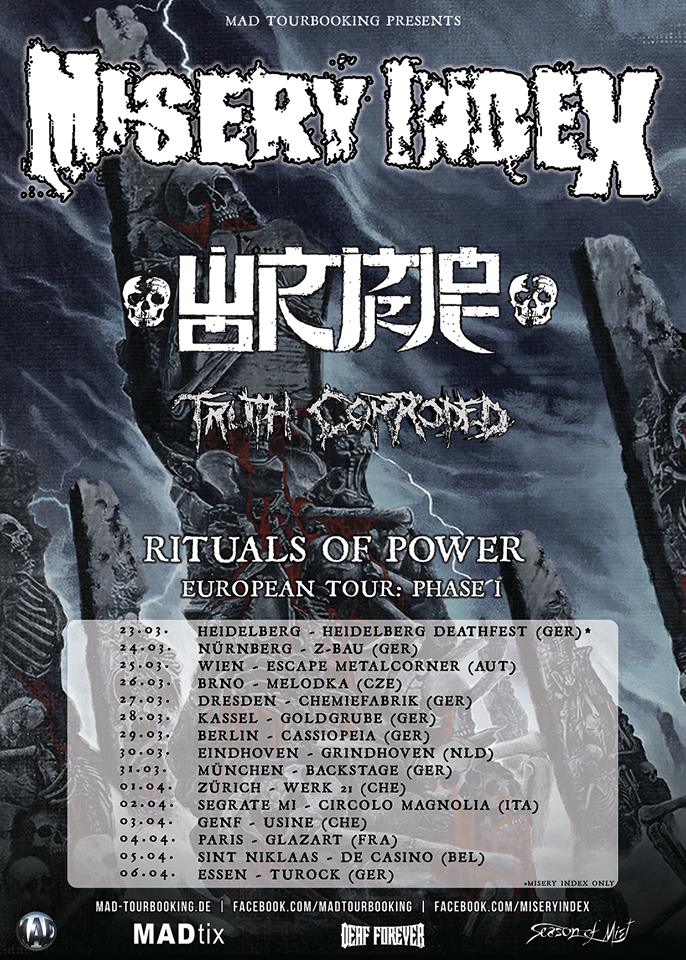 MISERY INDEX – Extreme The DOJO w/ Napalm Death, Eyehategod, Melt-Banana:
3/05/2019 Club Quattro – Osaka, JP
3/06/2019 Club Quattro – Tokyo, JP
w/ Wormrot, The Lion's Daughter, Truth Corroded:
3/23/2019 Heidelberg Deathfest – Heidelberg, DE
3/24/2019 Z-Bau – Nürnberg, DE
3/25/2019 Escape Metalcorner – Wien, AT
3/26/2019 Melodka – Brno, CZ
3/27/2019 Chemiefabrik – Dresden, DE
3/28/2019 Goldgrube – Kassel, DE
3/29/2019 Cassiopeia – Berlin, DE
3/30/2019 Grindhoven – Eindhoven, NL
3/31/2019 Backstage – München, DE
4/01/2019 Werk21 – Zürich, CH
4/02/2019 Circolo Magnolia – Segrate MI, IT
4/03/2019 Usine – Genf, CH
4/04/2019 Glazart – Paris, FR
4/05/2019 De Casino – Sint Niklaas, BE
4/06/2019 Turock – Essen, DE
When their debut EP Overthrow was recorded in 2001 by vocalist and bassist Jason Netherton (ex-Dying Fetus), MISERY INDEX immediately charted a course to explore and push the limits of death metal and grindcore, drawing influence from bands like Morbid Angel, Napalm Death, Terrorizer, Bolt Thrower, and Entombed. By 2003, MISERY INDEX released their debut full-length Retaliate to exceptional reviews followed by numerous support tours and festivals through North America and Europe. After several lineup changes, second album Discordia was released in 2006 with even more touring in its wake. Their third full-length Traitors (2008) reaped raving reactions from both critics and fans and saw the band on the road again until 2009. MISERY INDEX dropped 2010's Heirs To Thievery like a bomb on the death metal masses, shattering all expectations. The album was both a commercial and critical success, elevating the band to headlining slots. During that year, guitarist Darin Morris joined the fold. A string of shows and festivals around the globe followed and on the Munich date of the Full Of Hate Tour alongside Cannibal Corpse and Behemoth, the band recorded their first live album. Released early 2013, Live In Munich perfectly epitomized the rawness and ferocity that MISERY INDEX elevated onto a whole new level with their fifth full-length The Killing Gods in 2014.
With their sixth full-length Rituals Of Power, MISERY INDEX are more furious than ever before. "Rituals Of Power is a disavowal and warning against the consequences of our so-called 'post-truth' age," issues the band. "Each of the nine songs revolves loosely around this theme, yet each track also stands very much on its own. As an album however, they are all brought to life as one 'reanimated' monster; it's roughly thirty-five minutes of unhinged, yet cohesive, riff-driven aural ballistics. We were pissed off and on fire during both the writing and recording, and we think it shows in spades. We set out to write the best album we could, based on what we would want to hear first as fans of this music, and we could not be happier."
MISERY INDEX Recording Lineup:
Jason Netherton – bass, vocals
Mark Kloeppel – guitar, vocals
Adam Jarvis – drums
Darin Morris – lead guitar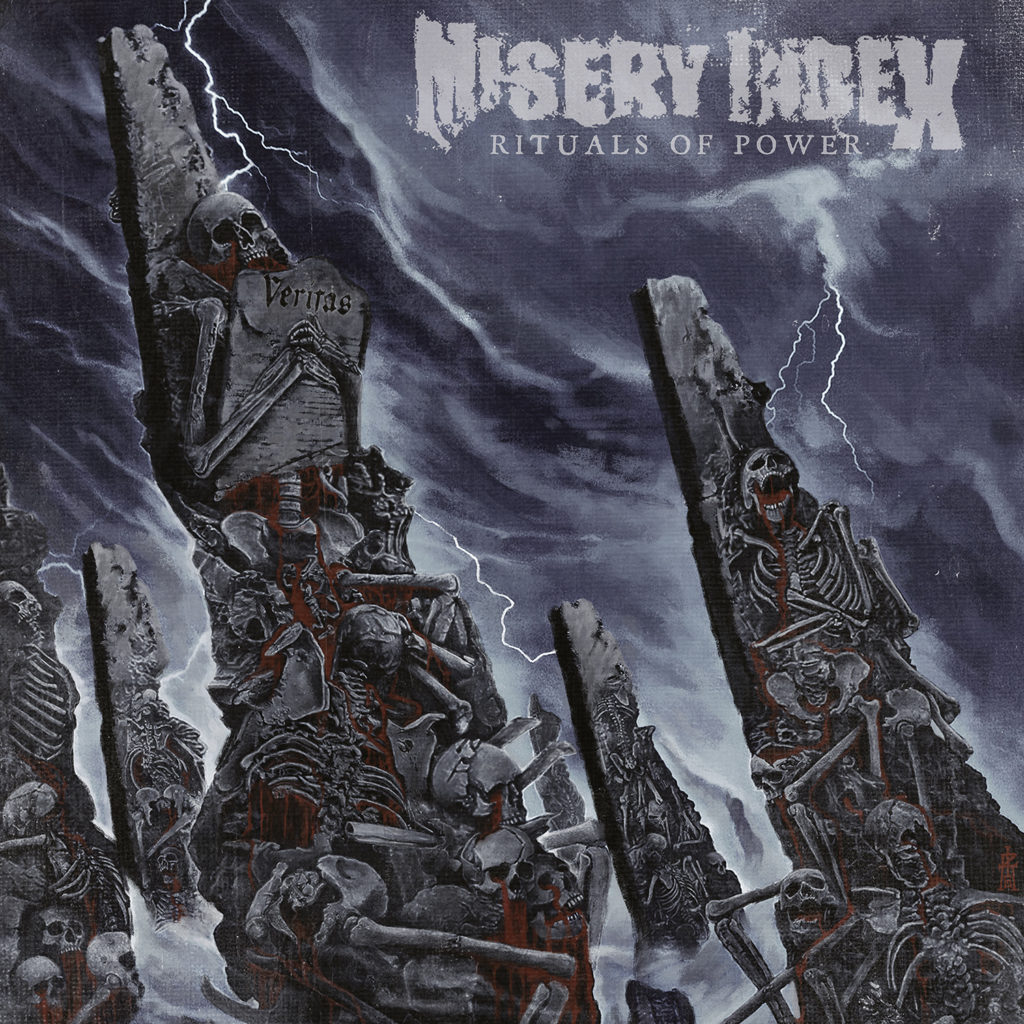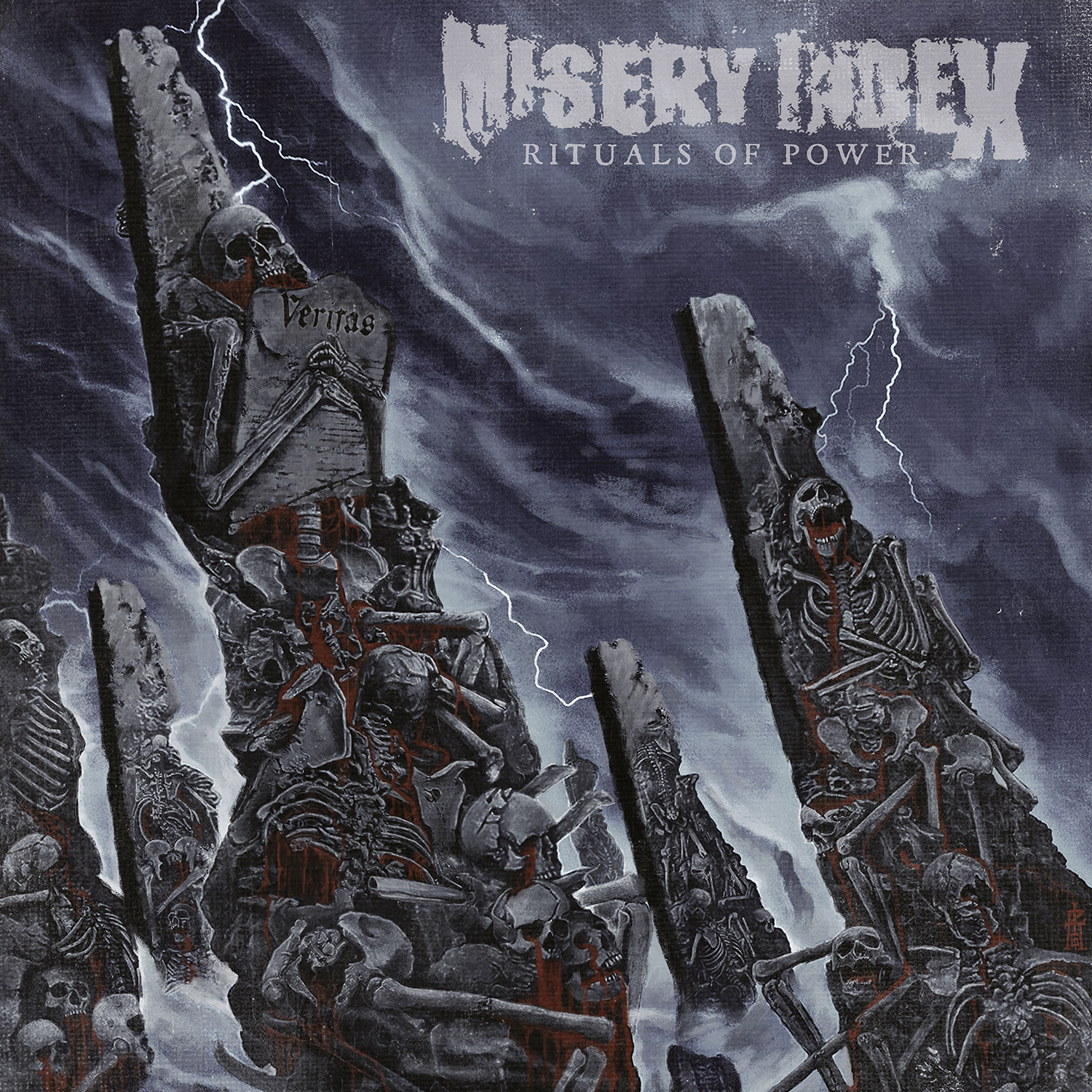 http://www.miseryindex.com
http://www.facebook.com/MiseryIndex/
http://twitter.com/miseryindex
http://www.instagram.com/miseryindex_official/
http://www.youtube.com/c/MiseryIndexOfficial
http://www.season-of-mist.com
http://www.facebook.com/seasonofmistofficial
http://www.instagram.com/seasonofmistofficial
http://twitter.com/SeasonofMist