MIRRORS FOR PSYCHIC WARFARE, the collaboration between Neurosis' Scott Kelly and Buried At Sea's Sanford Parker, will play two very special shows this August supporting industrial titans Godflesh! Set to take place in Chicago and New York City respectively, the August 24th appearance includes additional support from Harm's Way and Ledge while the August 25th show features additional support from Tombs and Body Stuff. The two performances come in advance of MIRRORS FOR PSYCHIC WARFARE's next chapter of sonic anxiety, set for release this fall via Neurot Records. Further details will be revealed in the coming weeks.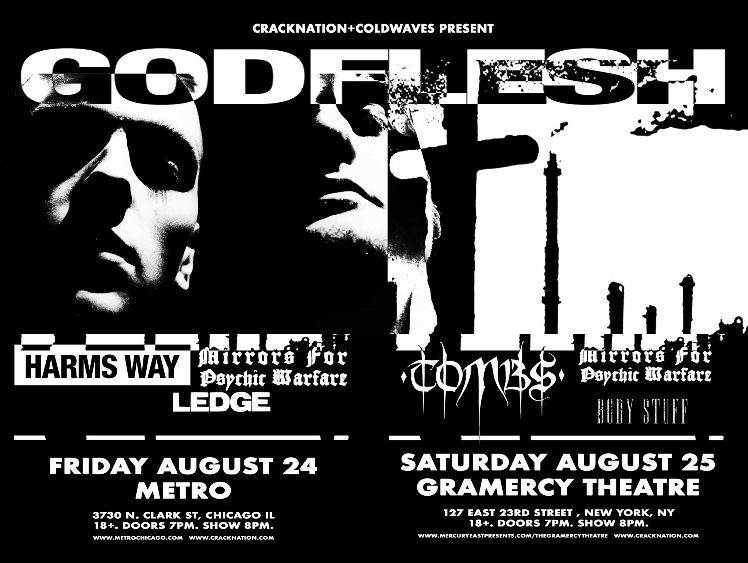 MIRRORS FOR PSYCHIC WARFARE w/ Godflesh:
8/24/2018 Metro – Chicago – IL w/ Harm's Way, Ledge [tickets]
8/25/2018 Gramercy Theater – New York, NY w/ Tombs, Body Stuff [tickets]
MIRRORS FOR PSYCHIC WARFARE released their self-titled debut via Neurot in 2016. An audio manifestation of insomnia, complete with the tossing, turning, and perennial dread that comes with facing a new day, the five songs that comprise Mirrors For Psychic Warfare lurch and pulsate across a sullen, desolate landscape with an almost curious obsessiveness.
Order Mirrors For Psychic Warfare via Neurot at THIS LOCATION. For digital orders, visit THIS LOCATION.
"Imagine a broken mirror on the floor, one shard catching your eye, reflecting a warped, spectral veil emanating from those motherships when at rest, like exhaust pipes slowly bellowing, and a mist created by gradually subsiding engine heat." – Zero Tolerance
"Parker's ability to invoke foreboding tones and textures enhances the ritualistic features, bringing MFPW closer in line with Jef Whitehead's defunct project Lurker Of Chalice than Corrections House…the psyche rattling tension they maintain is as unnerving as it gets." – Metal Hammer
"Kelly and Parker deal in a form of debased, defeated industrial future-folk, a zoned-out space cluttered with crunching metallic debris. Some of the quieter moments skirt the dreaded dark ambient category – but that subgenre always seems to suggest hokey cyberdelic techno-sabbats or the Hellraiser sequel in which chief Cenobite Pinhead sashays around on a spaceship. By contrast Mirrors For Psychic Warfare seed concerns about depleted stocks of tinned food and the likelihood of typhoid." – Wire
"Ambient(-esque?), but tense and brooding…" – Decibel
"MIRRORS… delves into dark ambient and power electronics, resulting in a death industrial setting, reminiscent of the Cold Meat Industry roster, in the likes of Deutsch Nepal and In Slaughter Natives." – Cvlt Nation
"Alternating between sedate brood and agonized howl, Kelly spurts a flowing river of distorted guitar, his manly moodiness resting comfortably atop Parker's steady beats and atmospheric programming." – Austin Chronicle
http://www.facebook.com/mirrorsforpsychicwarfare
http://www.neurotrecordings.com
http://www.facebook.com/neurotrecordi