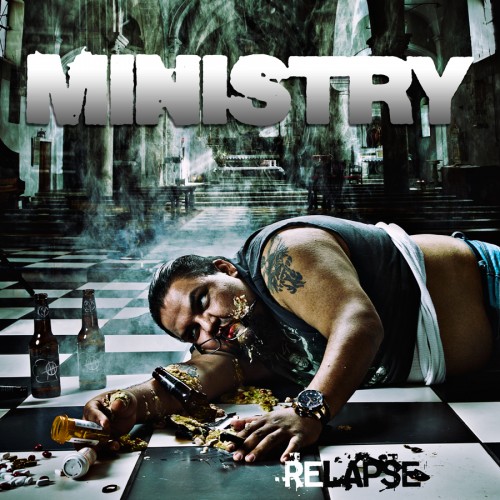 Relapse, the thirteenth album from industrial metal dominators MINISTRY, has been going to war with sales and radio numbers since its worldwide release via frontman Al Jourgensen's own Thirteenth Planet Records and AFM Records on March 26th. Having landed at #154 on the US Billboard's Top 200, #32 on Billboard's Independent Record Chart and #19 on Billboard's Top Hard Music Chart, Relapse currently stands at #6 on CMJ's Loud Rock Charts.
MINISTRY are also in the running for the Comeback Of The Year award at Revolver's annual Golden Gods Awards, being presented tonight in Los Angeles. Fans can actually watch the awards show live this year via Xbox Live or via Revolver's Facebook page.
In support of Relapse, MINISTRY will perform five major North American concerts this June — Denver, Los Angeles, New York and two shows in Chicago — as part of the DeFibRiLlaTouR 2012 World Tour. The band's touring lineup includes Al Jourgensen (Frontman/vox/guitars), Mike Scaccia (Ministry/Rigor Mortis) guitars, Casey Orr (Rigor Mortis) bass, John Bechdel (Ministry/Killing Joke/Fear Factory) keyboards, Aaron Rossi (Ministry/RevCo) drums and Sin Quirin (Ministry/RevCo) guitars. Soulfly bassist Tony Campos will not performing due to scheduling conflicts. Tickets for these first five shows are on sale now; check out the official MINISTRY Facebook for more info on tickets and VIP packages HERE.
Interviews with Casey Orr, Mike Scaccia and Sin Quirin will be available for phone interviews pre-tour over the coming weeks. For all promo/coverage requests for MINISTRY, in North America contact earsplitpr@aol.com and alexander@knifefightmedia.com, and in Europe contact th@afm-records.de.
MINISTRY 2012 DeFibRilLaTouR US Dates:
6/17/2012 Ogden Theatre – Denver, CO [tickets]
6/21/2012 Club Nokia – Los Angeles, CA [tickets]
6/23/2012 Best Buy Theater – New York, NY [tickets]
6/28/2012 The Vic Theatre – Chicago, IL [tickets]
6/29/2012 The Vic Theatre – Chicago, IL [tickets]
https://www.facebook.com/Ministry
http://www.thirteenthplanet.com
http://www.afm-records.de