Deep in the heart of Hell Paso Texas, MINISTRY's Al Jourgensen re-opened the doors of his industrial compound studio in Fall 2011 and invited his favorite co-conspirators Mike Scaccia (Rigor Mortis), Tony Campos (Static X), Tommy Victor (Prong) and Casey Orr (Rigor Mortis/Gwar) to climb on board the Ministry pirate ship and de-construct and re-construct Jourgensen's monsterpiece Relapse.
Thirty years and twelve albums later, as well as a near-death experience in 2010, Jourgensen rises as a phoenix from the ashes with Relapse –– still angry, still political and very very pissed off. Relapsing back into the music industry after a four-year hiatus, Jourgensen launches his audio assault with "Ghouldiggers," a no-holds-barred metal bullet aimed directly at the pitfalls of the industry he has survived. Everything Jourgensen predicted on Houses of the Molé, Rio Grande Blood and The Last Sucker has transpired and as we approach the Mayan calendar of the End of Days in 2012, Jourgensen, re-invigorated by the global 99 Percenters and Occupy Wall Street movement, navigates through Relapse once again as a reluctant prophet accusing, dissecting, cajoling and exhorting greed, corruption and lies.
Reaching back to his punk rock roots, Jourgensen and his MINISTRY pirates cover S.O.D's "United Forces" – a track written 20 years ago still relevant today as a call to arms for the unrighteous and to those who feel disenfranchised by the "system" as it stands today.
Sited as the driving force behind a cross-section of metal genres from industrial Nine Inch Nails to thrash artists Static X and Nu Metal's Korn, Linkin Park, Slipknot, Limp Biskit, and receiving six Grammy Nominations for Best Metal Performance, Jourgensen returns with his greatest achievement to date with Relapse.
Leave it to Jourgensen to make a comeback with a relapse.
Check out video footage documenting the making of Relapse at this location.
DIGITAL SINGLES
"99 Percenters" – Released Dec 24th
"Double Tap" – Will be Released as a Maxi-Single on Feb 24th 2012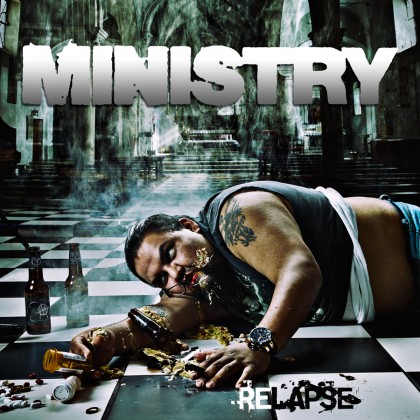 Relapse Track Listing:
1. Ghouldiggers
2. Double Tap
3. FreeFall
4. Kleptocracy
5. United Forces
6. 99 Percenters
7. Relapse
8. Weekend Warrior
9. Git Up Get Out 'n Vote
10. Bloodlust
11. Relapse Defibrillator Mix (Special Limited Edition)
Tickets for MINISTRY's 2012 DeFibrillaTouR are on sale now at this location. Check out the official US tour date and venue schedule:
MINISTRY's DeFibrillaTouR:
6/17/2012 Ogden Theatre – Denver, CO
6/21/2012 Club Nokia – Los Angeles, CA
6/23/2012 Best Buy Theater – New York, NY
6/28/2012 The Vic Theatre – Chicago, IL
6/29/2012 The Vic Theatre – Chicago, IL
http://www.facebook.com/ministry
http://www.thirteenthplanet.com
http://www.afm-records.de