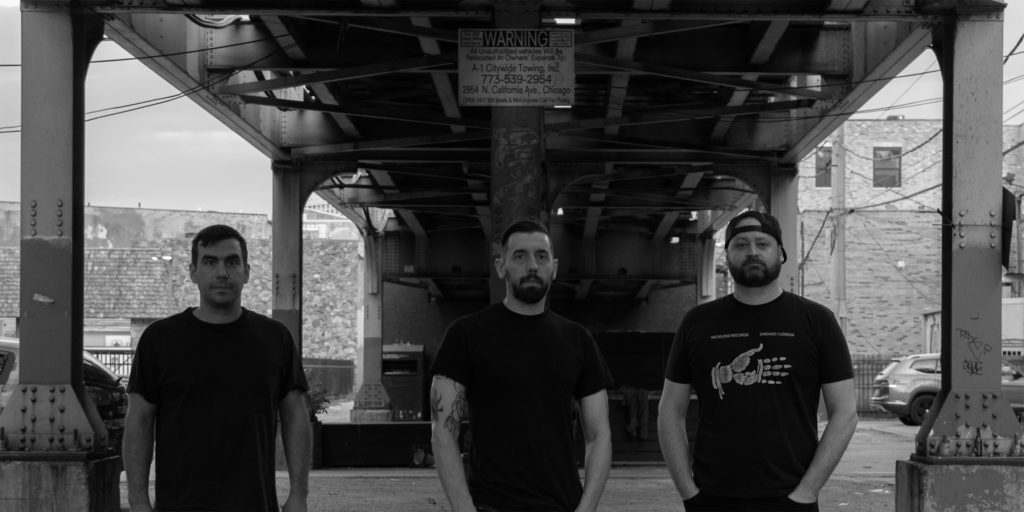 photos by Michael Rataj
Decibel Magazine is hosting an exclusive stream of Delusions, the debut album from Chicago hardcore outfit MINE COLLAPSE, on the eve of its release through Nefarious Industries.
Formed in the Fall of 2015 by two-thirds of now defunct punk/metal ensemble Arbogast, MINE COLLAPSE picks things up where Arbogast left off, with Aaron Roemig and Mike Rataj continuing a nearly decade-long collaborating streak. Roemig and Rataj, joined on this album by guitarist Justin Dickert, hurl a ten-ton mass of experience onto the Chicago music scene with their newest endeavor–having served time in other Chicago notables Lord (Asian Man Records), Modern Advances (Baldy Longhair Records), Retro Morning, Still Machine, Sons Of Ra, Hot Dog Murder Factory, and more.
Not unlike fellow Chicagoans and Nefarious labelmates Nequient, MINE COLLAPSE bursts at the seams with energetic metallic hardcore packed with punk energy. The band's galvanizing attack is underpinned with thick veins of melody and harmonized riff dirges and well-placed elements of punk, doom, and more into a seamless output that keeps even the most seasoned ear guessing.
Six years after unleashing their self-titled debut EP, MINE COLLAPSE returns with Delusions, a collection of songs reflecting on the delusional nature of man, each track offering a different take on a delusion ranging from serial killers to religious zealots. The band once again recorded with Andy Nelson at Chicago's Bricktop Recording (Weekend Nachos, Jesus Piece, Like Rats), after which the tracks were mastered by Brad Boatright at Audiosiege (Integrity, Nails, Xibalba), and the album completed with original artwork and layout by Shawn Knight (Child Bite).
Published alongside the advance stream of Delusions is a breakdown of the album where the band members take listeners through the theme of the entire record track-by-track: "Each song is a loosely tied together concept centered around the idea that the masses are becoming more divorced from reality as they splinter off into their own echo chambers. Every song is a delusion unto itself."
Stream MINE COLLAPSE's Delusions first only at Decibel Magazine RIGHT HERE.
Delusions will see release on all digital platforms as well as limited runs of CD and cassette tomorrow, Friday, June 24th. Find preorder options at Nefarious Industries HERE.
Following a release show with Cokegoat in recent days, MINE COLLAPSE is booking additional regional live performances and more to be announced over the weeks ahead.
http://minecollapse.com
https://minecollapse.bandcamp.com
https://www.instagram.com/minecollapse
https://www.facebook.com/minecollapse
https://nefariousindustries.com
https://nefariousindustries.bandcamp.com
https://facebook.com/nefariousIndustries
https://instagram.com/nefarious_industries
https://twitter.com/nefariousInd