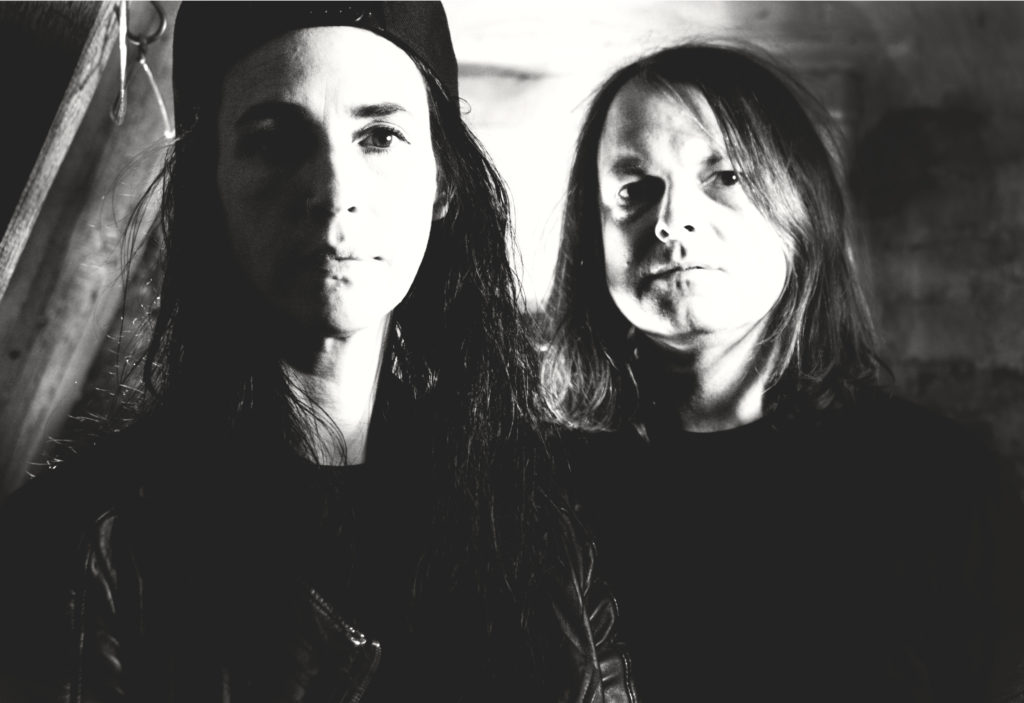 Hannover, Germany-based duo MIGHT, formed early last year at the beginning of the ongoing pandemic, will perform at Roadburn Redux this week, marking the band's first-ever live performance to an international audience.
MIGHT presented their eponymous debut album through Exile On Mainstream in July of 2020, and created their own sine wave built from emotional interferences and amplification between music and personal experience, resulting in an album full of ethereal intensity. The record came across like a soundtrack for the emotional movie we all seem to be acting in: depression, way outs, light and darkness, instrumental furor, and acoustic reflection – all creating a debate taking in arguments from several musical genres such as black metal, doom and sludge, postrock and shoegaze, comparable to the works of Chelsea Wolfe, Emma Ruth Rundle, Jarboe, Neurosis, and Ides Of Gemini.
Formed by the married couple Ana Muhi (vocals, bass) and Sven Missullis (guitars, vocals, drums), MIGHT set out to record their debut in their own studio in March 2020 as the COVID-19 pandemic was rapidly engulfing the planet. The raw energy, subtleness and fragility of the songs get pulled into a wake deeply influenced by the state of the outside world. This all happens organically and naturally, taking the focus away from pure effects towards an emotional efficiency: the power of love as an answer to questions relating to death and life as fragments thrown into the lyrics.
Even though the album was released one year ago, MIGHT has not been able to tour and play live so far, and for this long-awaited debut live performance, the duo will present their debut LP in its entirety, specially recorded for Roadburn and presented to an international audience for the first time.
Ana Muhi writes, "It's an honor for us to be part of Roadburn 2021. We are thankful to be connected with all of you in this special way. But we are also sad about not going to see you, to get to know you, to talk to you, and to share the music and arts. But we're in this together and we'll meet at some day in future, most definitely."
MIGHT's exclusive live set will premiere this Sunday, April 18th at 14:30 CEST and remain available on demand until April 20th at 23:59 when the Roadburn site will be taken offline. See more at THIS LOCATION.
Might is available on all digital outlets and on LP which comes bundled with a CD. Find the record at the Exile On Mainstream webshop HERE and the digital at Bandcamp HERE.
MIGHT is ready for shows and will hit the road as soon as clubs reopen. Also watch for new recordings from the band to be announced later this year.
Also taking part in Roadburn this week is Andreas Kohl. Almost becoming a regular sit-in for the fest, Kohl, Senior Manager at Optimal Media and Exile On Mainstream's head of noise, will bring his expertise to Roadburn's side program again this year. With hampering growth such as pressing capacities, new machinery now being widely available but still facing issues like shortage of well-trained and enthusiastic personal vinyl records remain one of the most discussed topics in the music industry and among fans. Kohl has been holding Q&A sessions and lectures on these topics three times now at Roadburn with different focuses each time. In 2021, he will again give an insight on new technology hitting the market and the current state of manufacturing the black gold in general. The short lecture and update on the current state of things will be held as a Q&A session with fellow Jose Carlos Santos, a no less prominent face among Roadburn's acolytes. Kohl's talk will be live on Sunday, April 18th at 15:30 CEST.
http://www.might.earth
https://might.bandcamp.com
https://www.facebook.com/might.earth
http://www.mainstreamrecords.de