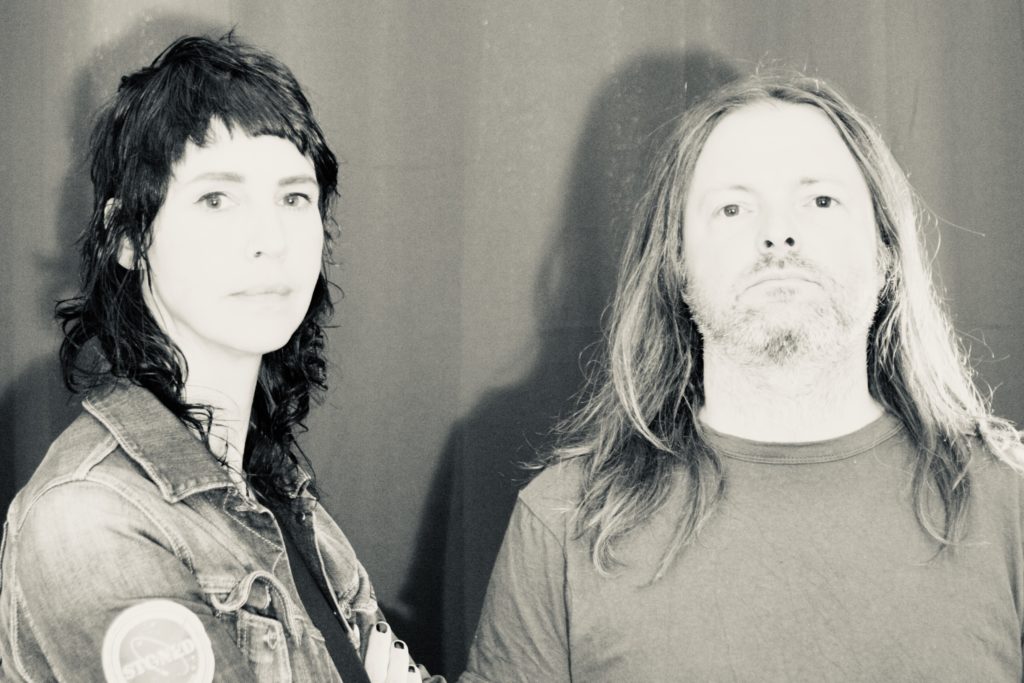 photo by Ana Muhi
Exile On Mainstream presents Abyss, the second album from Hanover, Germany-based atmospheric doom/post-rock duo MIGHT, confirming the album for late August release, and issuing its cover art, track listing, a teaser, and more.
Founded in January 2020 by Ana Muhi (vocals, bass, piano) and Sven Missullis (vocals, guitar, drums), MIGHT's eponymous debut LP was recorded in the early days of the Covid-19 pandemic, the album introducing the band's blend of elements from various musical genres fused in their very own intoxicating, organic sound. Between instrumental frenzy and gentle, fragile acoustic parts, an exchange takes place that musically brings together different genres: black metal, sludge, doom, post-rock, shoegaze. The whole thing happens without any showmanship, loud and quiet in perfect complement, the power of love as an answer to life's questions. As large as the steps may seem at times, they always remain comprehensible. The common thread consists of the consistent and honest handwriting of the two – an uncompromising couple.
Unfortunately, due to the pandemic, MIGHT could not play live as much as they wanted to in support of the debut LP, but they have made waves with some very special performances over the past year or more. Highlights so far include the 2021 Roadburn Redux Festival appearance, where MIGHT played their second concert ever, the 2022 Exile On Mainstream Roadshows, as well as support for Wiegedood and the 2022 Rotormania Festival appearance. Live, the couple takes a unique approach, with Missullis performing drums while broadcasting video projections of him also performing the guitar parts, doubling his appearance, and thus becoming a trio.
MIGHT's Abyss was entirely recorded, mixed, and mastered by the band. The album's cover is fitted with a 1976 oil painting by Polish artist Zdzisław Beksiński (February 24, 1929 – February 21, 2005). The impression of the painting, as oppressive as it may seem at first glance, nevertheless radiates a warming confidence and security. This makes the image a fantastic visualization of MIGHT's music.
Delicate piano sounds are being buried under thick, viscous lava of distorted guitars and a mean bass. Hovering above it, Ana's subtle, yet haunting voice connects tragedy with hope in a world gone haywire. Or seems like it. Sometimes she must scream.
Watch a new teaser for MIGHT's Abyss at THIS LOCATION.
Abyss will be released through Exile On Mainstream on August 26th, pressed on LP and CD and available on all digital services. Watch for audio premieres, preorders, tour dates, and more to post shortly. Fans of Chelsea Wolfe, Emma Ruth Rundle, Jarboe, Dolch, Treedeon, Neurosis, Ides Of Gemini, and Black Mare should not pass MIGHT by.
Abyss Track Listing:
1. Naked Light
2. Lost
3. Abysses
4. Circles
5. Who's Ahead
6. Tightrope Walk
7. How Sad A Fate
8. Shrine
9. Lucky Me
10. Dear Life
11. Holy Wars
MIGHT Live:
9/09/2022 South Of Mainstream Festival – Berlin, DE
11/05/2022 – Bei Chez Heinz – Hanover, DE
http://www.might.earth
https://might.bandcamp.com
https://www.facebook.com/might.earth
http://www.mainstreamrecords.de