MetalSucks has teamed up with veteran metal photographer Nathaniel Shannon for a special benefit auction to help touring crew who are currently out of work.
"No part of the music economy has escaped from the economic impacts of the coronavirus unscathed," writes MetalSucks. "From venues to record labels to booking agents to merchandisers to media to YouTubers — and, crucially, the bands we all love. This is for the tour managers, techs, drivers, lighting designers, engineers and merch sellers that have provided us with incredible joy over the years by bringing us top-notch live shows!"
Capturing the energy and soul of musicians in the live setting for nearly two decades, Shannon has amassed a stunning photo archive. MetalSucks has set up an Ebay Auction where fans can bid on various high-quality prints from his archive including shots of Slayer, Megadeth, Motörhead, Danzig, King Diamond, The Black Dahlia Murder, Type O Negative, Earth Crisis, Converge, Faith No More, High On Fire, Every Time I Die, and dozens of others!
Find the auction at nathanielshannon.com/Covid and view the entire list of available prints HERE.
75% of the proceeds after printing and shipping costs will be donated to For The Nomads, a charity launched in the wake of the coronavirus pandemic to help touring crew. The remaining 25% will go to Shannon, himself an out-of-work artist whose income has been halted with the suspension of live shows and tours. Limited numbers of each print are available. Sizes vary by item. Happy bidding!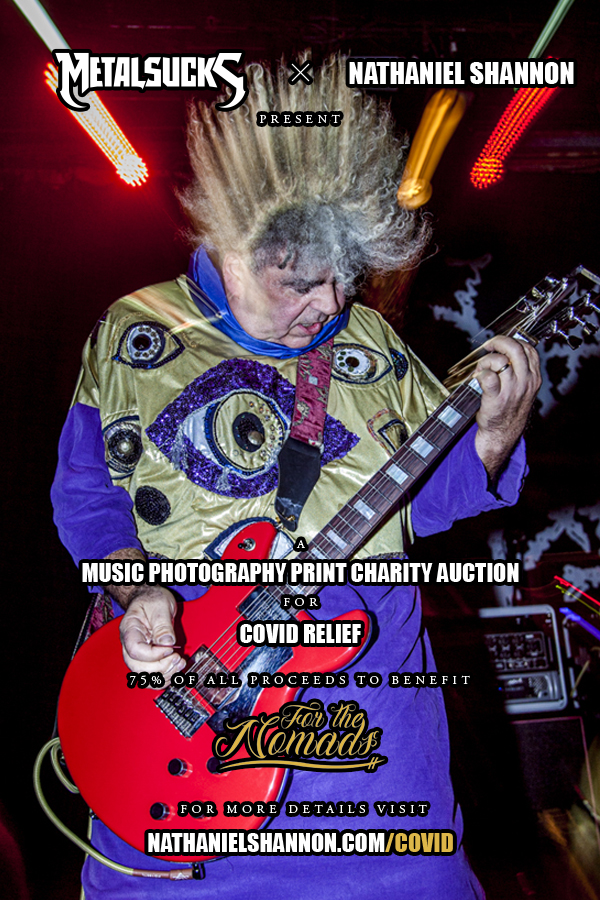 http://www.forthenomads.org
http://nathanielshannon.com/
http://www.metalsucks.net
http://www.facebook.com/metalsux
http://twitter.com/metalsucks
https://www.instagram.com/metalsucks