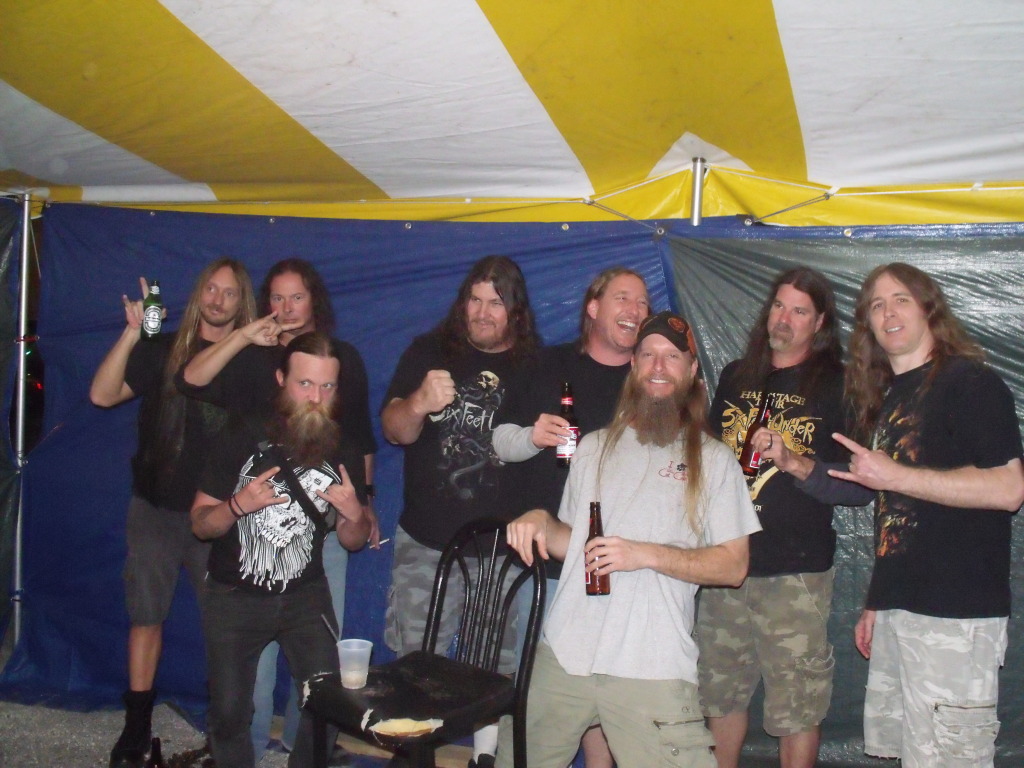 Metal Meowlisha All Stars from left: Steve Asheim (Deicide), Shannon Hamm (Death, Controlled Denied), Jamie Stewart (The Absence), Terry Butler (Six Feet Under, Denial Fiend, Obituary, Massacre, Death), John Tardy (Obituary, Tardy Brothers), Donald Tardy (Obituary, Tardy Brothers, Andrew W.K., Meathook Seed), Greg Gall (Six Feet Under), & Alex Webster (Cannibal Corpse, Blotted Science, Hate Eternal). photo courtesy of "Death Metal Dave Allison"
—-
In a message posted to the official OBITUARY MySpace: "Donald Tardy, Heather Wienker, and I, (Death metal Dave Allison), would like to thank everyone for their participation in the Metal Meowlisha Benefit Show, Saturday March 27th, 2010, that took place at the Brass Mug, in Tampa, Fl.
We would like to thank Shannon Fox for doing a spectacular job in organizing this event and bringing the Tampa metal scene together, working with Heather and Rick of the Brass Mug, who provided the venue, donated a $50 bar tab, and served as incredibly gracious hosts. We'd also like to thank Nick for keeping the bands on schedule, and providing great sound! Another very special mention goes to Ash (Kalakai vocalist) who put out press releases throughout the internet network of metal websites, and Dean Guitars & Jerry Mortellaro, who provided the bad ass guitar that was raffled off–you guys rule!!! Also Must..Not..Kill, for bringing the Jagermiester swag. We can't forget the roles that Kevin Smith of 98 Rock's The Pit, and Unkempt Andy from 88.5FM WMNF's Psycho Realms, played by helping in promoting this event, freakin awesome!!
We also have to thank the bands who played the benefit, and all shredded:
Fall to Prey, Omneity, Destined to Ruin, Kalakai, Must…Not…Kill, With These Words I Fall, To the Gallows, Sledgegrinder, and Chamber the Cartridge.
Thanks to all the guys from all the national metal bands that came out, like Obituary, Cannibal Corpse, Six Feet Under, The Absence, Tardy Brothers and Afterdeath, all who donated awesome raffle items, and members of national bands that came out to help support such as Deicide, Ressurection, Diabolic, Denial Fiend, Monstrosity, Massacre, Hate Eternal, Blotted Science, Order of Eneade, Paths of Possession & Soulidium, former members of Death, Morbid Angel, Brutality, Acheron, Unholy Ghost, Nocturnus, Solstice, Malevolent Creation, Andrew W.K., and Controlled Denied. I also noticed a lot of local bands that were not playing but in the house, including members of Blood By Dawn, Unkempt, False Demise, Empty, A Broken Machine, Party Time, Ulcer, Chaos Symphony, Genericrist, and probably even some I missed.
We cannot forget all the fans who came in support of the benefit, the Krewe of the Black Pearl always out in support, and all who donated cat food, (100 + pounds from M.O.M. & The Tampa Bay Metal Scene), Thanks!
Tampa still is the Death Metal capital, and a force to be reckoned with and damn proud of–it was proven Saturday at the Metal Meowlisha Benefit for feral and homeless cats! Those of you who were not in attendance, you missed out, however, we are planning another event in the future.
To donate cat food or money, and to find out how to help, contact helpcats@obituary.cc or check http://www.metalmeowlisha.com, the official website coming soon!