Tasmanian technical death metal legion, MEPHISTOPHELES, are pleased to unveil new track "Silver Doors," via Decibel Magazine. Called "vicious, artful, and sonically different," the latest hell hymn comes by way of the band's forthcoming new full-length, Sounds of the End. The devious, ten-track release was recorded at Red Planet Studio with Jake Long and presents some of the band's most complex, intricately arranged and plainly engaging compositions to date.
Notes vocalist Matthew "Chalky" Chalk (formerly of Psycroptic) in anticipation of Sounds of the End: "I cannot wait to know what people think of this album. It's been ten fucking years since Psycroptic's Scepter of the Ancients, and this is my first album on which I've been lead vocalist since then. This is a very exciting time for me, the birth of a new era, and I think what MEPHISTOPHELES have achieved is every bit as fresh and compelling as SotA seemingly was back in 2003. The riffs, the instrumentation, the sound — it's all fluent and multi-dimensional, and just waiting to bust its way out of some speakers and into the lives of as many metal loving maniacs as possible! It's our personal soundtrack to the Apocalypse. But it's not all doom and gloom. This is should probably be called Party of the End because musically, it's pretty upbeat."
Sear your ear holes with "Silver Doors," HERE.
And if you missed it you can still sample "The End of All Light" streaming HERE.
Featuring former members of Spawn of Possession, Psycroptic and Space Raven among others, MEPHISTOPHELES is a four-piece technical metal band from Hobart, Tasmania drawing inspiration from the likes of bands like Athiest, Deeds of Flesh, Opeth, Cynic, Deicide etc. Originally formed by four high school friends in 2004, MEPHISTOPHELES fuses black and death metal with occasional jazz elements, with a focus on composing challenging but memorable music, The band has continually thrived on fashioning fresh sounds that purposely step well beyond conventional genre structures, but have also maintained a firm footing within traditional death metal realms.
Sounds of the End will deafen North America on October 1, 2013 via Willowtip Records.
"While Tasmania is known for scary shit like poisonous snakes, Tasmanian cave spiders, and Jack Jumper ants, it's time they put their best foot forward with MEPHISTOPHELES. At the very least, MEPHISTOPHELES can make you deaf." — Decibel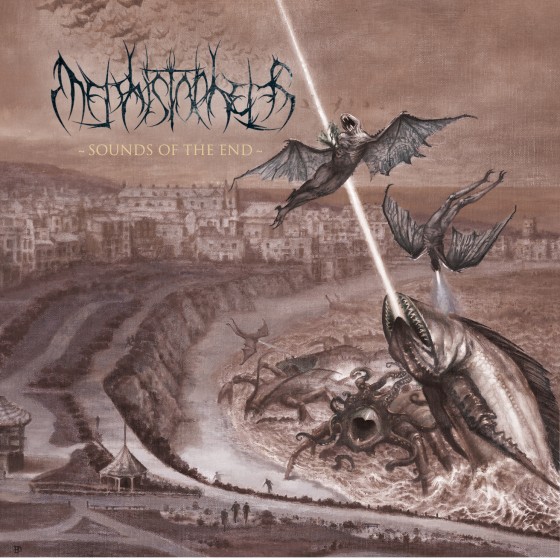 http://www.facebook.com/MephistophelesAustralia
http://www.willowtip.com
http://www.facebook.com/willowtip
http://www.twitter.com/willowtip
http://willowtip.bandcamp.com