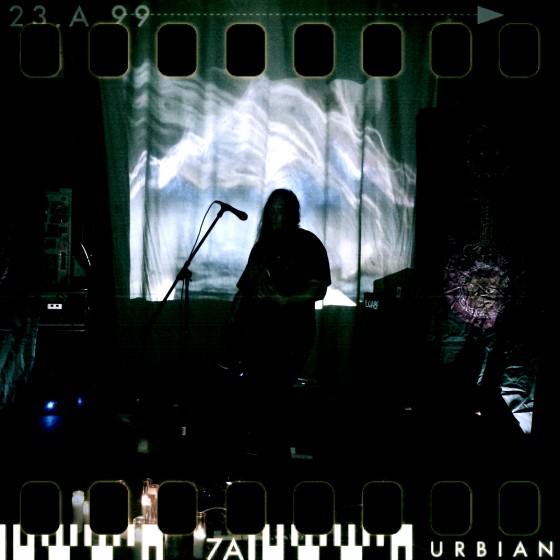 MEGATON LEVIATHAN is preparing to release their most psychologically stirring, sprawling manifestation of sound to date with Past 21 Beyond The Arctic Cell.
Set for release via Seventh Rule Recordings next month, the record was mixed by MEGATON's newest resident thaumaturgist, Mort Subite (V.I.I.R.L., Alfheimr, Benighted In Sodom live), and is a near lethal dose of solemn audio narcotic, shifting the listener somewhere outside the realm of space-time for the duration of its dissociative transduction from speakers to brain. Glacial, yet burning with divine fire, Past 21's spell is simultaneously whispered in a hallowed chapel, and torn from a throat rent by the gnashing of teeth.
In celebration of its imminent release, today Invisible Oranges offers up first track, "Past 21," for mass consumption/reflection, relaying "Like elder experimentalists, MEGATON LEVIATHAN are driven to create, explore, and meddle with moods. 'Past 21' is a fine example, opening with a cracked doom progression a la Old Man Gloom and spending the next four minutes shading in a map of a craggy, hellish landscape. The drone-verture could soundtrack a sci-fi moon landing, one unveiling an icy Io-esque tomb while providing the proper you-gonna-die foreshadowing. It's also a kind of painful purgatory: if you took the wrong drugs, you might think it's going to be a long night. Then MEGATON LEVIATHAN flip the script. At 4:06, 'Past 21' breaks free of its downer stasis thanks to a deep guitar crunch supported by pumping organs. Now you're swaddled in warmth. The song is still blue but it's on the rise and moving, buoyed by an epiphany of acceptance. Whatever trepidation you had before is blasted away with deliciously sad strings, solos that float like ash from a fire, and vocals that have that unobtrusive-yet-totally-affecting lilt of Kenny Hickey. Things have clicked. Welcome to nine minutes of melancholy bliss. The instruments ring out. You finally exhale. What a trip."
Adds founder/lone original member, Andrew James Costa Reuscher, "The graal can only be obtained once everything is lost in its quest. SMIB."
Take the trip with "Past 21," now playing at THIS LOCATION.
In April of 2014, Reuscher and Subite took Past 21 on the road for a first round of West Coast dates as a one man show/performance piece featuring heavy visual elements with Reuscher the unifying human component, and Subite as the hidden hand, mixing live audio. MEGATON LEVIATHAN later tapped V.I.I.R.L. drummer Markus Covello to join the onstage lineup. With Reuscher handling vocal and guitar operations, and Subite continuing his live audio duties, this revamped, three-man cast will form the core of the MEGATON LEVIATHAN live experience for the duration of the forthcoming performances. See confirmed dates below.
MEGATON LEVIATHAN Live 2014:
8/24/2014 Star Theater – Portland, OR * Record Release Show [info]
8/30/2014 TBA – Bozeman, MT
8/31/2014 Black Sparrow Tattoo Club – Billings, MT
9/03/2014 Quarters – Milwaukee, WI
9/04/2014 Ghost House – Bloomington, IN
9/05/2014 5th Quarter Lounge – Indianapolis, IN
9/07/2014 Acheron – Brooklyn, NY
9/08/2014 Kung Fu Necktie – Philadelphia, PA
9/09/2014 The Crown – Baltimore, MD
9/10/2014 Static Age – Asheville, NC
9/12/2014 Springwater – Nashville, TN
9/14/2014 Siberia – New Orleans, LA
9/15/2014 TBA – Austin, TX
9/16/2014 TBA – Dallas, TX
9/18/2014 Bar Bar – Denver, CO
Past 21 Beyond The Arctic Cell will be released on September 9th, 2014 via Seventh Rule Recordings on CD and bone with sea blue and doublemint splatter vinyl. Preorder your copy today at THIS LOCATION.
http://megatonleviathan.com
http://www.facebook.com/pages/Megaton-Leviathan/185853803548
http://www.seventhrule.com
http://instagram.com/seventhrule
http://seventhrulerec.tumblr.com/
http://twitter.com/seventhrule