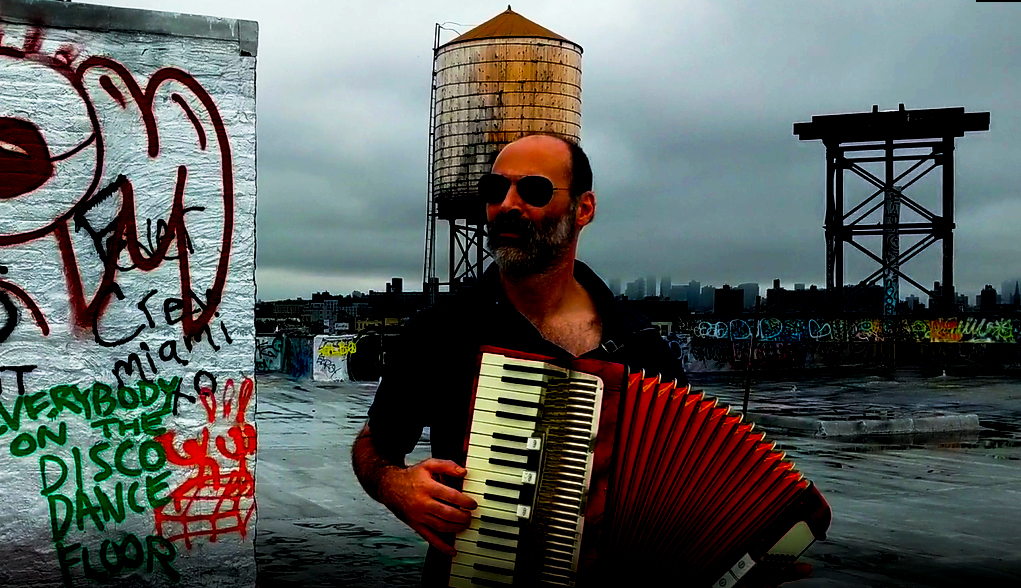 Music For Resistance Fantasies, the new performance score from Brooklyn, New York-based ambient/experimental solo artist, MEGALOPHOBE, will be issued next week through Nefarious Industries. With the album's release looming, investigatory music blog Captured Howls is hosting an exclusive advance stream of the closing movement, "Dreamy Reprise."
MEGALOPHOBE is the solo venture of one Benjamin Levitt, composed primarily of effects-laden ambient and experimental accordion passages joined with elements of vocals, guitars, keys, pedal effects, field recordings, and more. Here he presents a cinematic soundscape and backing score created for a live improvisational dance performance which took place in Brooklyn in 2019. Performed, recorded, and mixed by Levitt at his Forked Audio in Brooklyn, Music For Resistance Fantasies was mastered by David Salierno, with photos by Levitt and Jon Burklund/Zanni Video, and layout/design by David Brenner/Gridfailure.
With its premiere, Levitt states, "For 'Dreamy Reprise,' the last track on the album, I reworked the lead off 'Dreamy,' drawing things out, bringing out the nightmare. I liked the idea of ending where I started, but more scuffed up. Even dreams that seem pleasant enough can be disturbing when we revisit them — the high notes start to distort and bend under the weight of a creeping low end, things are slower, and even if the tune is familiar, it's not comforting."
Captured Howls writes, "The music doesn't feel overly shrill or coarse, which makes the overarching vibe feel at least subtly bright, as if the sun is beginning to slowly emerge on the visible horizon within the music's metaphorical soundscape. Across 'Dreamy Reprise,' the tones persistently and confidently proceed, seemingly capturing an expansive, surroundings-conscious portrait of self-contemplation. The song feels like a moment of looking in a mirror – while the mirror is cracked and laying against a sidewalk."
Stream MEGALOPHOBE's "Dreamy Reprise" segment of the Music For Resistance Fantasies score at Captured Howls RIGHT HERE.
Music For Resistance Fantasies will see release next Friday, December 18th on all digital platforms and on limited edition cassette in a run of 50 copies. Find preorders through Nefarious Industries HERE.
MEGALOPHOBE's thirty-seven-minute Music For Resistance Fantasies serves as an audio accompaniment to a live, somewhat improvised, dance troupe performance last year. He offers, "This music was composed and recorded for Marion Storm's Resistance Fantasies, Strategies For Moving Toward — And Against, performed at the Target Margin Theater in Brooklyn, New York as part of the 2019 Exponential Festival. As Marion put it, 'a three-hour-long dance performance full of scores, group action, live composition, and deep listening. As the performers of this work, our attention is always on our layered, conflicting, complicated frame which is resistance. Our resistance fantasies. Or sometimes not fantasies, the real thing.'"
MEGALOPHOBE is immersed in the creation of a new album, the outfit's third collaborative album with Gridfailure, and more to be announced over the months ahead.
https://megalophobe.bandcamp.com
https://twitter.com/megalophobe
http://nefariousindustries.com
http://www.facebook.com/nefariousIndustries
http://www.twitter.com/nefariousInd
https://nefariousindustries.bandcamp.com