[photo by J Brackin]
Florida-based destroyers, MEATWOUND, have let their new video for their caustic "Funeral State" video off the chain through an exclusive premiere at Decibel Magazine as their Addio debut LP intoxicates the population via Magic Bullet Records this week.
Dangerous and hardcore as shit, a thundering concoction of 1990s influences culminate in the MEATWOUND sound. Uniting members of Combatwoundedveteran, Holy Mountain, Headless Dogs, Primate Research and more, this collective's sound was born in a swamp sewage-drenched gutter where the pentatonic, industrialized elements of crushers Fudge Tunnel and Godflesh meet a sordid death metal edge, meshing Sepultura tribalisms with a throbbing Big Black-style hardcore punk infiltrated by scuzzy sci-fi tones. The band's debut LP, Addio was recorded with Dan Byer at Rock Garden Recording in St. Petersburg, Florida, mastered by Dan Randall at Mammoth Sound, and bears artwork by Chris Norris (Steak Mtn.).
Directed by Frank Norris, the video for MEATWOUND's "Funeral State" jacks random blasts of propaganda and debauchery into appropriately scummy, low-light live footage in fully DIY fashion, like a drunken, Troma-inspired, day-in-the-life documentation of the band's actions. Issues Decibel Magazine alongside their premiere, "Floridian nasties MEATWOUND are everything that is good and right about punk, hardcore and noise squatting in the same dilapidated basement," continuing, "the video for 'Funeral State' gives you a crash course in what these guys are all about: namely, wreaking havoc on any anonymous stage they play. Low-budget, high-quality pigfuck awaits!"
Wreck shit to MEATWOUND's "Funeral State" through Decibel Magazine's debut of the damage RIGHT HERE.
Following its digital release through Magic Bullet Records this past Friday, Addio hits with physical versions this Friday, July 24th, the album coming in on both CD and LP both red and black 12″ vinyl pressings. Check out physical preorders HERE.
Advance media outlets infected by the MEATWOUND contagion have issued reports of their grotesqueness in recent days, including Nine Circles who spits, "Bathed in scum and sludge, their heavy, hard-hitting brand of metal is a reflection of the legal and political diarrhea of their native Florida. Their debut album, Addio, is a mix of punk, scuzz and sludge with a sprinkling of doom over the top of this sewage sundae. It's a welcome excursion from the rote monotony of most metal released these days…" Echoes And Dust raged of the album, "It is more than refreshing, after decades of listening to who-knows-how-many different permutations of loud music, to hear something which, while having familiar noises shouts and roars, doesn't sound like anything you've heard before. Step forward MEATWOUND and their debut Addio. Sure, there is a bit of Unsane's visceral squall and a little of the Dillinger Escape Plan's angular anger – plus some Jesus Lizard-style scuzz and straight-outa-Tampa death roars – but out of this maelstrom MEATWOUND create something completely their own."The folks at Cvlt Nation offer, "[MEATWOUND] brings a dirty death metal edge and a slew of 1990s influences to their brand of raging audio warfare, and will knock the top off your skull and leave you suffering from blunt force riff trauma," while Absolute Zero Media's review states, "If you could for a moment mix elements of TAD, Killing Joke, Jesus Lizard, Godflesh, Melvins are what I hear and so much more. There is a power and aggression going on here there are even black metal elements that poke there head out in this monster… It reminds me of a jazzy version of Rorschach at times too. I will end with the Cop Shoot Cop if they were a hardcore band…"
Sporadic live excursions from the MEATWOUND camp continue to take place across their home peninsula — including a record release show in Tampa on August 8th and a Gainesville gig August 29th with Assholeparade and more — with more widespread tour excursions to be declared in the months ahead. Duck.
MEATWOUND Live:
8/08/2015 The Hub – Tampa, FL w/ Weltesser, The Path of Increased Indifference
8/29/2015 The Wooly – Gainesville, FL w/ Assholeparade, Palatka, End Of The Century Party, Radon, Suppression, House Of Lightning, Dredge [info]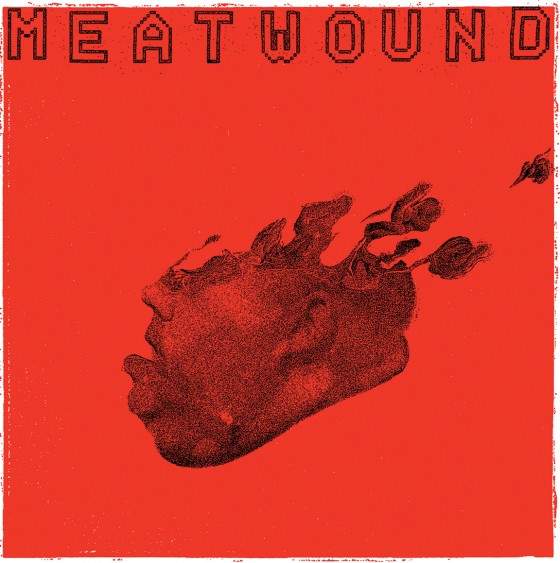 http://www.facebook.com/MEATWOUND
http://www.magicbulletrecords.com
http://www.facebook.com/magicbulletrecords
http://www.twitter.com/magicbulletrecs