"…Mysteriis… remains a singularly potent document, its expressions of alienation and nihilism lent an icy severity by Aarseth's lacerating guitar buzz, session vocalist Attila Csihar's arcane croak and presentation of Dead's lyrical gothic terror and the pummeling drums of Hellhammer." — Rolling Stone
Norwegian black metal icons MAYHEM will begin the second leg of their European live incursion this week. The Purgatorium Europæ – Pars Duorum tour will begin Friday September 29th in Berlin, Germany and level more than two dozen cities, drawing to a close on October 27th in Gothenburg, Sweden. Support will be provided by Inferno, The Ominous Circle, Dragged Into Sunlight, Deus Mortem, Barshasketh, and Voodus on select dates. See all confirmed dates below.
Following their European stampede, MAYHEM will descend upon North America for a month-long journey set to commence on November 3rd and run through December 2nd. Support will be provided by Immolation and Black Anvil, the latter of which appeared with the band on their last stateside expedition. MAYHEM has been commemorating the release of their 1994 landmark De Mysteriis Dom Sathanas full-length with a worldwide live takeover performing the monumental record in its entirety. Stateside fans who missed the spectacle the first time around get one last chance this November on the Purgatorium Americæ Septentrionalis– Pars Duorum tour.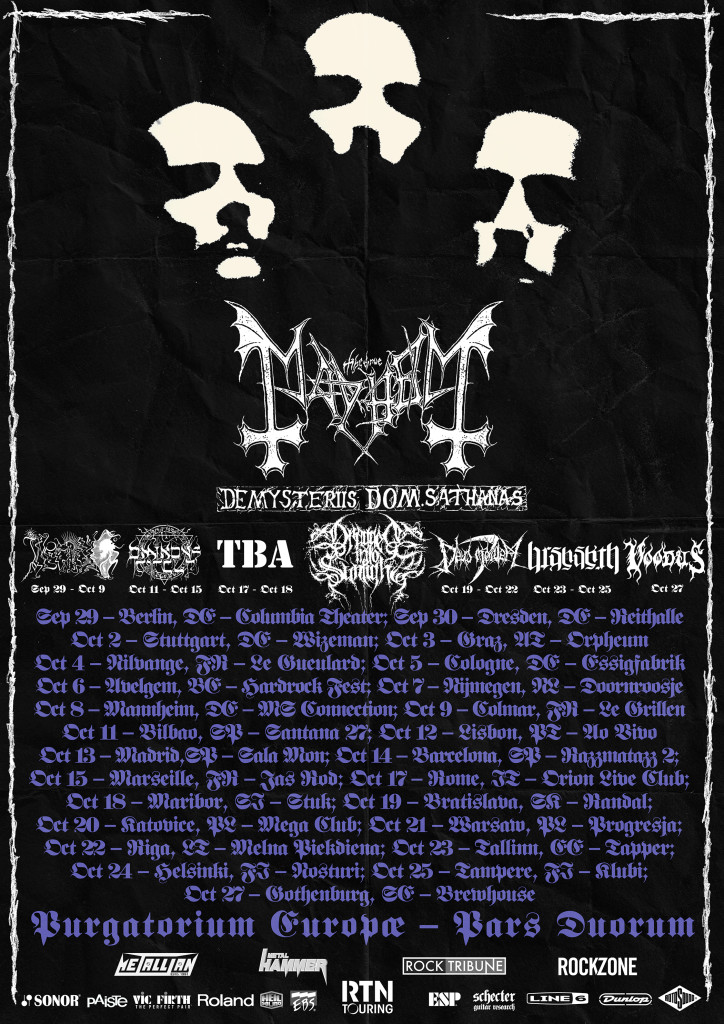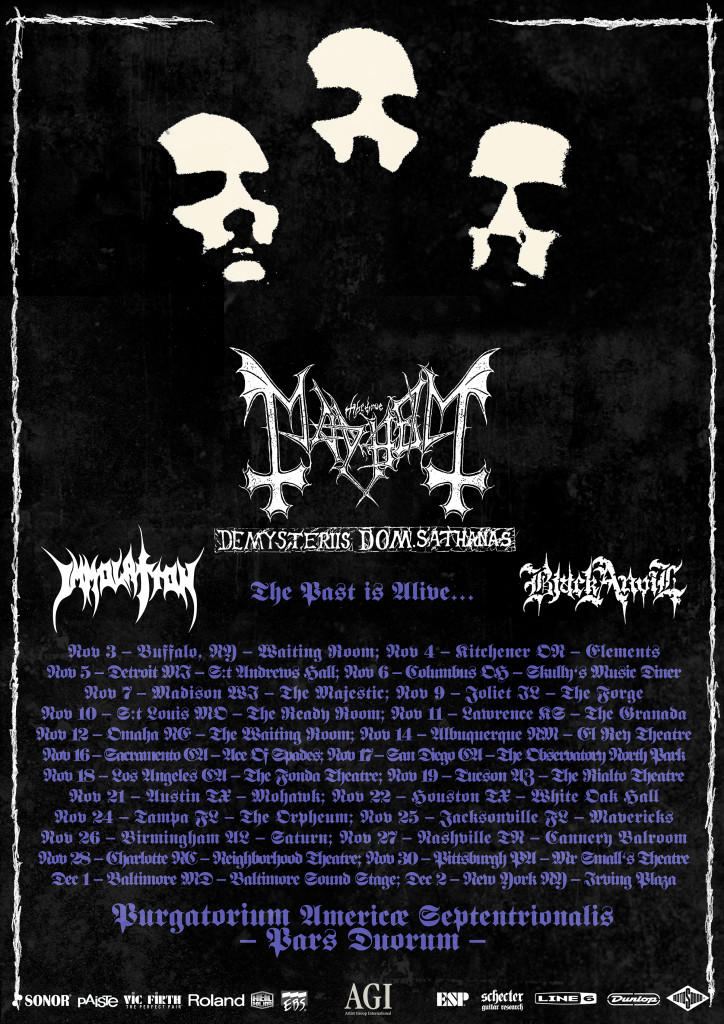 MAYHEM – Purgatorium Europæ – Pars Duorum:
9/29/2017 Colombia Theater – Berlin, DE [tickets]
9/30/2017 Reithalle – Dresden, DE [tickets]
10/02/2017 Wizeman – Stuttgart, DE [tickets]
10/03/2017 Orpheum – Graz, AT [tickets]
10/04/2017 Le Gueulard – Nilvange, FR [tickets]
10/05/2017 Essigfabrik – Cologne, DE [tickets]
10/06/2017 Hardrock Fest – Avelgem, BE [tickets]
10/07/2017 Soulcrusher – Nijmegen, NL [tickets]
10/08/2017 MS Connection – Mannheim, DE
10/09/2017 Le Grillen – Colmar, FR [tickets]
10/11/2017 Santana 27 – Bilboa, ES [tickets]
10/12/2017 Lisboa Ao Vivo – Lisbon, PT [tickets]
10/13/2017 BAT – Madrid, ES [tickets]
10/14/2017 Razzmatazz 2 – Barcelona, ES [tickets]
10/15/2017 Jas Rod – Marseille, FR [tickets]
10/17/2017 Orion Live Club – Rome, IT [tickets]
10/18/2017 Stuk – Maribor, SL
10/19/2017 Randall – Bratislava, SK [tickets]
10/20/2017 Mega Club – Katowice, PL [tickets]
10/21/2017 Progesja – Warschau, PL [tickets]
10/22/2017 Melna Piektdiena – Riga, LT [tickets]
10/23/2017 Tapper – Tallinn, EE [tickets]
10/24/2017 Nosturi – Helsinki, FI [tickets]
10/25/2017 Klubbi – Tampere, FI [tickets]
10/27/2017 Brewhouse – Gothenburg, SE [tickets]
Purgatorium Americæ Septentrionalis– Pars Duorum w/ Immolation, Black Anvil:
11/03/2017 Waiting Room – Buffalo, NY
11/04/2017 Elements – Kitchener, ON
11/05/2017 St. Andrews Hall – Detroit, MI
11/06/2017 Skully's Music Diner – Columbus, OH
11/07/2017 The Majestic – Madison, WI
11/09/2017 The Forge – Joliet, IL
11/10/2017 The Ready Room – St. Louis, MO
11/11/2017 The Granada – Lawrence, KS
11/12/2017 The Waiting Room – Omaha, NE
11/14/2017 El Rey Theatre – Albuquerque, NM
11/16/2017 Ace of Spades – Sacramento, CA
11/17/2017 The Observatory Northpark – San Diego, CA
11/18/2017 The Fonda – Los Angeles, CA
11/19/2017 The Rialto Theatre – Tucson, AZ
11/21/2017 Mohawk – Austin, TX
11/22/2017 White Oak – Houston, TX
11/24/2017 The Orpheum – Tampa, FL
11/25/2017 Mavericks – Jacksonville, FL
11/26/2017 Saturn – Birmingham, AL
11/27/2017 Cannery Ballroom – Nashville, TN
11/28/2017 Neighborhood Theatre – Charlotte, NC
11/30/2017 Mr. Smalls Theatre – Pittsburgh, PA
12/01/2017 Baltimore Sound Stage – Baltimore, MD
12/02/2017 Irving Plaza – New York, NY
The cornerstone De Mysteriis Dom Sathanas was recently listed among Revolver Magazine's 20 Essential Black Metal Albums while the record earned the #40 spot on Rolling Stone Magazine's 100 Greatest Metal Albums Of All Time earlier this year. Further illuminating the keystone offering, the band self-released De Mysteriis Dom Sathanas Alive late last year on CD, DVD, LP, and digitally. Captured in Norrköping, Sweden in 2015 during the band's headlining set at the Black Christmass Festival, the show marked MAYHEM's first time ever playing De Mysteriis Dom Sathanas in full.
De Mysteriis Dom Sathanas Alive was recorded, mixed, and mastered by Tore Stjerna and NBS Audio and produced by vocalist Attila Csihar and guitarist Teloch with light production by Anne Weckstrom, stage design and production by Jonas Svensson, video recording by Thornfields Production and video editing by Tamàs Tarczi.
For CD/DVD orders, go to THIS LOCATION. For digital orders go HERE where you can also stream the record. The record is also available digitally via Amazon, Spotify, Apple, Deezer, and Tidal. For the full concert, video on demand, and download, visit MAYHEM on Vimeo at THIS LOCATION.
"MAYHEM's live set is palpably evil, guided by the deranged vocal presence of Attila Csihar, who gave an unnerving performance on De Mysteriis Dom Sathanas…" – Loudwire
"…convincing evidence that the grim magic of the mid-90s has faded not one corpse-painted jot." – The Guardian
"…a purposely gloomy and aggressive beast, and one that makes no concessions to outsiders, instead following its own willful and destructive path without any apology. Give it the time it deserves… and it will be with you forever." – Team Rock on De Mysteriis Dom Sathanas
"De Mysteriis… stands tall to this day. For one of the most prominent names in the black metal scene… it's amazing how challenging and terrifying MAYHEM still feel and when channeling the energies of this record; the result is beautifully hellish." – Distorted Sound
"MAYHEM are a band that remind us of the power of the live concert experience, morphing concert into macabre ceremony…" – BeatRoute
Freezing Moon from mayhem official on Vimeo.
http://www.dmds.thetruemayhem.com
https://www.mayhemofficial.bandcamp.com
https://www.facebook.com/mayhemofficial
https://www.instagram.com/thetruemayhem