"…convincing evidence that the grim magic of the mid-90s has faded not one corpse-painted jot." – The Guardian
Norwegian black metal pioneers MAYHEM have been commemorating the release of their 1994 landmark De Mysteriis Dom Sathanas full-length. The record recently earned the #40 spot on Rolling Stone Magazine's 100 Greatest Metal Albums Of All Time, the prestigious publication noting, "…Mysteriis… remains a singularly potent document, its expressions of alienation and nihilism lent an icy severity by Aarseth's lacerating guitar buzz, session vocalist Attila Csihar's arcane croak and presentation of Dead's lyrical gothic terror and the pummeling drums of Hellhammer."
Further illuminating the keystone offering, the band self-released De Mysteriis Dom Sathanas Alive late last year on CD, DVD, LP, and digitally. Capturedin Norrköping, Sweden in 2015 during the band's headlining set at the Black Christmass Festival, the show marked MAYHEM's first time ever playing De Mysteriis Dom Sathanas in full.
The vinyl edition of De Mysteriis Dom Sathanas Alive quickly sold out but a second pressing is now available both stateside and abroad. In the US, 250 copies of De Mysteriis Dom Sathanas Alive are available on gold vinyl. To purchase, point your browser HERE. In Europe, the record comes available in black (666), purple (222), and purple with black haze (112). To purchase go to THIS LOCATION.
De Mysteriis Dom Sathanas Alive was recorded, mixed, and mastered by Tore Stjerna and NBS Audio and produced by vocalist Attila Csihar and guitarist Teloch with light production by Anne Weckstrom, stage design and production by Jonas Svensson, video recording by Thornfields Production and video editing by Tamàs Tarczi.
For CD/DVD orders, go to THIS LOCATION. For digital orders go HERE where you can also stream the record. The record is also available digitally via Amazon, Spotify, Apple, Deezer, and Tidal. For the full concert, video on demand, and download, visit MAYHEM on Vimeo at THIS LOCATION.
MAYHEM will embark on the second leg of their European live takeover performing De Mysteriis Dom Sathanas in full this fall. The Purgatorium Europæ – Pars Duorum tour will commence September 29th in Berlin, Germany and ravage its way through two dozen cities, drawing to a close on October 27th in Gothenburg, Sweden. See all confirmed dates below.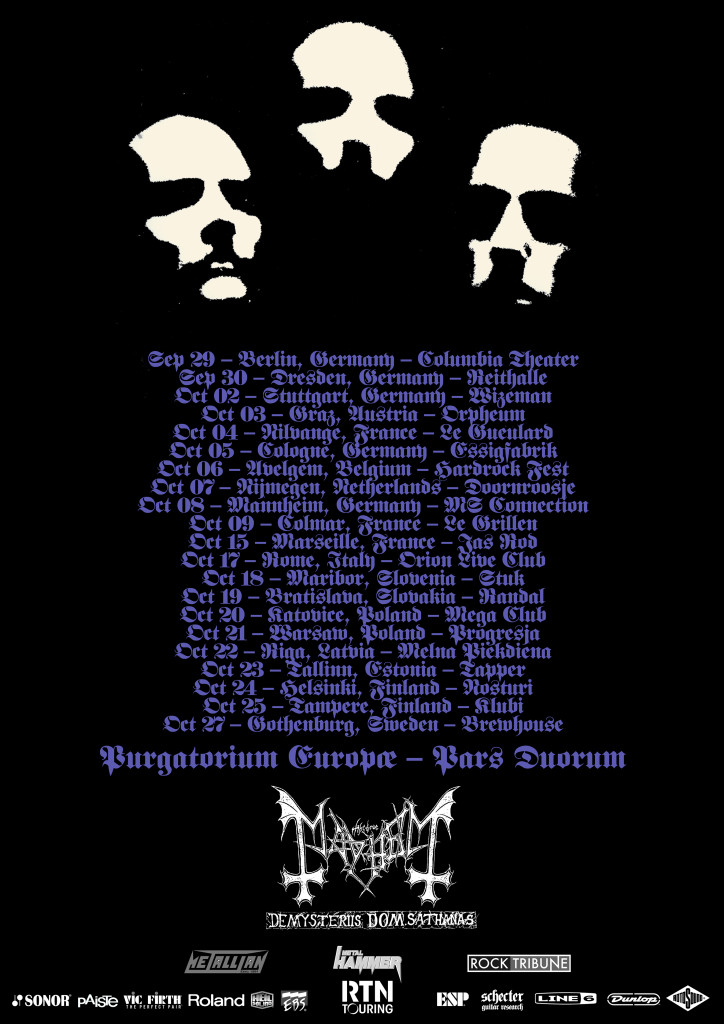 MAYHEM Purgatorium Europæ – Pars Duorum:
9/29/2017 Colombia Theater – Berlin, DE [tickets]
9/30/2017 Reithalle – Dresden, DE [tickets]
10/02/2017 Wizeman – Stuttgart, DE [tickets]
10/03/2017 Orpheum – Graz, AT [tickets]
10/04/2017 Le Gueulard – Nilvange, FR [tickets]
10/05/2017 Essigfabrik – Cologne, DE [tickets]
10/06/2017 Hardrock Fest – Avelgem, BE [tickets]
10/07/2017 Soulcrusher – Nijmegen, NL [tickets]
10/08/2017 MS Connection – Mannheim, DE
10/09/2017 Le Grillen – Colmar, FR [tickets]
10/11/217 Santana 27 – Bilboa, ES [tickets]
10/13/2017 BAT – Madrid, ES [tickets]
10/14/2017 Razzmatazz 2 – Barcelona, ES [tickets]
10/15/2017 Jas Rod – Marseille, FR [tickets]
10/17/2017 Orion Live Club – Rome, IT [tickets]
10/18/2017 Stuk – Maribor, SL
10/19/2017 Randall – Bratislava, SK [tickets]
10/20/2017 Mega Club – Katowice, PL [tickets]
10/21/2017 Progesja – Warschau, PL [tickets]
10/22/2017 Melna Piektdiena – Riga, LT [tickets]
10/23/2017 Tapper – Tallinn, EE [tickets]
10/24/2017 Nosturi – Helsinki, FI [tickets]
10/27/2017 Brewhouse – Gothenburg, SE [tickets]
http://www.dmds.thetruemayhem.com
https://www.mayhemofficial.bandcamp.com
https://www.facebook.com/mayhemofficial
https://www.instagram.com/thetruemayhem