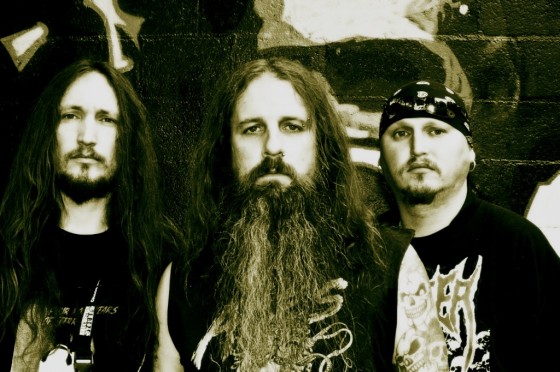 The ministers of molten metal mayhem at Invisible Oranges are currently hosting the exclusive premiere of "New Reforms," the eighth track off MASTER's upcoming The New Elite full-length. Set for North American release on August 14, 2012 through Pulverised Records, the eleventh studio offering from the death metal legends was recorded, mixed and mastered at Shaark Studios (Root, Fleshless, etc.), with artwork and layout design by German graphic artist Mark Bridgeman and offers up a 45-minutes of devout, bulldozing old-school DM centered around social travesty and political coercion.
Comments band mastermind Paul Speckmann of "New Reforms:" "This is a track about the people that believe everything they're told and have none of their own beliefs!"
Plant your ear holes HERE.
MASTER will embark on a long-term stretch of live assaults throughout Europe and South America through the Fall with a full-fledged North American tour slated for March of 2013! The band will be joined by Sacrificial Slaughter and more. Further details to be announced in the coming weeks. In the meantime, the tour routing is as follows:
MASTER North American Detonation Tour w/ Sacrificial Slaughter + TBA:
3/01/2013 Los Angeles, CA
3/02/2013 Sacramento, CA
3/03/2013 Portland, OR
3/04/2013 Seattle, WA
3/05/2013 Boise, ID
3/06/2013 Salt Lake City, UT
3/07/2013 Cheyenne, WY
3/08/2013 Omaha, NE
3/09/2013 St. Paul, MN
3/10/2013 Madison, WI
3/11/2013 Chicago, IL
3/12/2013 Cleveland, OH
3/13/2013 Albany, NY
3/14/2013 Boston, MA
3/15/2013 Poughkeepsie, NY
3/16/2013 Philadelphia, PA
3/17/2013 Baltimore, MD
3/19/2013 Nashville, TN
3/20/2013 New Orleans, LA
3/21/2013 Little Rock, AR
3/22/2013 Oklahoma City, OK
3/23/2013 Ft. Worth, TX
3/24/2013 Austin, TX
3/25/2013 Midland, TX
3/26/2013 El paso, TX
3/27/2013 Tucson, AZ
3/28/2013 Phoenix, AZ
3/29/2013 Mexicali, MX
3/30/2013 Corona, CA
3/31/2013 Las Vegas, NV
4/01/2013 – Fullerton, CA
"…probably one of the best death metal albums you will hear this year!" – This Is Not A Scene
"MASTER lay on the crushing heaviness with enough catchy riffs to carry the day and produce yet another solid album of straightforward death metal." – About.com
"…an absolutely relentless album in the classic death metal mould – the mould that Paul Speckman himself helped shape." – Metal Ireland
https://www.facebook.com/Speckmetal
http://www.myspace.com/masterspeckmann