[photo by Janette Valentine]
Now just two weeks from release is Miami grindcore squad MARUTA's third LP, and first for Relapse Records; Remain Dystopian. Easily one of the extreme metal highlights of this year, the unstoppable album advances the genre with forward-thinking dementia jacked-into the brutalizing blasting core, and with the aid of several special guest appearances, makes for an incredibly satisfying platter of 21st Century grind.
For five days in a row, Relapse will unload a massive MARUTA smear campaign, dispatching five brand new tracks from Remain Dystopian, beginning right now, the barrage leading off with a premiere of "Genocide Interval" with American Aftermath. Through the rest of the week, Heavy Blog Is Heavy will release "Protocol for Self Immolation" tomorrow, Decibel Magazine will unload "Erode" (featuring JR Hayes of Pig Destroyer) on Wednesday, No Clean Singing breaks out "Slaying Jehova" on Thursday, and New Noise Magazine wraps up the crusade with "The Void Within" on Friday.
Join MARUTA's Remain Dystopian assault with "Genocide Interval" at American Aftermath now, RIGHT HERE.
MARUTA sets their hometown ablaze on June 6th at a release show for Remain Dystopian, after which they'll embark on a European tour in support of the LP, running from June 25th through July 11th where it will come to a close at the mighty Obscene Extreme Festival. Subsequent widespread North American touring will be announced in the coming days as well.
MARUTA Live:
6/06/2015 Churchill's Pub – Miami, FL — Record Release Show w/ Orbweaver, Sacridose
6/25/2015 Maguires Pizza – Liverpool, UK
6/26/2015 The Red Lion – Bristol, UK
6/27/2015 The Unicorn – London, UK
6/28/2015 The Pit's – Kortrijk, BE
6/29/2015 Les Runes – Brodeaux, FR
6/30/2015 Les Pavillons Sauvages – Toulouse, FR
7/01/2015 Stage Live – Bilbao, SP
7/02/2015 TBA – Madrid, SP
7/03/2015 TBA – Barcelona, SP
7/04/2015 TBA – Turin, IT
7/05/2015 Circolo Colony – Brescia, IT
7/06/2015 Dürer Kert – Budapest, HU
7/07/2015 RC Brooklyn – Brno, CZ
7/08/2015 Reil 78 – Halle, DE
7/09/2015 TBA
7/10/2015 Black Fleck – Potsdam, DE
7/11/2015 Obscene Extreme – Trutnov, CZ
Named after a special project during World War II in which the Imperial Japanese Army used human beings for torturous scientific experiments, the newest phase in MARUTA's modus operandi comes in the form of their fourth LP, and first for Relapse, with Remain Dystopian. Delivering seventeen demanding and damaging tracks in under twenty-eight minutes, the album is made all the more dangerous with the assistance of contracted outside henchmen for the multiple-studio recording of the album — including drums with Pig Destroyer's Scott Hull and vocals with Torche's Jonathan Nuñez — with additional torment tactics provided by Pig Destroyer's J.R. Hayes, Agoraphobic Nosebleed's Jay Randall, and Tomas Lindberg of At The Gates.
The video for "Hope Smasher" is playing at Noisey at THIS LOCATION, and the tracks "Stride Endlessly Through Scorched Earth" featuring Tomas Lindberg is playing via Revolver Magazine RIGHT HERE, "Hope Smasher" at Lambgoat HERE, "Stand In Defeat" HERE, and a video from the recording sessions HERE.
Remain Dystopian campaign will see release on CD, LP and digital formats June 2nd in North America, May 29th in Germany, Benelux and Finland, and June 1st in the UK and elsewhere. Preorders for the physical versions are available HERE and digital preorders HERE.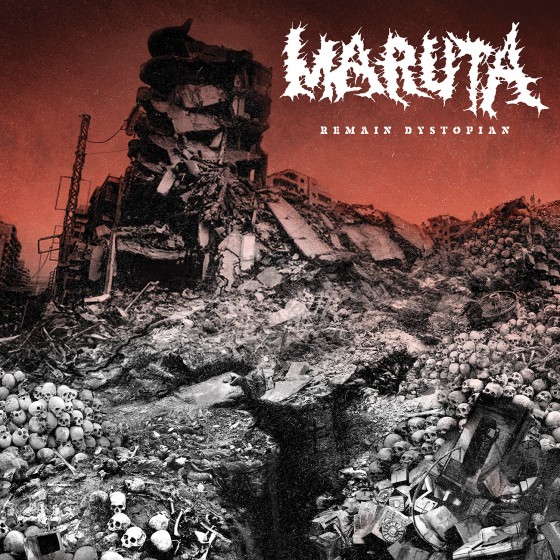 http://www.facebook.com/Marutagrindcore
http://twitter.com/marutagrindcore
http://maruta.bandcamp.com
http://www.relapse.com
http://relapserecords.bandcamp.com
http://www.facebook.com/RelapseRecords