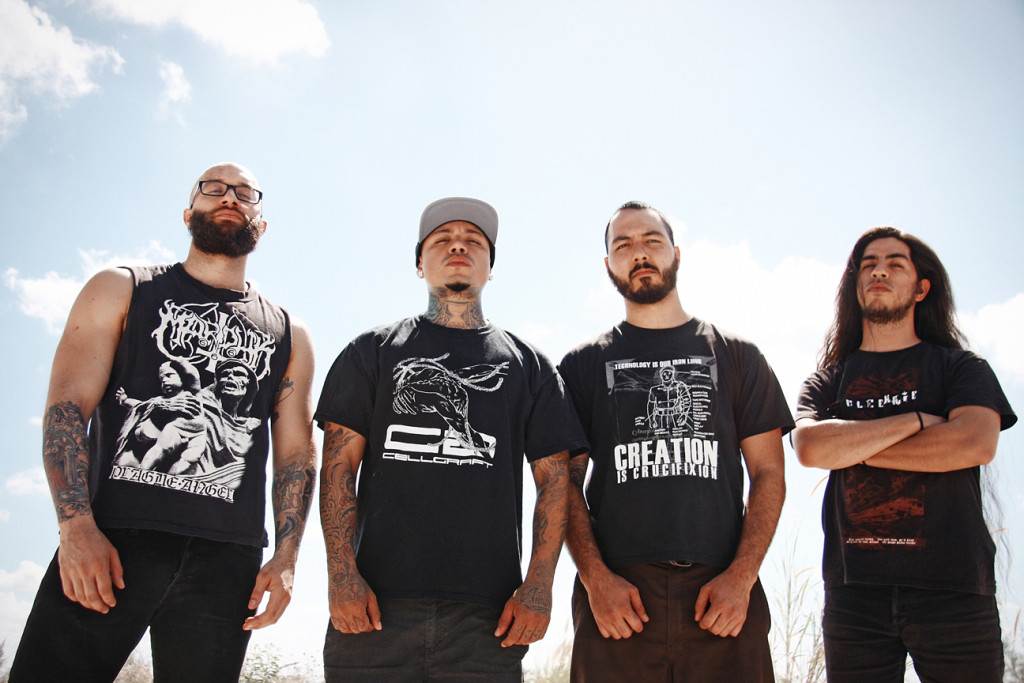 [photo by Janette Valentine]
South Florida hyper deathgrind quartet, MARUTA, has just declared an upcoming series of Eastern US conflicts in the form of a two-week September tour alongside Yautja.
Named after a special project during World War II in which the Imperial Japanese Army used human beings for torturous scientific experiments, MARUTA has pummeled eardrums abroad through grueling tour ventures and inundated the masses with their bludgeoning, death-infused, grindcore concoction over the past decade. Following two LPs through Willowtip Records, and having signed with Relapse Records in August of last year, it is inarguable that MARUTA's Remain Dystopian is the act's most punishing and focused album to date. Recorded in various studios including drums with Pig Destroyer's Scott Hull and vocals with Torche's Jonathan Nuñez, the record is a vicious, seventeen-song blast of relentless and infectious deathgrind mayhem. Featuring guest vocals from the legendary Tomas Lindberg (At The Gates, Disfear) and Pig Destroyer's J.R. Hayes, plus layers of noise from Agoraphobic Nosebleed's Jay Randall, Remain Dystopian raises the bar for what 21st Century grind can accomplish!
Following their brutalizing European tour in the wake of their Relapse Records-released third LP, Remain Dystopian, MARUTA now brings the action to their East Coast compatriots in support of the mangling album. The new tour sees the band prepared to wipe thirteen cities off the map, running from September 17th through 30th, beginning in their hometown of Miami and hitting Tallahassee, Atlanta, Columbia, Fayetteville, Harrisonburg, Baltimore, Louisville, Akron, Rochester, Cambridge, Brooklyn and Montclair. As MARUTA will be paired with Nashville-based trio, Yautja, the trek will undoubtedly make itself known as one of the most devastating live pairings for the foreseeable future.
October will see MARUTA on the road across the US once again on a massive tour supporting The Black Dahlia Murder alongside Iron Reagan and Harms Way. That destructive venture will see the tour package raiding the Eastern US once again as well as inundating the Midwest and shredding its way into Canada as well, with a total of twenty cities to be hit between October 1st and 24th, beginning in Syracuse and ending in Detroit.
Stream MARUTA's Remain Dystopian in its entirety at THIS LOCATION and endure their manic "Hope Smasher" video RIGHT HERE.
MARUTA w/ Yautja:
9/17/2015 Churchill's Pub – Miami, FL
9/18/2015 Pug's Live – Tallahassee, FL
9/19/2015 Drunken Unicorn – Atlanta, GA
9/20/2015 New Brookland Tavern – Columbia, SC
9/21/2015 Drunk Horse Pub – Fayetteville, NC
9/22/2015 The Golden Pony – Harrisonburg, VA
9/23/2015 The Sidebar – Baltimore, MD
9/25/2015 Spinelli's Downtown – Louisville, KY
9/26/2015 The Rialto Theatre – Akron, OH
9/27/2015 Flour City Station – Rochester, NY
9/28/2015 Cantab Lounge – Cambridge, MA
9/29/2015 Saint Vitus Bar – Brooklyn, NY
9/30/2015 The Meat Locker – Montclair, NJ
MARUTA w/ The Black Dahlia Murder, Iron Reagan, Harms Way:
10/01/2015 The Lost Horizon – Syracuse, NY
10/02/2015 Foufounes Electriques – Montreal, QC
10/03/2015 Mavericks – Ottawa, ON
10/04/2015 Opera House – Toronto, ON
10/07/2015 Crocks – Thunder Bay, ON
10/08/2015 The Pyramid – Winnipeg, MB
10/09/2015 Louis' Pub – Saskatoon, SK
10/10/2015 Union Hall – Edmonton, AB
10/11/2015 MacEwan – Calgary, AB
10/13/2015 Rickshaw – Vancouver, BC
10/14/2015 Hawthorne – Portland, OR
10/15/2015 El Corazon – Seattle, WA
10/16/2015 Knitting Factory – Boise, ID
10/17/2015 The Complex – Salt Lake City, UT
10/18/2015 The Black Sheep – Colorado Springs, CO
10/20/2015 Bourbon Street – Lincoln, NE
10/21/2015 Wooly's – Des Moines, IA
10/22/2015 Castle Theatre – Bloomington, IL
10/23/2015 Emerson Theatre – Indianapolis, IN
10/24/2015 The Loving Touch – Detroit, MI
Noisey issued in an early track premiere, "MARUTA has gone from dead in the water to alive to dead again and finally resurrected. Hopefully that resurrection stays, because their latest burner 'Hope Smasher' is a full on cavalcade of grind blasts, groove-metal breaks, and all out pandemonium… Get ready to do your windmill headbangs, this fucker rips." MetalSucks raved, "Remain Dystopian is the kind of record that will rip your jaw clean off and then tear your eyes from their sockets but leave them attached and dangling so you can admire your own tongue as it flops around making horrible gurgling noises. Or, put more succinctly: it's one of the best grind albums of 2015." Stereogum offered in part, "MARUTA are no standard grindcore band, and they've got more than enough ideas to pack their upcoming third LP to the gills. This stuff gets the 'grind' tag largely by virtue of the breakneck pace at which they crank out their clipped tunes. (Average runtime: 100 seconds)… Remain Dystopian requires plenty of work to process, but it's also incredibly satisfying if you manage to keep pace." Decibel Magazine simply delivers, "Miami four-piece MARUTA are back together after a (thankfully) brief two-year time-out. They clearly did not reunite to start sucking."
Orders for the physical versions of Remain Dystopian are available HERE and digital download HERE.
http://www.facebook.com/Marutagrindcore
http://www.twitter.com/marutagrindcore
http://www.maruta.bandcamp.com
http://www.relapse.com
http://www.relapserecords.bandcamp.com
http://www.facebook.com/RelapseRecords