[photo by Janette Valentine]
Florida-based ultra-deathgrind quartet MARUTA is now just one week from the release of its third LP, and first for Relapse Records, as Remain Dystopian breaks out of confinement early through a pummeling stream of its seventeen-track assault courtesy of MetalSucks.
It is inarguable that MARUTA's Remain Dystopian is the act's most punishing and focused album to date. Recorded in various studios including drums with Pig Destroyer's Scott Hull and vocals with Torche's Jonathan Nuñez, the record is a vicious, seventeen-song blast of relentless and infectious deathgrind mayhem. Featuring guest vocals from the legendary Tomas Lindberg (At The Gates, Disfear) and Pig Destroyer's J.R. Hayes, plus layers of noise from Agoraphobic Nosebleed's Jay Randall, Remain Dystopian raises the bar for what 21st Century grind can accomplish! MARUTA's new LP is now streaming in its entirety via MetalSucks, who issues, "Remain Dystopian is the kind of record that will rip your jaw clean off and then tear your eyes from their sockets but leave them attached and dangling so you can admire your own tongue as it flops around making horrible gurgling noises. Or, put more succinctly: it's one of the best grind albums of 2015."
Unload MARUTA's Remain Dystopian with MetalSucks now at THIS LOCATION.
Also watch MARUTA's destructive "Hope Smasher" video at Noisey RIGHT HERE. Preorders for the physical versions of Remain Dystopian are available HERE and digital download HERE.
MARUTA's Remain Dystopian record release shows will go down in the band's hometowns directly following its street date, with one show in Miami on June 6th and another in Orlando on June 13th, followed by a one-off in Mexico a week later. Shortly afterward they'll raid Europe in support of the LP, with their tour running from June 25th through July 11th where it will come to a close at the mighty Obscene Extreme Festival. Subsequent North American tour dates will also be announced in the very near, bleak future.
MARUTA Tour Dates:
6/06/2015 Churchill's Pub – Miami, FL *Record Release Show w/ Orbweaver, Sacridose
6/13/2015 Hourglass Brewery – Orlando, FL *Record Release Show w/ Mindscar, God Harvest
6/20/2015 Sindicato De La Canaco – Merida, MX w/ Broken Hope, Sadistic Intent
6/25/2015 Maguires Pizza – Liverpool, UK
6/26/2015 The Red Lion – Bristol, UK
6/27/2015 The Unicorn – London, UK
6/28/2015 The Pit's – Kortrijk, BE
6/29/2015 Les Runes – Brodeaux, FR
6/30/2015 Les Pavillons Sauvages – Toulouse, FR
7/01/2015 Stage Live – Bilbao, SP
7/02/2015 TBA – Madrid, SP
7/03/2015 TBA – Barcelona, SP
7/04/2015 Sabato 4 Luglio – Turin, IT
7/05/2015 Circolo Colony – Brescia, IT
7/06/2015 Dürer Kert – Budapest, HU
7/07/2015 RC Brooklyn – Brno, CZ
7/08/2015 Reil 78 – Halle, DE
7/09/2015 Club Novitatis – Dresden, DE
Named after a special project during World War II in which the Imperial Japanese Army used human beings for torturous scientific experiments, MARUTA has pummeled eardrums abroad through grueling tour ventures and inundated the masses with their bludgeoning, death-infused, grindcore concoction over the past decade. Following two LPs through Willowtip Records, and having signed with Relapse Records in August of last year, Remain Dystopian will see release on CD, LP and digital platforms June 2nd in North America, preceded by May 29th in Germany, Benelux and Finland, and June 1st in the UK and the rest of the planet.
With early reports of the album's torrential auditory beatings pouring in, Heavy Blog Is Heavy issued a 4/5 write-up of the album, calling it, "the benchmark for upcoming bands in the venomous subgenre that is deathgrind… An addictive and endearing love letter to grind fans who would welcome an apocalypse, this is one step closer to the future of death metal and grind." Alongside an exclusive premiere of the band's first official video from the album, Vice Magazine's Noisey blog issued, "MARUTA has gone from dead in the water to alive to dead again and finally resurrected. Hopefully that resurrection stays, because their latest burner 'Hope Smasher' is a full on cavalcade of grind blasts, groove-metal breaks, and all out pandemonium… Get ready to do your windmill headbangs, this fucker rips." Stereogum dissected the album, offering in part, "MARUTA are no standard grindcore band, and they've got more than enough ideas to pack their upcoming third LP to the gills. This stuff gets the 'grind' tag largely by virtue of the breakneck pace at which they crank out their clipped tunes. (Average runtime: 100 seconds)… Remain Dystopian requires plenty of work to process, but it's also incredibly satisfying if you manage to keep pace." Decibel Magazine simply delivers, "Miami four-piece MARUTA are back together after a (thankfully) brief two-year time-out. They clearly did not reunite to start sucking." No Clean Singing published that the band's output is, "…an explosive rush of dissonant, raking riffs, near-inhuman drum fusillades, and beast-like roars. To be honest, it's too much to take in on one listen, and the eerie guitar leads must have some psychoactive substance in them, because the first thing I wanted to do after hearing it the first time was to continue pressing play, without even consciously thinking about it." And American Aftermath simply states, "Featuring seventeen vicious auditory assaults, Remain Dystopian is the perfect soundtrack to worldwide destruction."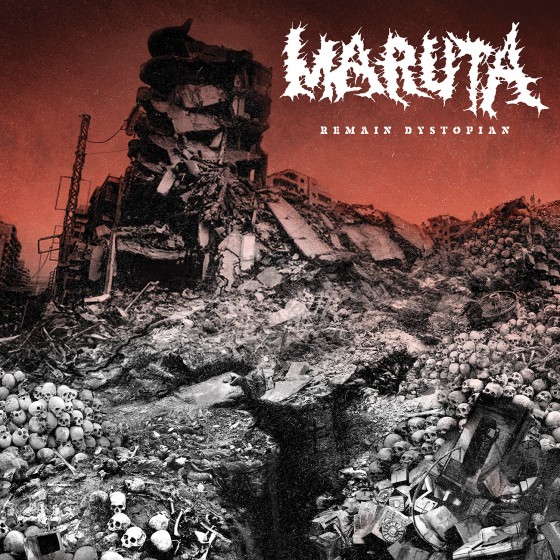 http://www.facebook.com/Marutagrindcore
http://twitter.com/marutagrindcore
http://maruta.bandcamp.com
http://www.relapse.com
http://relapserecords.bandcamp.com
http://www.facebook.com/RelapseRecords