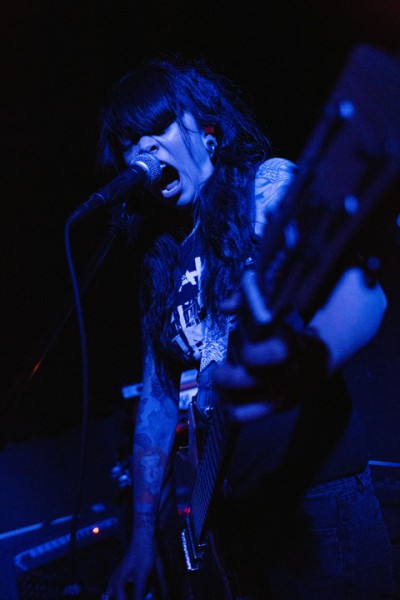 This week, Calgary-based doom-core outfit MARES OF THRACE have made a major announcement about the band's lineup. Since their 2009 inception the band has been comprised of longtime friends guitarist/vocalist Thérèse Lanz and drummer Stef MacKichan, but this week the band announced the departure of Stef and the induction of new drummer Rae Amitay. Rae was trained at the Berklee School of Music, has recently recorded with folk metal act Thrawsunblat (the new band formed by members of Woods of Ypres), and is a staff writer for MetalReview.com. The full statement welcoming Rae is posted on the MARES OF THRACE Facebook page.
Additionally, the band will become a three-piece for this tour, joined by a bass player for the first time. Scott Shellhammer (American Heritage) who played drums on the recent MARES OF THRACE tour through Canada and the U.S., as well as painted the cover art for their new album The Pilgrimage, will lay down the low-end on the forthcoming trek.
The first MARES OF THRACE performances with the new lineup will be on the pending tour where the band will join Providence's epic doom trio Pilgrim and Brooklyn's metallic hardcore quartet Primitive Weapons for a string of ten Northeastern U.S. shows, kicking off this week.
MARES OF THRACE's sophomore LP The Pilgrimage was released worldwide via Sonic Unyon Metal in April. Critics and fans alike have been blown away by the band's dynamic, metallic hybrid of sludge and scathing metalcore tendencies, the album receiving rave reviews and major coverage from media outlets worldwide. The band will have the new limited edition vinyl version of the album with them on the forthcoming tour. Limited to 500 copies on red and black splattered wax, each LP includes a CD version of the album as well.
For review copies of The Pilgrimage, interviews with MARES OF THRACE or coverage of the upcoming tour dates, worldwide contact earsplitpr@aol.com.
MARES OF THRACE, PRIMITIVE WEAPONS, PILGRIM Northeastern U.S. Tour:
7/31/2012 O'Briens – Boston, MA
8/01/2012 Columbus Club – North Providence, RI [*new show]
8/02/2012 Cherry St. Station – Wallingford, CT
8/03/2012 Saint Vitus – Brooklyn, NY
8/04/2012 Broadway Bar – Amityville, NY
8/05/2012 Ottobar – Baltimore, MD [*new venue]
8/06/2012 Kung Fu Necktie – Philadelphia, PA
8/07/2012 The Depot – York, PA
8/08/2012 Pirates Cove – Cleveland, OH
8/09/2012 Ruby Tuesday – Columbus, OH
8/10/2012 Cobra Lounge – Chicago, IL
http://maresofthrace.com
https://www.facebook.com/maresofthraceca
http://www.sonicunyon.com/metal
https://www.facebook.com/SonicUnyonMetal