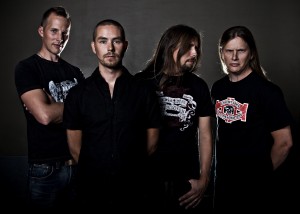 When MANIMAL's debut album hit their home country of Sweden last year, the band entered the official Swedish album chart at an impressive #36. For a metal newcomer that's quite sensational. Well-known record label AFM Records thought so, and immediately signed MANIMAL for a world-wide release of the album. The Darkest Room has since received top ratings from the media, including a massive 7/7 in one of Germany's largest metal magazines, Metal Hammer.
The Darkest Room consists of nine tracks all characterized by the typical hard-rocking, melodic and progressive MANIMAL style, blending elements of Queensrÿche and Rammstein, joined by high-pitched vocals in true Judas Priest spirit. The hard, modern sound of the album is a result of the band's cooperation with producer Tobias Lindell, known for his previous work with dozens of contemporary acts including Mustach, and was the producer of the latest Europe album. With the release of The Darkest Room, the band have broken new grounds in the well-established and distinctive Gothenburg metal scene.
Through hard work MANIMAL is already well established when it comes to live performances. Though the debut is still very new, the band has already performed at major Swedish festivals such as Sweden Rock, Metaltown and Peace & Love. They've also toured with U.D.O. and have played countless gigs as supporting act for bands such as Entombed, The Poodles and Circus Maximus.
Expect to hear the name MANIMAL for years to come, as this young, hungry act is just getting started…
Check out the band performing "The Life We Lived" – a track from The Darkest Room – at Trädgårn in Gothenburg, Sweden last year:

"A must-have for every melodic/power metal maniac." 7/7 – Metal Hammer
"The production on The Darkest Room is full of balls and quite in your face, the songs memorable,
and the playing exceptional." 4/5 – SeaOfTranquility.org
MANIMAL interviews as well as review copies of The Darkest Room are available to North American journalists now via Earpsplit. Please get in touch for further info.
http://www.manimal.se
http://www.myspace.com/manimalsweden
http://www.afm-records.de
http://www.myspace.com/afmrecordsgermany