Innerstrength Records presents a deluxe vinyl reissue of No Tolerance For Imperfection, the seminal third LP from Scottish technical death metal assassins, MAN MUST DIE.
Initially released in 2009 through Relapse Records, No Tolerance For Imperfection was the album that broke MAN MUST DIE into the international metal scene and showcased the band as a monumental force in the death metal scene, as several of the album's brutalizing anthems immediately became and still remain band and fan favorites.
Breathing new life into the album in 2022, Innerstrength Records will now release No Tolerance For Imperfection on vinyl for the first time. All eleven songs have here been meticulously mastered for vinyl by Alan Douches at Westwest Side Music and pressed in a run of 500 copies in a massive double-LP format presented in multiple bold variants in the color scheme of the record's blazing cover artwork – 200 Clear Black w/ White Splatter, 200 Marble Effect w/ Black & Orange Splatter, and 100 Color-In-Color Flame Orange in Clear w/ Black Splatter.
Check out all variants and ordering options at THIS LOCATION and at Bandcamp where the entire new master of the record is streaming HERE.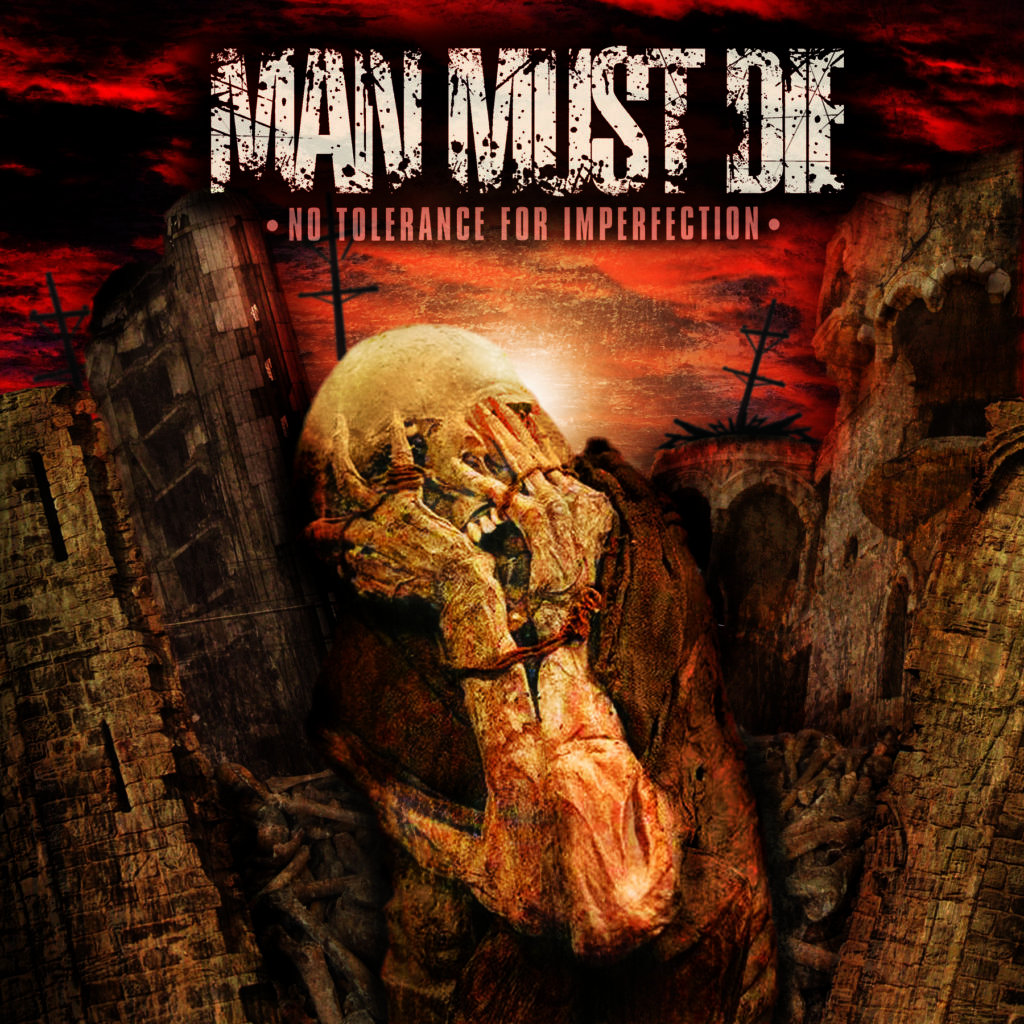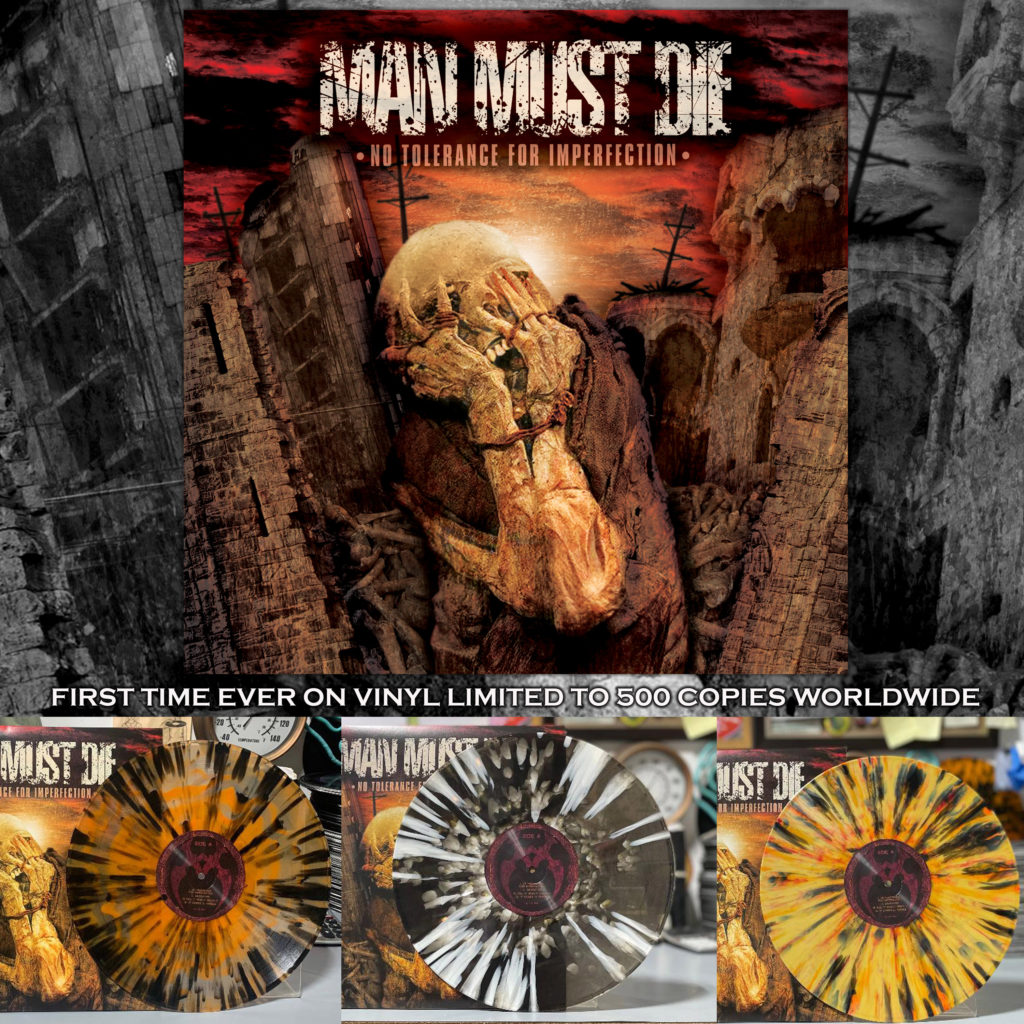 No Tolerance For Imperfection Track Listing:
1. No Tolerance for Imperfection
2. Gainsayer
3. Kill It Skin It Wear It
4. It Comes In Threes
5. This Day Is Black
6. Hide The Knives
7. Dead In The Water
8. What I Can't Take Back
9. Reflections From Within
10. How The Mighty Have Fallen
11. Survival Of The Sickest
MAN MUST DIE was formed in Glasgow Scotland in 2002 and quickly signed to Retribute Records in 2003, releasing their first album, …Start Killing, in 2004. Recorded on a low budget studio in Clydebank, Scotland, producer JF Dagenais (Kataklysm) made the long trip from Quebec to record/produce the album, which was followed by extensive UK touring.
In 2006, MAN MUST DIE became the first UK band to sign to US label Relapse Records with a two-album deal, the first of which, The Human Condition, saw the band travel to Canada for a month-long stay to record once again with JF Dagenais. The album saw release in 2007 and propelled the band into the European live circuit with tours alongside Kataklysm, Aborted, Macabre, and Misery Index.
In 2009, MAN MUST DIE released what was their breakthrough album through Relapse, No Tolerance For Imperfection. Recorded by Scott "The Terminator" Atkins in England, the album featured the tracks "Kill It Skin It Wear It" and "It Comes In Threes" which will always be mainstays in the band's setlists. On the back of this release, they toured with the likes of Machine Head, Hatebreed, Exodus, Decapitated, and Kataklysm.
Following lineup changes and other changes to the band, MAN MUST DIE's fourth LP, Peace Was Never An Option, was recorded in a beaten up studio in the East of Scotland with Micheal "Raphone" Allan (now the band's second guitarist) and released in the UK with GrindScene Records and worldwide by Germany's Lifeforce Records in 2013. The record was followed in 2019 with the release of the Gagging Order EP, once again through GrindScene Records.
MAN MUST DIE:
Joe McGlynn – vocals
Alan McFarland – lead guitars
James Wright – bass
Mike Allan – guitars
Tony Corio – drums
https://www.facebook.com/ManMustDie
https://manmustdie.bandcamp.com
https://www.instagram.com/mustdiemusic
https://www.innerstrengthmusic.com
https://innerstrengthrecords.bandcamp.com
https://twitter.com/innerstrengthhc
https://www.facebook.com/innerstrengthrecords
https://www.instagram.com/innerstrengthrecords