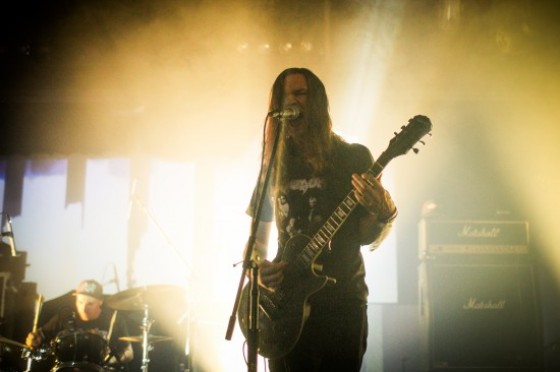 Following several other live runs, first bashing a trail across Australia on their first tour of that continent, followed by a tour of the West Coast US including a performance at The Power Of The Riff, Texas brutalizers MAMMOTH GRINDER have declared new live actions for the coming weeks.
These new melees will begin to transpire across North America this weekend, as the MAMMOTH GRINDER crew raids Canada for shows in Montreal this Thursday, November 14th and Toronto on Friday the 15th. Next month they'll head back out on a trek kicking off December 14th at the first annual Denver Black Sky Festival joining Dying Fetus, Ghoul, Exhumed, Skinless, Power Trip, Weekend Nachos, Iron Reagan and a pile of others. From there MAMMOTH GRINDER will rip through the Midwest and Gulf Coast states with nine more shows with Power Trip, also sharing the stage with Iron Reagan, Windhand and more along the way. The band is currently devising additional tour plans for early 2014.
MAMMOTH GRINDER Tour Dates:
11/14/2013 Turbo Haus – Montreal, QC w/ Iron Age, Napalm Raid, Oath
11/15/2013 Hard Luck – Toronto, ON w/ Mind Eraser, Needles, Warthog
12/14/2013 The Gothic Theater – Denver, CO @ Denver Black Sky Festival [info]
12/15/2013 Conservatory – Oklahoma City, OK w/ Power Trip, Iron Reagan, Windhand
12/16/2013 Club Dada – Dallas, TX w/ Power Trip,Iron Reagan, Windhand
12/17/2013 Red 7 – Austin, TX w/ Power Trip, Iron Reagan, Windhand
12/18/2013 Siberia – New Orleans, LA w/ Power Trip, Iron Reagan
12/19/2013 Epic Problem – Tampa, FL w/ Power Trip, Iron Reagan
12/20/2013 Talent Farm – Pembroke Pines, FL w/ Power Trip, Iron Reagan
12/21/2013 The Atlantic – Gainesville, FL w/ Power Trip, Iron Reagan
12/22/2013 Drunken Unicorn – Atlanta, GA w/ Power Trip
12/23/2013 The Forge – Birmingham, AL w/ Power Trip, Legion
In July, MAMMOTH GRINDER released the beast that is their earthmoving third LP, Underworlds, via 20 Buck Spin, the album literally stampeding praise forth from hot-shit mags and writers everywhere. Underworlds marks a peak at which MAMMOTH GRINDER have sharpened and perfected their sound into a seething grind/death/thrash maelstrom of intense degree; unrelenting in its concentrated raw precision and focused power, Underworlds careens violently through ten tracks with effortless versatility and the fixated songcraft expected of a band on their third record. The band commissioned the legendary Joe Petagno (Pink Floyd, Led Zeppelin, Motörhead, Marduk) to deliver the album's gritty cover artwork.
http://www.mammothgrinder.com
https://www.facebook.com/MammothGrinder
http://www.20buckspin.com
http://www.facebook.com/20buckspin
http://twitter.com/20buckspinlabel