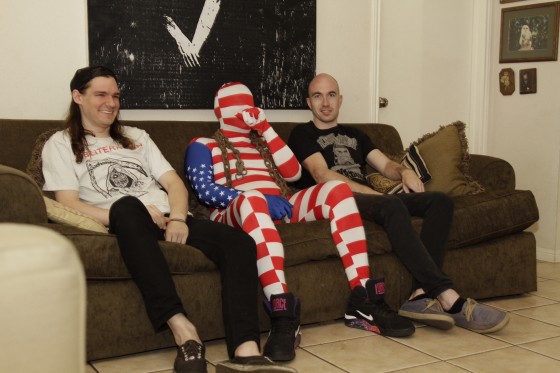 Austin-based hardcore/death crossover outfit, MAMMOTH GRINDER, has confirmed a three-week tour late this fall, joining Santa Cruz progressive death metal outfit, Inanimate Existence as support for Richmond's bongblasters, Cannabis Corpse. The tour will begin in the Southeast, with the first show in Wilmington, North Carolina on November 28th, and whip counter-clockwise through the country across the Gulf Coast, up through California then eastward through the Midwest and back down the East Coast, coming to a halt in Richmond on December 20th.
Just in time for the tour, 20 Buck Spin will repress MAMMOTH GRINDER's third LP, Underworlds, on clear vinyl. Additionally, in early 2015 the label will issue a vinyl version of the band's sophomore album, Extinction Of Humanity, initially released in 2009 through Relapse Records/Cyclopean. Additional details on both platters will be released prior to the start of the tour next month.
In July 2013, 20 Buck Spin released Underworlds, the album showcasing how MAMMOTH GRINDER has sharpened and perfected their sound into a seething grind/death/thrash maelstrom of intense degree. Unrelenting in its concentrated raw precision and focused power, Underworlds careens violently through ten tracks with effortless versatility and the fixated songcraft, recorded by Travis Bonner at The Diamond Factory Studios and mastered by Jack Control (World Burns To Death, Severed Head Of State) and bearing cover art by the legendary Joe Petagno (Pink Floyd, Led Zeppelin, Motörhead, Marduk).
MAMMOTH GRINDER w/ Cannabis Corpse, Inanimate Existence:
11/28/2014 Ziggy's By The Sea – Wilmington, NC
11/29/2014 Drunken Unicorn – Atlanta, GA
11/30/2014 Siberia – New Orleans, LA
12/02/2014 Club Dada – Dallas, TX
12/03/2014 Red 7 – Austin, TX
12/04/2014 Limelight – San Antonio, TX
12/06/2014 Club Red – Phoenix, AZ
12/07/2014 Soda Bar – San Diego, CA
12/08/2014 Echoplex – Los Angeles, CA
12/09/2014 Strummers – Fresno, CA
12/10/2014 The Metro – Oakland, CA
12/11/2014 The Garage – Ventura, CA
12/12/2014 The Cheyenne Saloon – Las Vegas, NV
12/13/2014 The Core – Salt Lake City, UT
12/14/2014 Marquis Theater – Denver, CO
12/17/2014 Cobra Lounge – Chicago, IL
12/18/2014 Ace Of Cups – Columbus, OH
12/19/2014 Saint Vitus – Brooklyn, NY
12/20/2014 The Broadberry – Richmond, VA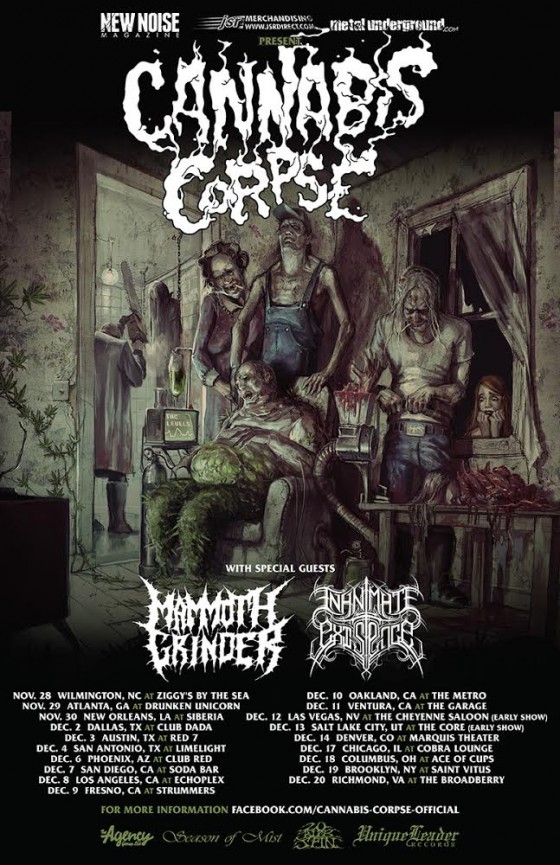 http://www.mammothgrinder.com
https://www.facebook.com/MammothGrinder
http://www.20buckspin.com
http://www.facebook.com/20buckspin
http://twitter.com/20buckspinlabel