Upon the first worldwide release, with their fourth studio full-length, Turning Tides having hit stores two weeks ago, Finland's MALPRACTICE is proud to say that their new opus has officially impacted several major charts in their homeland. Turning Tides hit the official Finnish album charts at #38, and also took a dominant position on the Rumba album list, which consists of sales from specialized record shops (no megastores or massive chains), at the #12 position.
Released via Sensory Records on September 16th, Turning Tides has been bringing in outstanding reviews from the metal media, from both seasoned reviewers of MALPRACTICE's earlier works, like Sea Of Tranquility, who issues in a 4/5 review, "Turning Tides is very well done and contains all the things we've come to expect & enjoy from the genre. MALPRACTICE have all the chops, can write some memorable songs, and throw in a hook or two in the middle of all the headbanging fun. Can't ask for much more than that!" We Love Metal webzine came raging in with a blown-away 10/10 score from a scribes first encounter with the band, proclaiming, "…this is nearly forty-five minutes of progressive metal bliss, full of melody and superb musicianship, both instrumentally as well as vocally. I nearly got goosebumps the first time I listened to Turning Tides, finding an album on par with (if not better than) every other prog metal offering so far in 2014 – and maybe every other genre as well… I believe I have found my album of the year. They get only my second perfect score ever. Enough said."
With the release still brand new, MALPRACTICE continues to leak more media on Turning Tides, releasing a new drum-cam video of the band's Toni Paananen blazing his kit to the epic instrumental track, "Symphony Of Urban Discomfort." The video is now playing at Gear Gods at THIS LOCATION.
Gear Gods also recently premiered a massive documentary on the making of Turning Tides RIGHT HERE. Stream all of Turning Tides and place digital orders HERE, and order the CD HERE.
Featuring members of Omnium Gatherum, Insomnium and more, MALPRACTICE's output has drawn comparisons to Queensryche, Fates Warning, Dream Theater and Megadeth. Having been in operation since 1994, among several independently-released EPs, the band has released three albums to date, including their debut Of Shape And Balance through Mastervox Records and the subsequent Deviation From The Flow and Triangular full-lengths, both through Spinefarm Records. Now in their twentieth year, their incoming fourth LP, and first for American progressive metal label Sensory Records, Turning Tides showcases nearly forty-five minutes of brand new material, representing MALPRACTICE at their absolute best, combining intricate progressive metal with catchy melodies topped with excellent musicianship and brilliant vocal harmonies. Professionally recorded by the members of the band, Turning Tides was produced by the band's Joonas Koto and Toni Paananen and engineered by Koto, then mixed and mastered by Anssi Kippo at Astia-Studio A and bears artwork by Miikka Tikka.
"Turning Tides is one of those albums that just seems to get things right. The album has a great consistency about it; the songs flow nicely into each other, don't drag on until they get boring, and each offers enough to keep things interesting." – Metal Storm
"…it appears that their origins have come full circle on the aptly titled Turning Tides, adding in the riff and energy nuance of early '90s Megadeth into their melodic yet uplifting progressive metal comfort zone. 8.5/10" – Dead Rhetoric
"A nice example of the blend between thrash and progressive metal… It's an ambitious endeavor, a concept album of sorts, filled with spectacular guitar playing, bass work, percussion and vocals." – Bloody Good Horror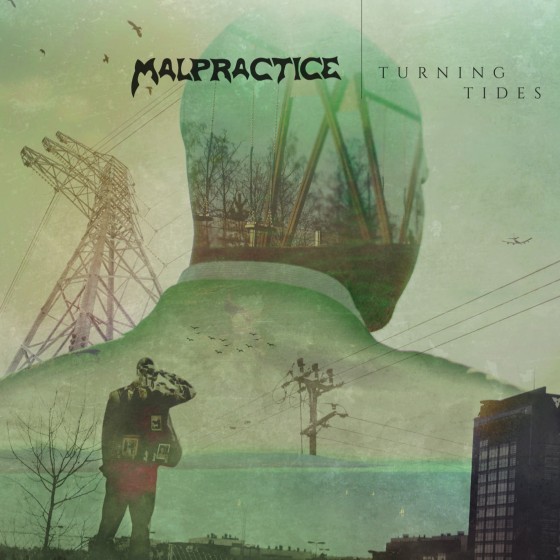 http://www.malpracticeband.com
http://www.facebook.com/pages/Malpractice/124420308087
http://www.lasersedgegroup.com
https://www.facebook.com/TheLasersEdge