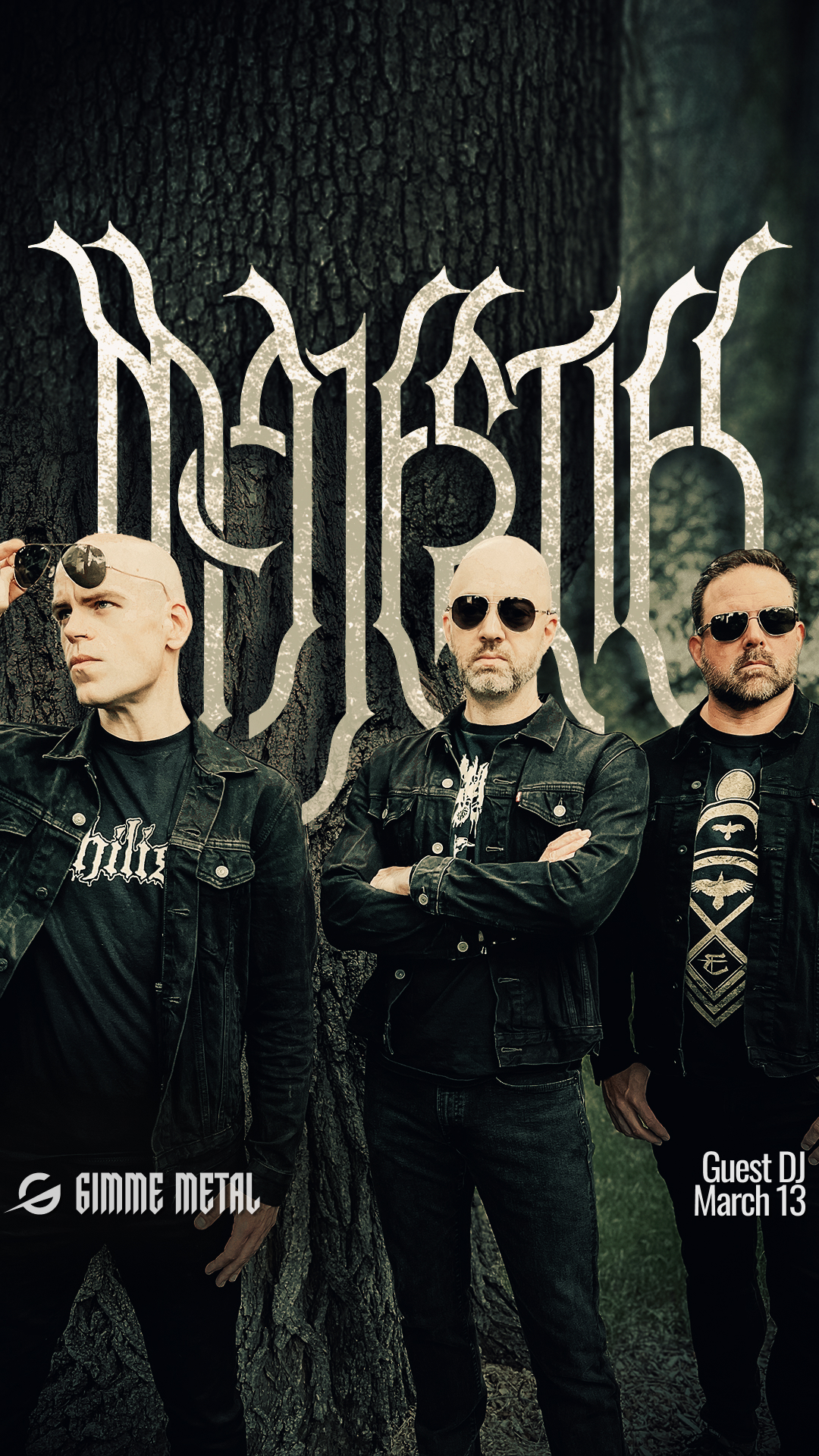 photos by Sarah Kirkwold
Melodic death metal trio MAJESTIES – formed by members of Obsequiae, Inexorum, and more – will host a Gimme Metal Guest DJ Session this coming Monday, March 13th. Tune in at 8am PT/11am ET via GimmeMetal.com or on the app to hear the band spin a wide array of their favorite metal and more.
Uniting guitarist/vocalist/drummer Tanner Anderson, guitarist Carl Skildum, and bassist Matthew Kirkwold, MAJESTIES just released their debut LP Vast Reaches Unclaimed through 20 Buck Spin to vast critical praise from media and fans around the world. Evoking a time when Gothenburg was starting to unseat Stockholm as the unimpeachable city for Swedish death metal in the mind of the international metal scene, MAJESTIES bears that intrinsic sense of rabid intensity and the effortlessly satisfying melodic ability that made albums like In Flames' The Jester Race and the like instant classics. The mix of major key melodies and twin guitar harmonies snaking through every track ornament the vigorous riff eruptions and anguished vocals in a sheen of gleaming brilliance that proves an exhilarating triumph to behold.
Without a hint of the corruption the style experienced in a post-Slaughter Of The Soul world, Vast Reaches Unclaimed exists as a fervent reminder of what was and what again shall be. MAJESTIES reanimates the corpse of the true melodic style that both divided and invigorated the death metal scene of the mid-1990s and brings it into 2023 like it never left, sounding as novel and thrilling as ever.
Vast Reaches Unclaimed was engineered by the band, mixed and mastered by Adam Tucker at Signaturetone Recording (Ulthar, Thou, Obsequiae), and completed with photography by Sarah Kirkwold, artwork by Juanjo Castellano (Gates Of Ishtar, Varathron, The Black Dahlia Murder), logo by Dan Capp, and layout by Chimere Noire. Fans of In Flames, Eucharist, Dark Tranquillity, A Canorous Quintet, Gates of Ishtar, Iron Maiden, Ceremonial Oath, and clearly Obsequiae and Inexorum, should not miss MAJESTIES' debut.
Stream MAJESTIES' entire, epic Vast Reaches Unclaimed at YouTube HERE and Bandcamp HERE.
Vast Reaches Unclaimed is available on LP, CD, CS, and digital at the 20 Buck Spin webshop HERE, Bandcamp HERE, and all digital providers.
"Despite being a debut record, Decibel recently listed Vast Reaches Unclaimed among the most anticipated albums of 2023 …as the rousing riffs and epic verses pile up, it's clear that MAJESTIES lean even harder into the grandeur of traditional metal than the Swedish pioneers." – Decibel Magazine
"…will put a grin on the face of anyone who yearns for mid-Nineties In Flames, At The Gates, or Heartwork-era Carcass. We're talkin' wolfman vocals, Maiden-sized drumming and leads that threaten to crack open the sky." – Revolver Magazine
 "MAJESTIES have captured the core of that sound better than any album I've heard in a long, long time, with the artistry inherent to their main projects, and the resulting music is excellent… this might be the first real album of the year contender…" – No Clean Singing
 "MAJESTIES bring it back to the days before Slaughter of the Soul, channeling things like earlier At the Gates records and In Flames' cultishly loved Subterranean EP. And they do it right, with an arsenal of supremely catchy riffs worked into an otherwise-pulverizing record." – BrooklynVegan
 "…an absolutely stunning melodeath record that calls back to some of the genre's greatest classics while making sure that the personalities and styles of Majesties' lineup shine through… Melodeath rarely sounds as simultaneously fresh and in touch with the classics as does Vast Reaches Unclaimed…" – Last Rites
https://www.instagram.com/majesties_melodicdeath
https://www.20buckspin.com
https://listen.20buckspin.com
https://www.facebook.com/20buckspin
https://twitter.com/20buckspinlabel
https://www.instagram.com/20buckspinlabel