Murder Metal mongers MACABRE are preparing to self-release a 12″ picture disc LP version of their recent full-length, Grim Scary Tales, via their own Decomposed Records. This gory platter of splatter bears the bold, Scott Jackson-crafted front cover art to the album on the A-side, and a portrait of the infamous MACABRE trio, armed for battle, as always, on the B-side. Order the Grim Scary Tales picture disc and Lizzie Borden shirt now for a special preorder price here.
The release of the LP comes just in time for MACABRE's next leg of their multi-stage Grim Scary Tales Tour in support of the album, as they prepare to hit the road in two weeks, once again with Exhumed, Cephalic Carnage and Withered. The gore tour gets going on July 24th — with MACABRE headlining the Central Illinois Metalfest, joined by Nachtmystium, Nunslaughter, Embalmer and tons more — the tour lineup them moving on to invade sectors of the Midwest and Western North America.
MACABRE, Exhumed, Cephalic Carnage, Withered:
7/24/2011 Canopy Club – Urbana, IL @ Central Illinois Metalfest [tix]
7/25/2011 The Rave – Milwaukee, WI [tix]
7/26/2011 Station 4 – St. Paul, MN [tix]
7/27/2011 Park Theatre – Winnipeg, MB [tix]
7/28/2011 The Exchange – Regina, SK [tix]
7/29/2011 The Pawn Shop – Edmonton, AB [tix]
7/30/2011 The Distillery – Calgary, AB [tix]
7/31/2011 Knights Of Columbus Hall – Kelowna, BC
8/01/2011 Rickshaw Theater – Vancouver, BC [tix]
8/02/2011 Studio Seven – Seattle, WA [tix]
8/03/2011 Branx – Portland, OR [tix]
8/04/2011 Slim's – San Francisco, CA [tix]
8/05/2011 The Alley – Sparks, NV [tix]
8/06/2011 Cheyenne – Las Vegas, NV [tix]
8/07/2011 Key Club – Hollywood, CA [tix]
MACABRE Headlining Dates w/ Withered:
8/08/2011 Ruby Room – San Diego, CA [tix]
8/09/2011 Chaser's – Phoenix, AZ [tix]
8/11/2011 Sorority House – Amarillo, TX
8/12/2011 Korova – San Antonio, TX [tix]
8/13/2011 *TBD
8/14/2011 The Conservatory – Oklahoma City, OK [tix]
8/15/2011 Downtown Music – Little Rock, AR
8/16/2011 Hi Tone – Memphis, TN
8/17/2011 FuBar – St Louis, MO @ (no Withered) [tix]
MACABRE's first album in eight long years, Grim Scary Tales was released earlier this year on the band's Decomposed Records, with North American distro by Willowtip and European distribution by Hammerheart. The album delivers the madness and musicianship MACABRE fans have come to love over the past quarter of a century, cleverly combining nursery rhyme sing-along quirkiness with ultra-tight, high-speed, gore/grind/death ingenuity. MACABRE have cleverly devised a "story book of murder" with this album, as Grim Scary Tales tracing back to the earliest recorded and most infamous mass killers.
"While Macabre's sound is certainly unique, never has it been more versatile than on the new album…" – Rue Morgue
"…this odd, transgressive, audacious record will be like manna from the drill-hole in the head of a Dahmer acid zombie for those who can abide a healthy dose of absurdity in their brutality. 8/10" – Decibel
"Every bit the raucous, gore-grind slab of still-quivering meat fans have come to expect from the band…" – MetalSucks
"Blending elements of death metal, thrash, nursery rhymes, country rock, circus music, chamber music, a weird old town crier and even some world music themes, Macabre takes the listener on a twisted sonic journey on every track." – Metal Army America
"…the technical synchronicity that the band is capable of is nothing less than awe inspiring, and new fans just discovering Macabre with this disc might not fully appreciate their capability. 4/5" – Metal Rules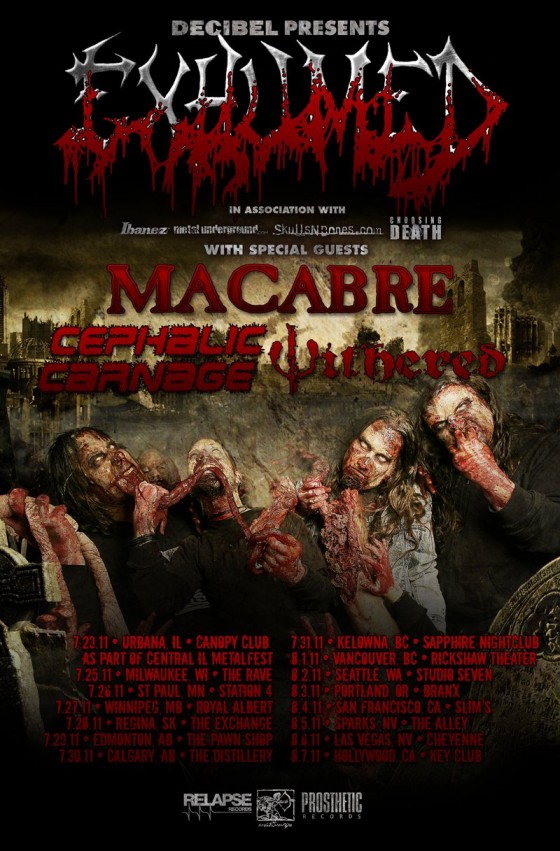 http://www.murdermetal.com
http://www.facebook.com/pages/MACABRE/49364636089
http://www.myspace.com/macabre