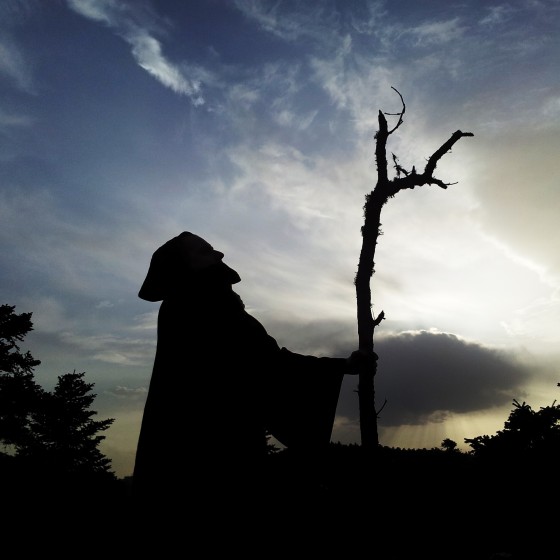 As Ván Records proudly releases the majestic sophomore album from Greek epic/pagan black metal band, MACABRE OMEN, bearing the title Gods Of War – At War, two tracks from the album have been released via the label's Soundcloud page for streaming.
Through the expanses of the album's second and also title track, "Gods Of War – At War," and sixth of the album's eight odes, "Rhodian Pride, Lindian Might," one immediately becomes succumb to MACABRE OMEN's enchanting harmonies and grand delivery, making it all the easier to fall victim to the grim and malicious core of these warrior hymns. Gods Of War – At War was recorded at Priory Recording Studios in the West Midlands in the Land of the Angles. Produced, engineered and mastered by Greg Chandler under the supervision of The One over a period of six months and through the Summer Solstice of 2013 A.B., all drums and percussion were recorded intermittently during the last two weeks of February 2013 A.B and engineered by T. J. F. Vallely at Eidola Studios. Throughout the album's hour-long duration, a multitude of vocal approaches and entities appear among waves of choirs, acoustic and electric guitars and bass, recorder, mouth harp, synths, tambourine, gongs, and an array of different drums and percussive instrumentation, making the album an incredibly rounded and endlessly entertaining album which immediately demands repeat attention.
Stream MACABRE OMEN's "Gods Of War – At War" and "Rhodian Pride, Lindian Might" at THIS LOCATION.
Gods Of War – At War is out now through Germany's Ván Records on both CD limited edition mighty 2xLP version RIGHT HERE. Stateside order links will be available shortly.
Gods Of War – At War Track Listing:
1. I See, The Sea!
2. Gods Of War – At War
3. Man Of 300 Voices
4. Hellenes Do Not Fight Like Heroes, Heroes Fight Like Hellenes
5. From Son To Father
6. Rhodian Pride, Lindian Might
7. Alexandros – Ode A'
8. Alexandros – Ode B'
MACABRE OMEN was founded in August 1994 by Alexandros and Mournful on the island of Rhodes, Greece, in the town of Kremasti and Ialysos. Their first release was the Secrets Of The Moonlight demo (1994). By 1995, as a four-member band with Alexandros on guitars, Lefteris on vocals, Mournful on bass and Stephen on keyboards, they released their second demo, Before Darkness. By 1996, only Alexandros and Mournful remained. With Alexandros also taking over the role of lead vocals and with the addition of Polyvios on drums and Michalis Savvakis as a guest on keyboards, they released the promo tape Olympus where the typical sound of MACABRE OMEN came to be. In 1997, Polyvios left the band and Stephen returned on keyboards. The same year, they released a split 7" with Godblood from Cyprus. By 1998, Alexandros moved to London, England and the band became a one-man-act. With only Alexandros remaining and performing all instruments except drums and the split 7" with Walhalla from Finland was released in 1999. The four-way split None Shall Escape With Wrath saw release in 2000 and the split 7" with Ad Inferos in 2001.
MACABRE OMEN went on a small hiatus until 2004 when Gionata Potenti and Claudio Alcara joined on drums and acoustic guitar respectively. Then working as a full act again, they released their first full-length album to see release in their eleven years since their creation with The Ancient Returns. In 2006, they appeared on the compilation by Kyrck Productions & Armour, Hellas – The Black Death Anthology – 1989-2006, with the song "We Won With War." Also in 2006 and 2007, two split 7" EPs were released as a tribute to Bathory. In 2013, Tom Vallely joined in drums and their second album after ten years entitled Gods Of War – At War is finally released in early 2015.
MACABRE OMEN:
Alexandros – Vocals, Backing Vocals, Choir, Guitars, Acoustic Guitar, Classical Guitar, Bass, Recorder, Mouth Harp, Samples, Synths
T. J. F. Vallely – Drum Kit, Timpani, Medieval Drums, Bodhrán, Frame Drums, Tambourine, Gongs, Clash Cymbals, Suspended Cymbal
http://macabreomen.bandcamp.com
http://www.van-records.de
http://www.facebook.com/vanrecs
http://vanrecords.bandcamp.com