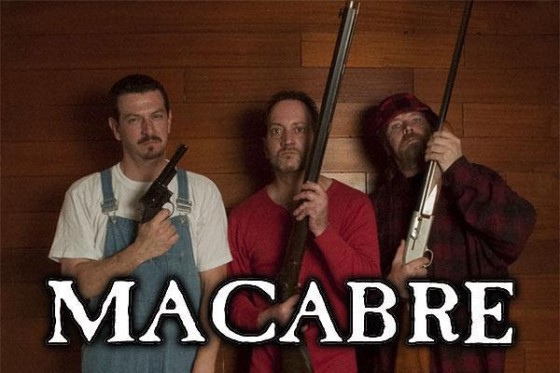 Chicago's Murder Metal trio, MACABRE, is set to rampage across the US on a headlining twenty-four city slaughter spree this October. Joined by openers, Panzerfaust, and with direct support from the mighty Ringworm, MACABRE will spread their grisly tales of terror across the country from October third through Halloween night. The trek includes participation in Philip H. Anselmo's second annual Housecore Horror Film Fest in Austin, alongside Gwar, Voivod, Neurosis, Danzig, Samhain, Eyehategod, Vader, Corrections House, Lustmord and others.
After returning home to resupply with fresh provisions, just a week-and-a-half later MACABRE will caravan through the Midwestern region on a brutal escapade as direct support for the legendary Carcass. The five-date invasion will see Pontiac, Grand Rapids, Madison, Des Moines and Joliet ravaged by the vicious lineup, which also includes the berserk invigoration of Exhumed and Noisem.
MACABRE will also be headlining the Chicago Music Factory and Rebel Radio's seventeenth annual Holiday Of Horrors in their hometown on December 26th, joined by Jungle Rot, Scythe and Armored Assault.
Established in 1985, MACABRE's methodical and unique auditory executions have delivered tales of true crime, serial killers and mass murderers to life through a sick synthesis of math rock, nursery rhymes, punk, thrash, folk melodies, death metal, jazz fusion, black metal and more into an energetic, catchy and unmistakable amalgam. Murder Metal refers to MACABRE's signature style. It's a genre of one.
New MACABRE merch is available at the band's official macabre merchandise store HERE, and a limited edition version of their seminal Sinister Slaughter LP will be available on murdermetal.com soon.
MACABRE w/ Ringworm, Panzerfaust:
10/03/2014 Fubar – St Louis, MO
10/04/2014 Cafe Berlin – Columbia, MO
10/05/2014 Riot Room – Kansas City, MO
10/06/2014 The Hideout – Omaha, NE
10/08/2014 Ernie November – Cheyenne, WY
10/09/2014 South Moe's – Englewood, CO [info]
10/10/2014 Burts Tiki – Salt Lake City, UT
10/11/2014 The Shredder – Boise, ID
10/13/2014 Slabtown – Portland, OR
10/14/2014 Studio Seven – Seattle, WA [info]
10/16/2014 Starlite Lounge – Sacramento, CA
10/17/2014 Oakland Opera House – Oakland, CA
10/18/2014 13th Frame Lounge – Los Angeles, CA
10/19/2014 LVCS – Las Vegas, NV
10/21/2014 Club Red – Phoenix, AZ [info]
10/22/2014 Sisters – Albuquerque, NM
10/23/2014 Jakes Backroom – Lubbock, TX
10/24/2014 3 Links – Dallas, TX
10/25/2014 Housecore Fest – Austin, TX [info]
10/26/2014 The Levee – Longview, TX
10/27/2014 Vinos – Little Rock, AR
10/28/2014 Hi Tone – Memphis, TN
10/30/2014 Phoenix Hill Tavern – Louisville, KY [no Ringworm]
10/31/2014 Berlin Music Pub – Ft. Wayne, IN [no Ringworm]
MACABRE w/ Carcass, Exhumed, Noisem:
11/10/2014 The Crofoot – Pontiac, MI [info]
11/11/2014 Intersection – Grand Rapids, MI [info]
11/12/2014 The Majestic – Madison, WI [info]
11/14/2014 Wooly's – Des Moines, IA [info]
11/15/20014 Mojoes – Joliet, IL [info]
17th Annual Holiday Of Horrors:
MACABRE w/ Jungle Rot, Scythe, Armored Assault
12/26/2014 Reggie's – Chicago, IL [info]
http://www.murdermetal.com
http://www.facebook.com/OFFICIALMACABRE