Chicago's legendary Murder Metal trio MACABRE will embark on a mini-tour next week in gala of the twentieth anniversary of their seminal Sinister Slaughter album.
MACABRE blends elements of true crime, math rock, nursery rhymes, punk, thrash, folk melodies, death metal, jazz fusion, black metal and more into an energetic, catchy and unmistakable amalgam and signature genre, "Murder Metal." Miraculously still comprised of the same decomposing torsos which founded the band in 1985 — vocalist/guitarist Corporate Death, drummer Dennis The Menace and bassist/vocalist Nefarious — the infamous MACABRE henchmen will stalk, slash and stampede their way through Kentucky, Pennsylvania, New York and Ohio with four brutalizing performances celebrating the passing of two decades since their maniacal Sinister Slaughter LP was released via Nuclear Blast in April of 1993.
Every MACABRE fan in the region should forge a path to one of these special shows, as the band will exhume hymns they've not delivered on-stage in an extremely long time. While the band is likely to pull some surprises and switch things up, the set list for these shows is rumored to include "Killing Spree," "Howard Unrah (What Have You Done Now?!)," "Mr. Albert Fish (Were Children Your Favorite Dish)," "Montreal Massacre," "The Ted Bundy Song," "What's That Smell?," "Apartment 213," "Dr. Holmes (He Stripped Their Bones)," "Konerak" and more, along with the Sinister Slaughter classics "Zodiac," "Nightstalker" and "Vampire Of Düsseldorf." MACABRE will bringing some new and classic merchandise on the road with them including Black Knight shirts, trucker caps, classic Albert Fish shirts, Established 1985 shirts, McMassacre shirts, girls slasher logo tank tops and shirts, Grim Scary Tales picture LP's, patches, stickers and much more.
MACABRE Sinister Slaughter 20th Anniversary Mini-Tour:
8/01/2013 Thompson House – Newport, KY [info]
8/02/2013 The Khyber Pass – Philadelphia, PA [info]
8/03/2013 Saint Vitus – Brooklyn, NY @ Deathfest w/ Phobia, Malignancy, Internal Bleeding, more [info]
8/04/2013 The Foundry – Lakewood, OH @ Sinister Sunday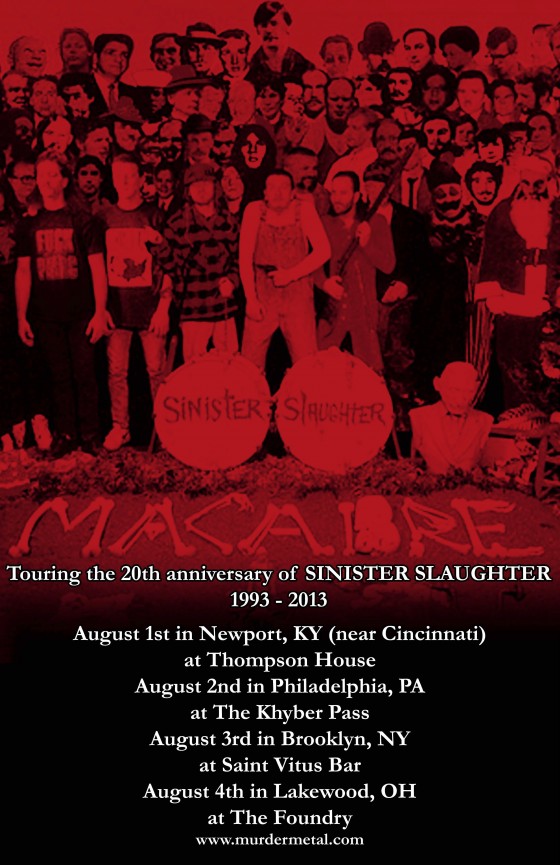 http://www.murdermetal.com
http://www.facebook.com/OFFICIALMACABRE