photos by Tyler Adams
Nefarious Industries announces the February release of The End Is The Beginning, a newly recorded solo EP from world renowned New York City-based trumpet slayer MAC GOLLEHON which melds avant-jazz with the influence of 1970s film noir scores. The label has just issued the EP's cover art, track listing, preorders, and more, as well as an advance single, "Neon And Gunpowder."
MAC GOLLEHON has toured the planet and recorded in studios everywhere with an endless roster of rock, pop, and jazz artists since the 1970s, including David Bowie, Blondie, Onyx, Madonna, Billy Ocean, Hall & Oates, Chaka Khan, Buddy Rich, Al Jarreau, Sheena Easton, Nile Rodgers, Patrick Adams, Mick Jagger, Grace Jones, Hector Lavoe, and hundreds of others, including his decade-plus run in Duran Duran. In addition to the Herculean amount of session work, GOLLEHON has released a variety of solo albums since the late 1990s, including records with his ever-morphing MAC GOLLEHON & THE HISPANIC MECHANICS.
Anybody who has heard Billy Ocean's "Get Outta My Dreams, Get Into My Car," Blondie's The Hunter, or Onyx's Slam is well versed in the wide array of brass tactics of New York City-based MAC GOLLEHON, as proven on the well-over two-hundred gold and platinum albums on which the trumpeter has appeared. But GOLLEHON's exploratory nature led him further from the mainstream path into the outer realms of the audio matrix, in recent years collaborating with extreme/experimental solo outfit Gridfailure. In May of 2021, Nefarious Industries released the pair's fully collaborative Dismemberment Cabaret album, a savage hybrid of industrialized ambient/experimental metal rooted in slasher gore and underworld speakeasys, recorded remotely while under Covid quarantine. Upon completion of the record, GOLLEHON and Gridfailure's David Brenner had already identified several new project ideas to explore, the next of which is embodied in The End Is The Beginning.
The End Is The Beginning sees MAC GOLLEHON writing all arrangements and performing all instrumentation with Brenner engineering/producing the record. Drawing inspiration from trumpeter Lester Bowie's Art Ensemble Of Chicago, pianist Cecil Taylor, German composer Karlheinz Stockhausen, and others, GOLLEHON delivers a mangled storyline that immerses the listener in a daring concept inspired by 1970s film noir, transporting you to New York City and abandoning you in what could be an ongoing mob war infiltrating the city's five boroughs. An extremely stripped-down home studio arrangement with solid microphones, a hybrid of analog and digital equipment, and primitive tactics with a wide spectrum of effects and pedalboard matrixes made for constantly morphing and immersive recording sessions. Within the record's runtime, inspiration from classic crime dramas of the era explodes with bold dementia. With Don Ellis' score for The French Connection and Lalo Schifrin's Dirty Harry suite at the forefront, one can hear a convergence of styles tracing to Ennio Morricone, Goblin, Miles Davis, Elvin Jones, Riz Ortolani, and more contemporary creators David Lynch, Mike Patton, and John Zorn.
The End Is The Beginning sees MAC GOLLEHON performing a cavalcade of choreographed brass – including trumpet, trumpet, cornet, and trombone – as well as a diverse array of drums/percussion, keyboards/analog synth, acoustic and electric guitars, bass guitar, scat vocals, and more, as well as field recordings taken from various areas of New York City. Delivering ten songs in a dense thirty-three-and-a-half-minutes, the record was engineered, recorded, and mixed in four one-day sessions during the sweltering inferno of Summer 2021 at The Compound in Valley Cottage, New York by David Brenner who supplies additional field recordings and samples. The album was mastered at Black Matter Mastering in Nashville, Tennessee by Dan Emery (Kool Keith, Lost Dog Street Band, Thetan) and completed with photography by Tyler Adams and design by Brenner.
With the scat-and-groove slap of "Neon And Gunpowder," lead single from The End Is the Beginning, GOLLEHON reveals, "I went to the street with no name, but arrogant greed, cruelty, and deceit. Pursuing the tired pointless temporary fix, robotically feeling the betrayals of being burned then swindled with disinformation. Then the joy of revenge through vindication, turning the tables, no longer floundering paralyzed helpless in the agony of surrender or defeat. As if the night became a blissful jubilant rave with a deadline in the acquiring of guaranteed satisfaction. All the deep comforts proven pure as neon and gunpowder."
Stream MAC GOLLEHON's "Neon And Gunpowder RIGHT HERE.
Nefarious Industries will release The End Is The Beginning through all digital providers and in a limited run of gold cassettes on February 4th, 2022. Find preorders and merch RIGHT HERE.
Watch for multiple videos to see release surrounding the record's release.
Additionally, GOLLEHON appears on Gridfailure's upcoming Sixth Mass-Extinction Skulduggery III album, Gridfailure & Megalophobe's third collaborative album Harbinger Winds, and the new MAC GOLLEHON & THE HISPANIC MECHANICS LP is already completed for release later in 2022, all through Nefarious Industries. GOLLEHON performs an average of three to six times per week across the NYC and Northeastern US while not on tour, but more extensive US and international live excursions are returning in 2022 and beyond.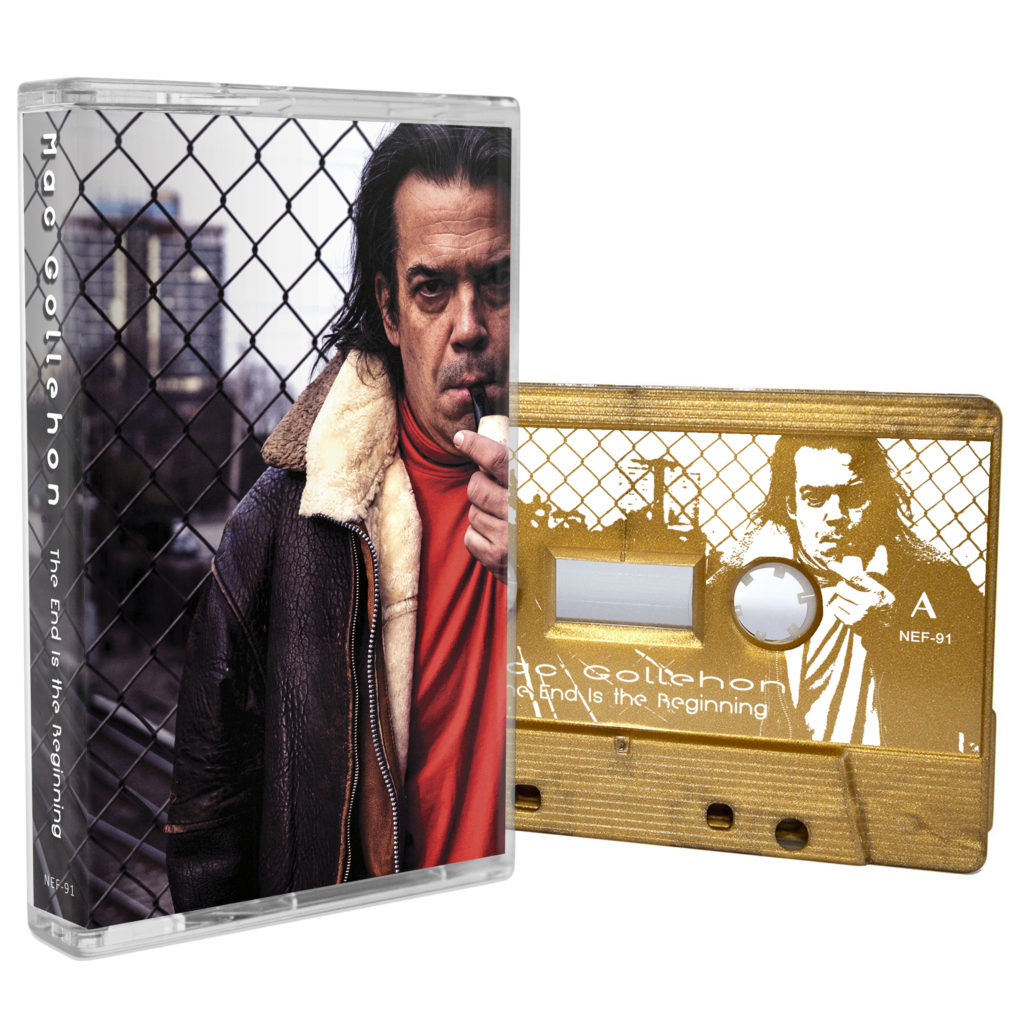 The End Is The Beginning Track Listing:
1. As Your World Burns
2. Enigma
3. Neon and Gunpowder
4. Passion For Wrath
5. Revenge For Brooklyn
6. Dead Protégé
7. Bronx Motor Inn
8. Turn It Up Motherfucker Go
9. Sackett Street Racket
10. The End Is The Beginning
https://www.instagram.com/macgollehon
https://www.facebook.com/mac.gollehon
https://twitter.com/gollehonmac1
http://nefariousindustries.com
http://www.facebook.com/nefariousIndustries
http://www.twitter.com/nefariousInd
https://nefariousindustries.bandcamp.com