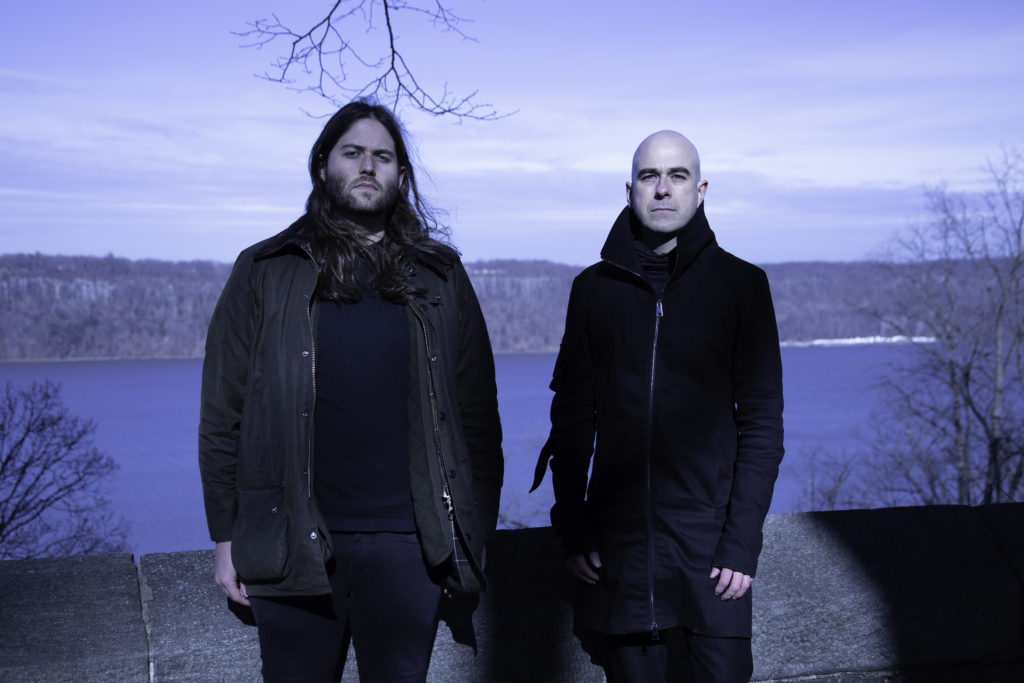 photo by Toby Driver
New York City-based LUMINOUS VAULT prepares to release their debut LP, Animate The Emptiness, through Profound Lore Records in May, presenting a bold and unique hybrid of black/death metal and electronic music. Today, the group offers their latest single from the record, "Ancient North."
From their inception in 2015, LUMINOUS VAULT's guitarist/vocalist Mario Diaz de Leon (Oneirogen, Bloodmist) and bassist/vocalist Samuel Smith (Artificial Brain, Aeviterne) have combined the "machine rhythm" approach of pioneering bands Godflesh and Blut Aus Nord with black metal and synthesizers. On their long-awaited follow-up to 2017's Charismata EP, Animate The Emptiness, this vibrant fusion is expressed with an intensity surpassing that of the band's past efforts. Tracks such as "Incarnate Flame Arise" are pervaded by the slow, speaker-rattling thud of an electronic kick drum, punctuated by Smith's distorted bassline and synthetic hi-hat patterns, while Diaz de Leon's guitar intones haunting tremolo-picked melodies and feedback-laden squalls.
On closing track "Ancient North," melancholic doom metal harmonies sustain over syncopated bass and drum rhythms, giving way to a euphoric surge of major key tremolo riffs. Diaz de Leon and Smith's vocal lines alternately evoke apocalyptic sermons and a call from otherworldly depths, with surrealistic lyrics that draw inspiration from psychospiritual trials and transformations, full of alchemical imagery.
Animate The Emptiness was recorded by LUMINOUS VAULT in NYC between 2019 and early 2020, mixed by MDdL, mastered by Josh Bonati, and completed with artwork by Fivetimesno.
Stream LUMINOUS VAULT's "Ancient North" now at all digital providers including Bandcamp HERE and YouTube HERE.
Animate The Emptiness will be released on LP, CD, and all digital formats on May 20th. Preorders for all versions are now posted where "Regeneration" is also streaming HERE.
Watch for additional audio previews from the LP to be dispatched over the weeks ahead.
Animate The Emptiness Track Listing:
1. Invoke Radiant Gleam
2. Incarnate Flame Arise
3. Divine Transduction
4. Regeneration
5. Earth Daemon
6. Embryonic
7. Ancient North
https://twitter.com/luminousvault
https://www.instagram.com/luminousvault
https://luminousvault.bandcamp.com
https://www.facebook.com/luminousvault
https://profoundlorerecords.com
https://www.profoundlorerecords.bandcamp.com
https://www.instagram.com/profoundlorerecords
https://twitter.com/profound_lore
https://www.facebook.com/profoundlorerecords