photos by Nell Hoving
Philadelphia-based LOTUS THRONES presents a video for "Liberate," which features guest saxophone from Bruce Lamont. The video's exclusive premiere is hosted by Decibel Magazine, just a week ahead of the release of outfit's Lovers In Wartime debut album through Disorder Recordings next Friday.
LOTUS THRONES is the solo project formed by former Wolvhammer and Across Tundras drummer Heath Rave during the 2020 quarantine. Lovers In Wartime was mixed by Sanford Parker at Hypercube, mastered by Collin Jordan at The Boiler Room, and completed with photography by Sally Mills and layout by Jeff Wilson, and includes a diversified cover of Bad Brains' "I And I Survive."
With the "Liberate" video, Rave delves, "What does depression sound like? It's different for everyone. Sometimes it's quiet and even comforting. A dark, weighted blanket. Other times it's an inglorious din boiling in your synapsis, completely overshadowing everything around you. I wanted to create an instrumental piece to simulate what it's like to be drowning in your own head, longing for what it would like to be able to 'save yourself.' I had spoken with Bruce before I even began composing it, I could hear him in my head for this idea and I wrote it for his performance to be the centerpiece, more of him channeling my emotions out of the backing music. I have cherished my friendship with him for years and I'm so grateful for the privilege of his presence on this. There was also no one else other than David Brenner to capture these feelings visually and eject them put into the world. This song felt truly finished after David completed the video for it. This is one of the greatest collaborations I've lucky to have been a part of."
Bruce Lamont offers, "When Heath asked me to collaborate, I knew it wouldn't be disappointing. Dark and ambient to start, building into a chaotic frenzy. As we say here in Chicago, 'real nice.'"
Decibel Writes with their premiere of the video, "Wolvhammer expatriate Heath Rave has quietly released one of the most diverse heavy albums of the year under the LOTUS THRONES moniker. Lovers In Wartime is full of bold surprises from the hard-hitting drummer, who metamorphosed into a frontman/bandleader during the pandemic, and 'Liberate' is the kind of left turn we all need to be paying more attention to. Enlisting the haunting saxophone of Yakuza's Bruce Lamont, the introspective, borderline ambient instrumental is an arresting change of pace from the Danzig/Killing Joke-influenced crush permeating Lovers. Today, Decibel is stoked to debut the David Brenner (Gridfailure)-helmed video for 'Liberate.'
Watch LOTUS THRONES' "Liberate" video first through Decibel Magazine at THIS LOCATION.
Lovers In Wartime will see release next Friday, July 30th on CD and digital through Disorder Recordings HERE.
Watch the previously released videos for "Fatigue" HERE and "Diametric Retrograde" HERE.
Following a five-year hiatus from releasing music, Heath Rave launched LOTUS THRONES to stay creative and return to playing music during lockdown. With the advent of technology making it easy to work alone, he began investigating new instruments and recording methods, exploring styles and genres of music he grew up on, including post-punk, industrial, goth, post-metal, dream pop, shoegaze, and more with an occasional nod to his hardcore roots, merging influences from the likes of Killing Joke, Sisters Of Mercy, Neurosis, Danzig, Justin Broadrick, Portishead, The Cure, and more, and handling all instrumentation on his own.
After releasing several singles and cover tracks, Rave embarked on the production of the debut LOTUS THRONES album, Lovers In Wartime, recording the album himself in January of this year. With Rave performing all drums, guitars, synth, keys, and vocals, the emotive eight-track album showcases the wide range of musical inspiration and homage its creator attempts to harness within the project. Additionally, Bruce Lamont (Yakuza, Brain Tentacles, Corrections House) provides saxophone on the tracks "Lovers" and "Liberate" and Andy Schoengrund (Coagulate, Feral Light) provides the guitar solo on "The Quarry."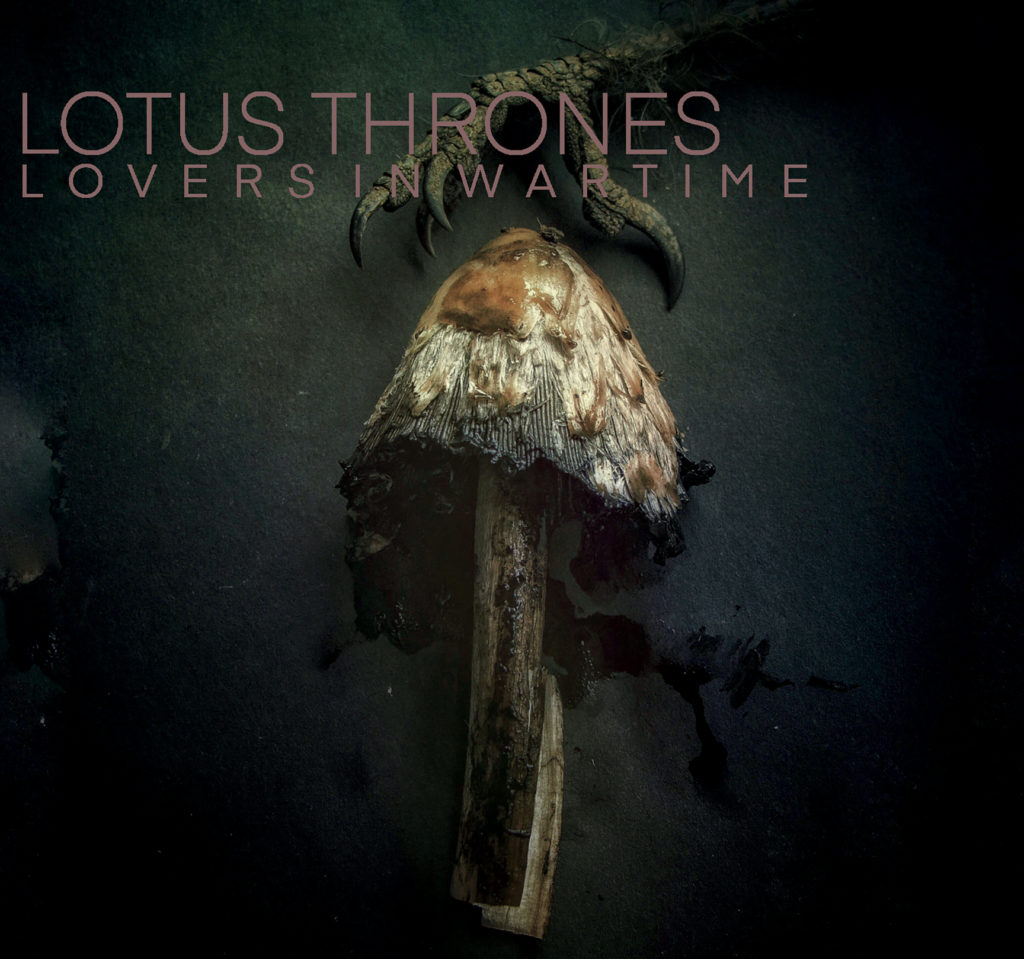 http://www.heathrave.com
https://www.instagram.com/lotusthrones
https://lotus-thrones.bandcamp.com
https://www.facebook.com/lotusthrones
http://disorder-recordings.com
http://disorder-recordings.bandcamp.com
http://disorder-design.com
https://www.instagram.com/disorderdesignco