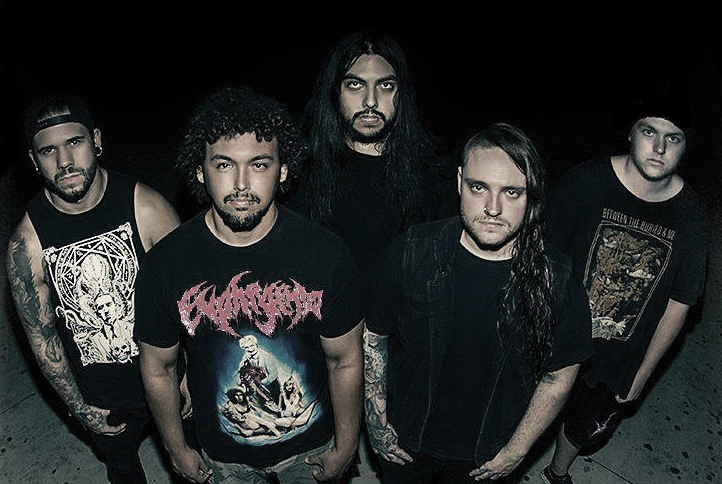 Following the release of their smoldering second full-length, Suffer, through Unique Leader Records in July, San Diego death metal unit LORD OF WAR has been confirmed to take part in the Rise Above The Empire Europe 2016 tour this fall. Joining Vader, Hate Eternal, Threat Signal, and Apophys, the tour runs from November 4th through November 20th.
Just days after their return stateside after the European tour, LORD OF WAR will embark on West Coast US headlining tour. This trek sees the band out from November 25th through December 12th.
Issues LORD OF WAR on the upcoming tour actions abroad, "We are beyond excited to join incredible artists such as Vader, Hate Eternal, and Threat Signal! This will be our first overseas tour and to follow it up, we'll be immediately headlining the states in November and December! Pick up our new album Suffer out now on Unique Leader Records."
Suffer was engineered and mixed by Daniel Castleman and Kelly Cairns (Killswitch Engage, As I Lay Dying, Carnifex, Winds Of Plague, Molotov Solution) and mastered by Miah Lajeunesse (Whitechapel, Aegaeon). See the lyric video for "Suffer" RIGHT HERE, and stream the entire album HERE. Order bundles for Suffer are available HERE.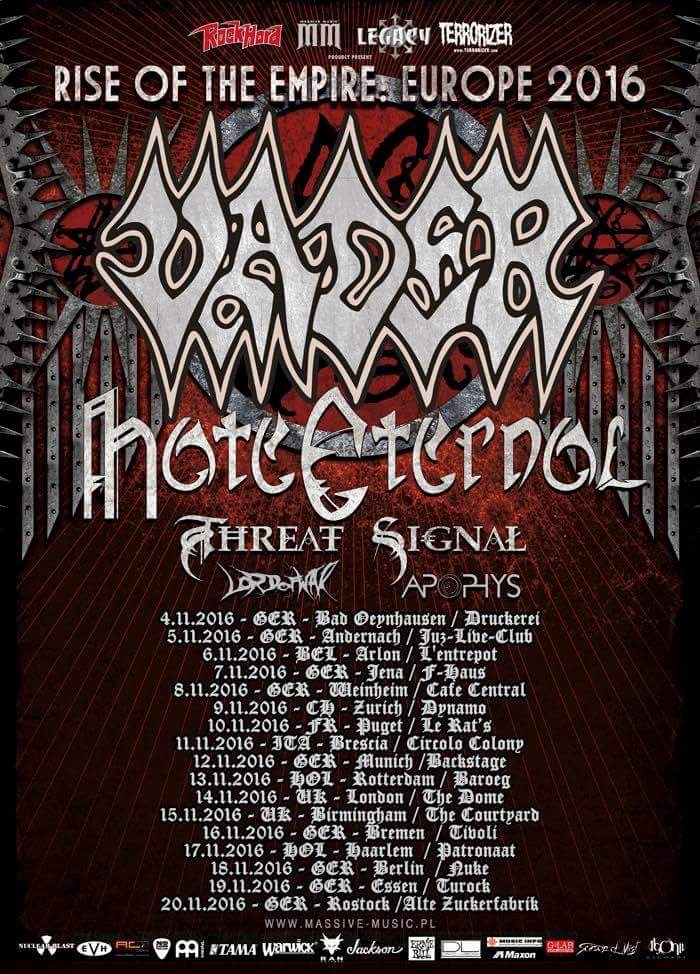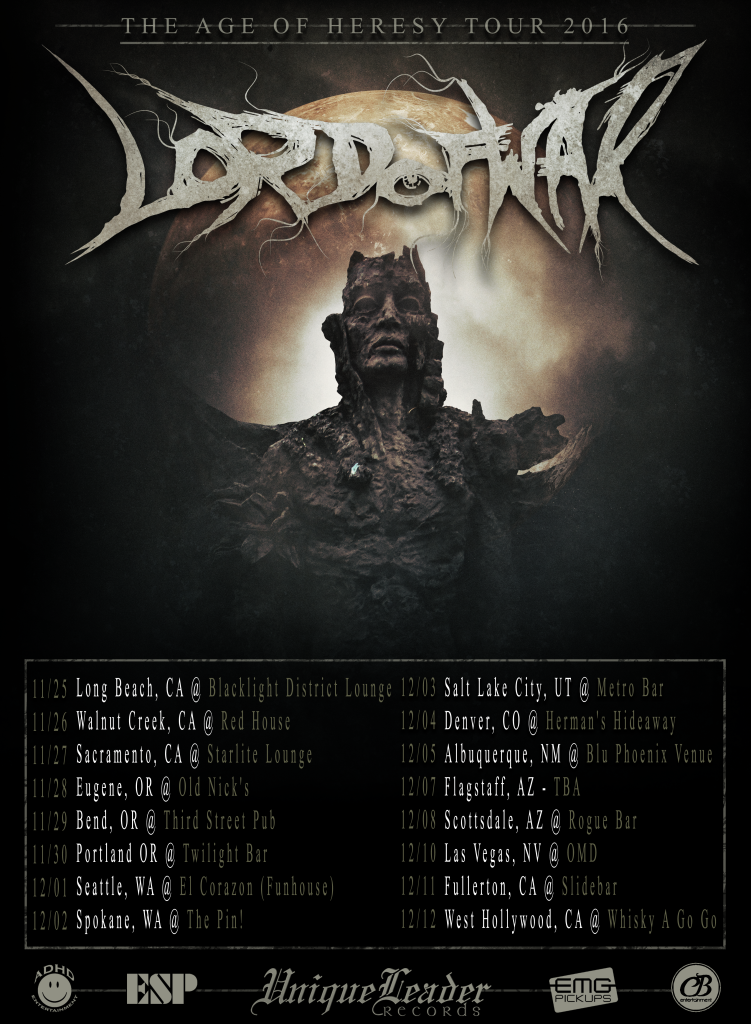 LORD OF WAR w/ Vader, Hate Eternal, Threat Signal, Apophys:
11/04/2016 Druckerei – Bad Oeynhausen, DE
11/05/2016 Juz-Live-Club – Andernach, DE
11/06/2016 L'Entrepôt – Arlon, BE
11/07/2016 F-Haus – Jena, DE
11/08/2016 Café Central – Weinheim, DE
11/09/2016 Dynamo Zürich – Zurich, CH
11/10/2016 Le RAT'S – Puget, FR
11/11/2016 Circolo Colony – Brescia, IT
11/12/2016 Backstage – Munich, DE
11/13/2016 Baroeg – Rotterdam, NL
11/14/2016 The Dome – London, UK
11/15/2016 The Courtyard – Birmingham, UK
11/16/2016 Tivoli – Bremen, DE
11/17/2016 Patronaat – Haarlem, NL
11/18/2016 Nuke Club – Berlin, DE
11/19/2016 Turock – Essen, DE
11/20/2016 Alte Zuckerfabrik – Rostock, DE
End Tour
11/25/2016 Blacklight District Lounge – Long Beach, CA
11/26/2016 Red House – Walnut Creek, CA
11/27/2016 Starlite Lounge – Sacramento, CA
11/28/2016 Old Nick's – Eugene, OR
11/29/2016 Third Street Pub – Bend, OR
11/30/2016 Twilight Bar- Portland, OR
12/01/2016 El Corizon (Funhouse) – Seattle, WA
12/02/2016 The Pin! – Spokane, WA
12/03/2016 Metro Bar – Salt Lake City, UT
12/04/2016 Herman's Hideaway – Denver, CO
12/05/2016 Blu Phoenix Venue – Albuquerque, NM
12/07/2016 TBA – Flagstaff, AZ
12/08/2016 Rogue Bar – Scottsdale, AZ
12/10/2016 OMD – Las Vegas, NV
12/11/2016 Sidebar – Fullerton, CA
12/12/2016 Whiskey A Go Go – West Hollywood, CA
Metal Hammer offers of the new album, "Suffer absolutely trounces all-comers with an exhilarating blend of ultra-modern brutality, irresistible grooves, chilling atmospherics, and some startlingly refined and mature songwriting. Most importantly, it will definitely kick your face off." In a 4.5/5 review of the record, New Noise Magazine champions a sound that, "finds a balance between Despised Icon's technical deathcore and 7 Horns 7 Eyes' atmospheric melodeath," adding, "The band clearly understands how to execute all aspects of the deathcore style to perfection, which makes Suffer such a fine album…Modern death metal doesn't get much better than this." Wonderbox Metal concurs, "LORD OF WAR's second album is a finely-realized and impressive slab of high-energy death metal that has enough variety and interest to really stick out. Their brand of brutality features as much melodic feeling as it does deathcore beatdowns, making for an album that has depth, longevity and a massive amount of bite." Adds Dead Rhetoric in an 8/10 score, "Suffer takes strong cues from the modern death metal scene and wraps them up into a punishing yet memorable package. Able to tap into both the atmospheric and deathcore communities with equal might… there should be plenty of metal fans who find something to enjoy with LORD OF WAR's latest. Heavy enough to knock down a few walls, but plenty of interesting things happening in the background to draw you in for future listens."
http://www.facebook.com/lordofwarmetal
http://www.twitter.com/lordofwarmetal
http://www.youtube.com/user/lordofwartv
http://www.uniqueleader.com
http://www.facebook.com/UniqueLeaderRecords
http://www.uniqueleaderrecords.bandcamp.com