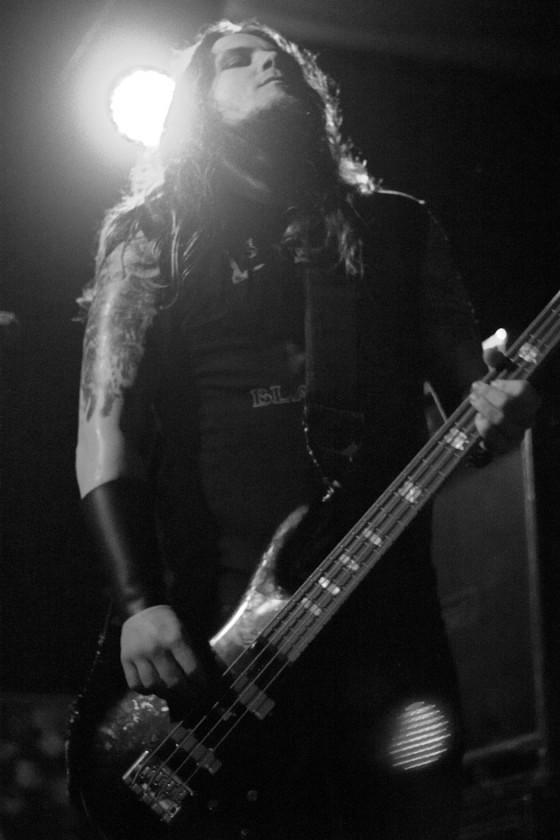 After months of antagonism, propaganda and controversy preceding its arrival, the date for the newest scourge from Chicago's LORD MANTIS is upon us.
One of the most morally corrosive and foundation-crumbling extreme releases of the year, LORD MANTIS' third album, Death Mask, has been raiding international media outlets for weeks ahead of its release, leaving a lasting impression on several levels; both as one of the most scathing metal works of 2014, and as a no-holds-barred reminder of just how perpetually disgusting the ways of humankind and our daily lives really are. Delivering some of the most bottom-dredging, soulless, nihilistic metal imaginable, built of the most slamming chords and grueling buildups and penetrated from every side with the most corrosive vocal tirades, the fifty-minute Death Mask was recorded with Sanford Parker (Twilight, Voivod, Eyehategod, Yob) at Chicago-based Electrical Audio and Soma Studios, also responsible for engineering both of the band's previous LPs for Seventh Rule and Candlelight. The record features guest vocal infiltrations by Dylan O'Toole of Indian and cover artwork by tattooist/musician Jef Whitehead (Leviathan, Twilight), and is set for parole this Tuesday, April 29th, as LORD MANTIS' first release through Profound Lore.
With just days until the LORD MANTIS contagion wipes us out, Invisible Oranges and BrooklynVegan are now streaming Death Mask… CLICK THIS.
For all venturesome adrenaline hunters in the area, LORD MANTIS will storm the Cobra Lounge on their hometown turf for a Death Mask record release show tonight, Friday, April 25th. Rounding out this gnarly gala will be Murmur, Abigail Williams and Terminate, the latter two also containing members of the MANTIS collective.
Additional LORD MANTIS' tour dates including an East Coast Run to Martyrdoom in NYC to perform alongside Mournful Congregation, Lycus, Vilkacis and Evoken on July 1st will be announced shortly.
LORD MANTIS Live:
4/25/2014 Cobra Lounge – Chicago, IL Death Mask Record Release Show: w/ Abigail Williams, Murmur, Terminate [info]
7/01/2014 Saint Vitus Bar – Brooklyn, NY @ Martyrdoom w/ Mournful Congregation, Lycus, Vilkacis, Evoken
"…Lord Mantis sound like sludge and black metal gleefully splitting a spite-fuck baby." – Decibel
"Death Mask is a unique creation – a deviant, disturbing but thoughtful fragment of art that demands that you listen carefully and more importantly, lose yourself in the darkness of Fell's mind." – Noisey/Vice
"…a punishing ride that is at times equally soulful and unsettling. It sounds like black metal metal's skeleton, stripped of the majority of the genre's sillier trappings. One song after another, the music blasts over the listener like a violent wind in the desert, bathing them in grit and filth." – Invisible Oranges
"…Lord Mantis are all lascivious, libidinous filth, meant to make us move to the music and feel disgusting doing it. Carnal instinct lies beneath the graphic violence – like a tryst gone wrong in a slaughterhouse bathroom, the record revels in the kind of imagery that's designed to make you tingle in all the wrong ways. Try as you might, it's hard to look away. Listen." – Stereogum
"The tracks don't blaze by, searing the paint off the walls, and they don't trudge along in a sludge pattern. The motion is exact and precise, winding across the seven tracks here with a controlled but seething malice that's genuinely unnerving." – Steel For Brains
"It would have been simple enough for Lord Mantis to turn up the intensity a bit and write another Pervertor, but they are able to separate Death Mask from their other two releases with ease. The progress made by these four musicians is paramount to how sharp this album is, as they dive further into the deep end of a pool of acidic sonic bile. 4/5" – About.com
https://www.facebook.com/lordmantisofficial
http://www.lordmantis.com
http://www.profoundlorerecords.com
https://www.facebook.com/profoundlorerecords