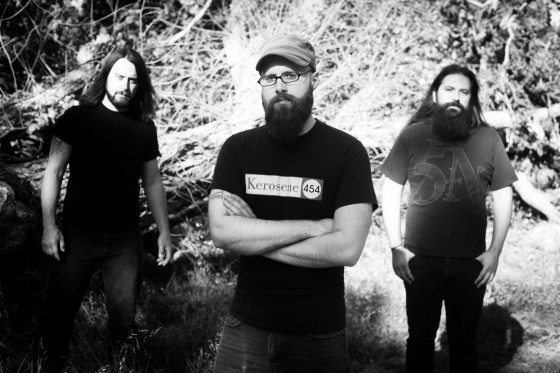 "Retarded mathematics for and played by geniuses. Sonic exfoliant for picking at your inner scab. Transplanted to Tejas from somewhere even worse, these guys seem to be shedding some kind of deep-seeded issues through their instruments. I know, I was abducted by them for a week and forced to record them in a barn. I got brutalized. I'm still in therapy…" – Billy Anderson
Sonically-destructive Austin power trio, LIONS OF TSAVO, following a nearly four-year silence between releases, will deliver their third full-length album this November.
Boasting their crushing upbeat sludge/doom, and building on the vestiges of their previous recordings, but taking everything to another level of intensity this time, Traverser is indisputably LIONS OF TSAVO's most well-executed and tonally dominating release of the band's ongoing lineage. With elements expanding the genre into their own unique vision, arguably akin to contemporary greats like Mastodon, Hull, Today Is The Day, Inter Arma and Keelhaul in a cavernous void between gargantuan stacks of amplification, Traverser rages with over fifty-two minutes of enormous, debilitating riff-vs.-percussion displays of bruising music that never ceases to throw a new headbender at you with every turn.
Traverser's second hymn, "Tunnel Giant," can be heard now RIGHT HERE.
Washington-based Toxic Assets Records (Unmothered, Inter Arma, Struck By Lightning, etc.) will release Traverser on CD Digipak and digital formats on November 1st, with an LP version to follow at a later date.
In support of the album's public unleashing, LIONS OF TSAVO will undergo a rigorous set of November tour actions, beginning in Houston the day Traverser is released, with two weeks of city-to-city devastation through the Southeastern and Eastern Midwest states to follow. View the current itinerary below; final tour details and additional upcoming shows will be confirmed in the coming days.
Traverser Track Listing:
1. Circuitous
2. Tunnel Giant
3. Bestial Heavens
4. Berlahars
5. Circuital
6. Chemotrophs
7. Traverser of Guriin
8. Permafrost
9. Hibernation
10. Sea of Crises
11. Negentropy
LIONS OF TSAVO Traverser Tour:
11/01/2013 East Side Social Center – Houston, TX w/ Bowel, Omotai, Funeral Horse
11/02/2013 Center Stage – Lake Charles, LA
11/03/2013 TBA
11/04/2013 The Groundswell – Knoxville, TN w/ Dead Injun
11/05/2013 The Hideaway – Johnson City, TN w/ Manic Scum
11/06/2013 The Coffee Pot – Roanoke, VA w/ Steel Reign, The 19's
11/07/2013 Casa Fiesta – Washington, DC w/ So Hideous
11/08/2013 Blue Nile – Harrisonburg, VA w/ Valkyrie
11/09/2013 TBA Morgantown, WV w/ Hericide
11/10/2013 Tree Bar – Columbus, OH w/ Dark Twin, Earthburner
11/11/2013 Butt Temple – Bloomington, IN w/ Torturess, Boddicker, Agakus
11/12/2013 Haymarket Whiskey Bar – Louisville, KY w/ Ritual Void, Hellfire Militia, Devil and the Darkness
11/13/2013 TBA – Nashville, TN
11/14/2013 Buccaneer Lounge – Memphis, TN w/ Shards of Humanity, Treeburner, Thetan
11/15/2013 Bear's – Shreveport, LA w/ Wartrodden, Cloudbreather
11/16/2013 TBA – Denton, TX
The band began as a working entity in Austin, Texas, in the year 2004, the members crawling forth from the ashes of such bands as Ambassador 990 (Columbus, Ohio) and Scab (Lafayette, Indiana). Primarily being drawn together after attending Columbus College of Art & Design and performing in bands around Columbus, in search of an altogether heavier sound, Ryan Chamberlain convinced bandmates Josh Dawkins and Matt Walker to make the trek down to Austin in order to have a clean slate and create some apocalyptic music that no one could classify.
LIONS OF TSAVO set out to conquer not only on the strength of the material, but also by the sheer volume and density of sound. Attracting interest from recording engineers such as Steve Austin (Today is the Day), and Billy Anderson (Neurosis, Sleep, Melvins), the stage was set to record their first full-length on Ovrcast. The Tsunamicron digipak was released in 2005, engineered by Billy Anderson. Tours and festival appearances with the likes of High on Fire, Intronaut, Baroness, Saviours, Giant Squid and Earthless ensued, while gaining traction for the next album. Ovrcast released Firelung in 2008, recorded by Bryan Richie (The Sword) and mixed by Sanford Parker. Daine Vineyard arrived from Virginia and joined the fold on bass in early 2009, while Matt switched to guitar; a crushing four-piece was formed and LIONS OF TSAVO recorded an EP with Bryan Richie entitled Swarm of All the Unholy. After almost two years as a four piece, Matt decided to leave the band in order to pursue his own journeys, the band reverting back to an intense power trio. This lineup toured more heavily with Black Cobra, Inter Arma, Kill the Client, Baring Teeth, Zoroaster, and Black Tusk while focusing on dynamics to compliment the already punishing riffs.
Deciding to take matters into their own hands, LIONS OF TSAVO self-produced their fourth release in 2013. Eviscerating landscapes through blood spitting riffs and mind altering psychedelics, Traverser is both destruction and redemption incarnate; a conceptual album where the music, lyrics and artwork align, and cannot be separated.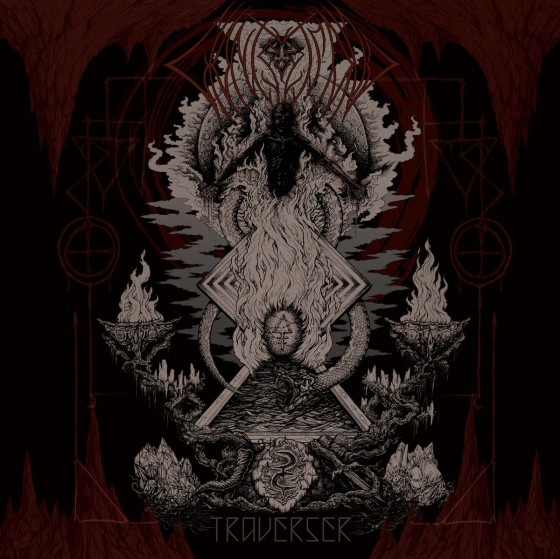 http://lionsoftsavo.bandcamp.com
https://www.facebook.com/lionsoftsavo
http://www.toxicassets.com
https://www.facebook.com/ToxicAssetsRecords