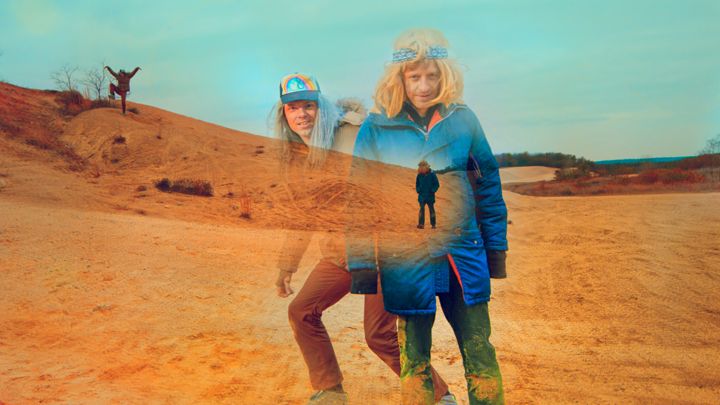 Over the course of its two-decade existence, noise duo LIGHTNING BOLT has revolutionized underground rock in immeasurable ways. The pair broke the barrier between stage and audience by setting themselves up on the floor in the midst of the crowd. Their momentous live performances and the mania they inspired paved the way for similar tactics used by Dan Deacon and literally hundreds of others. Similarly, the band's recordings have always been chaotic, roaring, blown out documents that sound like they could destroy even the toughest set of speakers.
Set for release next month, Fantasy Empire, LIGHTNING BOLT's sixth album — and first in six years — is a fresh take from a band intent on pushing themselves musically and sonically while maintaining the aesthetic that has defined not only them, but an entire generation of noisemakers. It marks many firsts, most notably their first recordings made using hi-fi recording equipment at the famed Machines With Magnets, and their first album for Thrill Jockey. More than any previous album, Fantasy Empire sounds like drummer Brian Chippendale and bassist Brian Gibson are playing just a few feet away, using the clarity afforded by the studio to amplify the intensity they project. Every frantic drum hit, every fuzzed-out riff, sounds more present and tangible than ever before.
Fantasy Empire is ferocious, consuming, and is a more accurate translation of their live experience. It also shows LIGHTNING BOLT embracing new ways to make their music even stranger. More than any previous record, Chippendale and Gibson make use of live loops and complete separation of the instruments during recording to maximize the sonic pandemonium and power. Gibson worked with Machines very carefully to get a clear yet still distorted and intense bass sound, allowing listeners to truly absorb the detail and dynamic range he displays, from the heaviest thud to the subtle melodic embellishments. Some of these songs have been in the band's live repertoire since as early as 2010, and have been refined in front of audiences for maximum impact. This is heavy, turbulent music, but it is executed with the precision of musicians that have spent years learning how to create impactful noise through the use of dynamics, melody, and rhythm.
In celebration of its forthcoming release, today Rolling Stone offers up opening crusher, "The Metal East," alongside an in-depth interview with the band ,for public consumption. Check it out at THIS LOCATION.
Fantasy Empire Track Listing:
1. The Metal East
2. Over the River and Through the Woods
3. Horsepower
4. King of My World
5. Mythmaster
6. Runaway Train
7. Leave the Lantern Lit
8. Dream Genie
9. Snow White (& The 7 Dwarves Fans)
Fantasy Empire will be released March 24th, 015 via Thrill Jockey. In addition to standard formats, Thrill Jockey is offering a limited pressing of 300 deluxe double LP versions on black-and-white swirl vinyl. Preorder packages are available at THIS LOCATION.
LIGHTNING BOLT on Facebook
http://www.facebook.com/ThrillJockey
http://www.thrilljockey.com