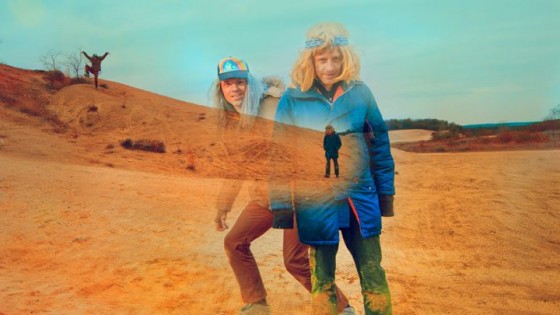 Long-running noise duo, LIGHTNING BOLT, recently dropped the forbidden bounty of their long-anticipated new full-length, Fantasy Empire, upon the masses. Released last month, the band's sixth album – and first in six years – is a fresh take from a band intent on pushing themselves musically and sonically while maintaining the aesthetic that has defined not only them, but an entire generation of noisemakers. It marks many firsts, most notably their first recordings made using hi-fi recording equipment at the famed Machines With Magnets, and their first album for Thrill Jockey.
Crowned, "a straight-up face-ripper," by Stereogum, who further champions the pair's, "grainy assaultive spree of riffs and drum-spazzouts," Fantasy Empire sounds like LIGHTNING BOLT drummer Brian Chippendale and bassist Brian Gibson are playing just a few feet away, using the clarity afforded by the studio to amplify the intensity they project. Every frantic drum hit, every fuzzed-out riff, sounds more present and tangible than ever before. "Fantasy Empire packs every second of its forty-eight minutes with what essentially sounds like a rabid baboon trapped inside a transistor that's being tumble-dried alongside an anvil and an amp," determines Steel For Brains. While Spin applauds the record's extreme, through meticulously executed variation. "Fantasy Empire equally splits its time between the physical and metaphysical. It belongs as much in a musty basement as it does in an art gallery. Listen to the crack of Chippendale's snare against Gibson's bass on a cosmic level, or get in the pit and try to love someone; Fantasy Empire cuts both ways and leaves you bloody." Adds NPR, "Listening is akin to the scene in The Wizard Of Oz where a sepia tone gives way to Technicolor; it opens up new vistas to the sound, while giving the band an opportunity to exhibit more involved musicianship. It's less a blur and more a detailed map of planned aggression."
Commemorating its release and serving as a precursor to their forthcoming live assault, LIGHTNING BOLT is pleased to unveil the official new video for first single, "The Metal East." Created by New York City-based animator and illustrator Lale Westvind, the trippy, delightfully kaleidoscopic clip initially premiered during Adult Swim Sunday night and is currently traumatizing eyes at THIS LOCATION.
LIGHTNING BOLT will embark upon an epic US tour next week supporting the devouring sounds of Fantasy Empire. Set to commence on April 15th in Buffalo, the pair will trounce twenty-nine cities on a cross country live invasion with the concluding show to take place on May 17th in Cambridge. Team LIGHTNING BOLT will be joined by Canadian noise rock unit METZ, as well as New York black metal collective, Liturgy, on select dates.
LIGHTNING BOLT:
4/15/2015 Mohawk Place – Buffalo, NY w/ METZ
4/16/2015 Double Happiness – Columbus, OH w/ METZ
4/17/2015 Beachland Ballroom – Cleveland, OH w/ METZ
4/18/2015 The Loving Touch – Ferndale, MI w/ METZ
4/19/2015 Empty Bottle – Chicago, IL
4/20/2015 Turf Club – Saint Paul, MN
4/21/2015 The Luminary Center for the Arts – St. Louis, MO
4/22/2015 Jackpot Music Hall – Lawrence, KS
4/24/2015 GLOB – Denver, CO
4/25/2015 Kilby Court – Salt Lake City, UT
4/27/2015 The Shredder – Boise, ID
4/28/2015 Neumos – Seattle, WA w/ Liturgy
4/29/2015 Dantes – Portland, OR w/ Liturgy
5/01/2015 The Chapel – San Francisco , CA w/ Liturgy
5/02/2015 Leo's – Oakland, CA w/ Liturgy
5/03/2015 Echoplex – Los Angeles, CA w/ Liturgy
5/04/2015 Constellation Room – Santa Ana, CA w/ Liturgy
5/05/2015 Casbah – San Diego, CA w/ Liturgy
5/06/2015 Valley Bar – Phoenix, AZ
5/08/2015 Austin Psych Fest – Austin, TX
5/09/2015 Siberia – New Orleans, LA
5/10/2015 Mammal Gallery – Atlanta, GA
5/11/2015 Kings – Raleigh, NC
5/12/2015 Rock & Roll Hotel – Washington, DC
5/13/2015 Floristree – Baltimore, MD
5/14/2015 First Unitarian church – Philadelphia, PA
5/15/2015 The Wick – Brooklyn, NY
5/16/2015 Le Poisson Rouge – New York, NY
5/17/2015 The Sinclair – Cambridge, MA
Fantasy Empire is out now on Thrill Jockey. In addition to standard formats, Thrill Jockey is offering a limited pressing of 300 deluxe double LP versions on black-and-white swirl vinyl. To orders yours, scroll on over to THIS LOCATION.
LIGHTNING BOLT on Facebook
http://www.facebook.com/ThrillJockey
http://www.thrilljockey.com