Tucson's caustic metal outfit, LETHAL DOSAGE, has confirmed the second tour in support of their sophomore full-length, Consume.
Following their Consume The Southwest run in February, preceding the release of Consume, the latest LETHAL DOSAGE run will now take place on a more widespread level, venturing well beyond the extreme Southwestern region into Texas, Louisiana, Colorado, New Mexico in addition to their native Arizona. With eleven shows confirmed, the itinerary runs from June 18th in the band's hometown and running through 28th in Albuquerque.
LETHAL DOSAGE Consume The West 2014:
6/18/2014 The Rock – Tucson, AZ
6/19/2014 Hap Hazard Hall – Las Cruces, NM
6/20/2014 Kegler's Lounge – Midlands, TX
6/21/2014 Beerland – Austin, TX
6/22/2014 Twist O' Lime – New Orleans, LA
6/23/2014 The White Swan – Houston, TX w/ Lycus
6/24/2014 Taqueria Perditos – Dallas, TX
6/25/2014 Depot O Bar – Lubbock, TX w/ Rattlehead
6/26/2014 Kvlt Haus – Colorado Springs, CO
6/27/2014 Phil's Radiator – Pueblo, CO
6/28/2014 The Jam Spot – Albuquerque, NM
LETHAL DOSAGE released Consume in February via local cohorts, Battleground Records. Having harnessed the band's massive
live sound at Arcane Digital Studio, engineered by Ryan Butler and then finalized at Sonorous Mastering, Consume contains over fifty minutes of groove-heavy, contemporary metal comparable in parts to Lamb Of God, Chimaira, Pantera and the like, yet breathing with LETHAL DOSAGE's own desert-baked, contaminant-induced volatility.
The Consume digipak is available for $8 exclusively at Earsplit Distro, and the digital available via Bandcamp and more.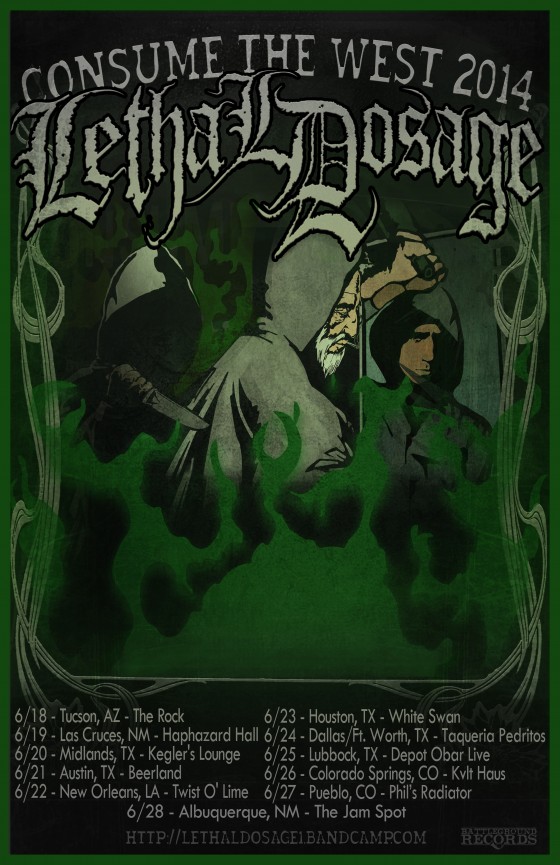 https://www.facebook.com/LethalDosageTucson
http://lethaldosage1.bandcamp.com
https://www.facebook.com/battlegroundrecords