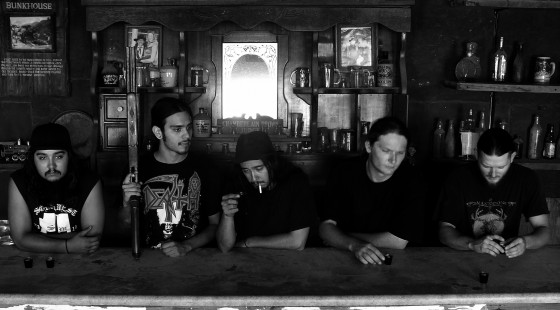 Tucson, Arizona-based LETHAL DOSAGE has joined with local brutes' Godhunter's newly-founded Battleground Records for the release of their second full-length, Consume, now set to be ingested late this February.
LETHAL DOSAGE self-released their debut album, Inhale, in mid-2011, followed by regional touring ever since. After their breakthrough performance at the 2013 installment of the Southwest Terror Fest supporting Sacred Reich and Landmine Marathon in their hometown, the head of the fest, and founder of Battleground Records, brought the pummeling act under the new label's cape, eager to unleash the bestial hammerfuck of their newly recorded Consume full-length. LETHAL DOSAGE releases a brutal, modern, death-influenced, groove-laden style akin to Chimaira and Lamb Of God, delivered through a caustic sludge production on Consume. Bearing fifty minutes of carnage, the album was recorded at Arcane Digital Studio, produced and mixed by Ryan Butler and mastered at Sonorous Mastering. Battleground will release Consume with a digipak CD and digital delivery on February 25th.
LETHAL DOSAGE will tear through their region of the country on the Consume The Southwest Tour in February in support of the album's release, alongside Psykryptyca from Las Cruces, New Mexico. The itinerary for this run will be announced in the coming days, and a much more extensive excursion is also being planned for the Summer months.
Consume Track Listing:
1. Drink
2. Black Eye
3. Katheter
4. Poor-Man
5. Melody
6. Gods Shall Perish
7. Matter Of Honor
8. Time To Think
9. Consume
10. Sleep
https://www.facebook.com/LethalDosageTucson
http://lethaldosage1.bandcamp.com
https://www.facebook.com/battlegroundrecords