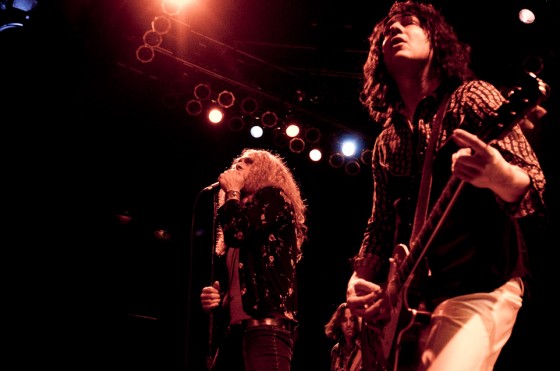 The country's favorite Led Zeppelin tribute band, LED ZEPPELIN 2, is back! Following a brief period of dormancy, the band – fronted by Yakuza's Bruce Lamont – will return to the stage beginning with a special set at Chicago's Ben Fest this Saturday, marking their only area appearances of the year. In August the band will head West for shows in California and Nevada and in September, make their way to Ohio and Michigan with, additional performances to be announced soon.
LED ZEPPELIN 2:
7/20/2013 Ben Fest – Chicago, IL [more info] * only area appearance!
8/15/2013 Ace of Spades – Sacramento, CA [more info]
8/16/2013 House Of Blues – Las Vegas, NV [more info]
8/17/2013 Slims – San Francisco, CA [more info]
8/18/2013 House of Blues – Los Angeles, CA [more info]
9/21/2013 Bogart's – Cincinnati, OH [more info]
9/22/2013 St. Andrews Hall – Detroit, MI [more info]
Dubbed "…the best Zep band going anywhere," by Time Out New York, "…the closest thing to seeing the real Led Zeppelin," by The Dallas Observer and commended for their "authentic raw flair," by Atlanta's Backstage Beat, who note that it's, "hard to believe how balls-out fantastic they are," LED ZEPPELIN 2 continue to reap critical accolades for their larger-than-life Zep reenactment. Rather than a kitschy "greatest hits" show however, you get to experience Zeppelin as Zeppelin would have played live themselves, playing deep cuts and classic tracks from the entire catalog, and occasionally entire ZEPPELIN performances from specific shows and sets from the band's storied history.
"LED ZEPPELIN 2 demonstrated an unparalleled ability to mimic the original… the energy in the room reverberated as the band owned the stage." — The Third Word
"There are a lot of ZEP tributes out there, but this one's our favorite, not least because its members fully immerse themselves in the musicianship and style of the four classic-rock heavyweights. That Yakuza howler Bruce Lamont does a mean Robert Plant is icing on the cake." – Time Out Chicago
"…these imitators get the LED out in a way your battered copy of Physical Graffiti never will, right down to the unearthly tones of guitarist Paul Kamp's bowed Les Paul solos. Sure, purists are still holding out for the real deal's tour, but even if that happens, it's doubtful that Robert Plant can wail the opening lines of 'Black Dog' as well as his LED ZEPPELIN 2 counterpart, Bruce Lamont," – The Onion
"The band is on its way out of the minor leagues, and is now playing bigger venues for a generation of fans too young to have ever experienced the genuine article." – The New Yorker
http://www.ledzeppelin2.com
http://www.facebook.com/LedZeppelin2
https://twitter.com/ledzep2live