One week from today — on Thursday, April 1st — the new LAIR OF THE MINOTAUR video will be unleashed via a special premiere on Decibel Magazine's "Deciblog." The video is for "Evil Power," the title track to the band's menacing upcoming fourth full-length release.
Directed by Ryan Oliver of cult horror cinema company Deathblow Productions, the video features more blood, gore, violence and nudity in under three-and-a-half minutes than some full-length slasher films, and shall prove to be one of the most cruel videos in the history of heavy metal. Watch innocent virgins being offered up to the massive minotaur for sacrifice. Reel in horror during the evisceration and dismemberment of these beauties while your head bangs uncontrollably to LOTM's thunderous soundtrack.
Stop by the Deciblog on April Fool's Day to witness the carnage!!!
http://decibelmagazine.com/blog/
Set for release April 13th on the band's own The Grind-House Records, Evil Power was recorded by Sanford Parker in the band's Chicago stomping grounds. Comprised of Centurions Steve Rathbone (vocals/bass), Chris Wozniak (drums) and introducing new bassist Nate Olp (Demiricous), LOTM's patented Greek mythology-inspired brutality continues on Evil Power, laying all in its path to waste with a stripped-down approach as heavy as the Kraken, while showing off the LOTM's punk and crossover influences.
Evil Power will be in stores and available via digital download on iTunes, Amazon mp3, eMusic, Lala, Shockhound, Napster, Zune, Rhapsody, LimeWire, IMVU and Myspace Music on April 13, 2010, and the CD will also be available direct from the band/label Thursday, April 1st, in conjunction with the video premiere. The record will be distributed by Southern Lord Records, who have released the band's previous three albums on CD and vinyl, two EPs and DVD.
The first leg tour promoting the release will kick off the week of the album's release as well, with plenty more to be announced throughout the year.
LAIR OF THE MINOTAUR Evil Power Spring Tour:
4/16/2010 Melody Inn – Indianapolis, IN w/ Coffinworm
4/17/2010 Peabody's – Cleveland, OH w/ Solopsist
4/18/2010 Sonar – Baltimore, MD w/ Revolta, Wolfnuke
4/19/2010 M Room – Philadelphia, PA w/ Ludicra, Tombs, Krallice
4/21/2010 The Charleston – Brooklyn, NY w/ The Binary Code, Elks
4/22/2010 Velvet Lounge – Washington DC w/ Ol Scratch, Admiral Browning
4/23/2010 Broadway Joe's – Buffalo, NY w/ Cattle Decapitation, Gaza
4/24/2010 The Summit – Columbus, OH w/ Fools Crown
"So primitive is Evil Power, in fact, that it's like moving from a Bronze Age sword to a straightforward mace, and it just might wind up being the band's masterstroke." – Decibel Magazine
"It's good to see a band of their stature looking to expand their audience the old fashioned way – by starting up their own label and putting out a solid as fuck record." – Stonerrock.com
"Their sound is still based on some of the most pummeling metal the US has ever produced, but several of their tracks show an affinity for hard rock riffing that reminds of Entombed…" – The Obelisk
"Celebrating bloody violence in ways your average videogame designer would never dare, Lair of the Minotaur is arguably the ultimate catharsis for the vengeful misfit in all of us." – Sleazegrinder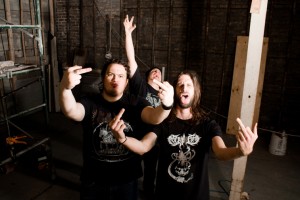 http://www.lairoftheminotaur.com
http://www.myspace.com/lairoftheminotaur
http://www.thegrind-houserecords.com
http://www.southernlord.com
Evil Power is available via Haulix now! Contact an Earsplit henchmen with all press requests for LAIR OF THE MINOTAUR or The Grind-House Records.