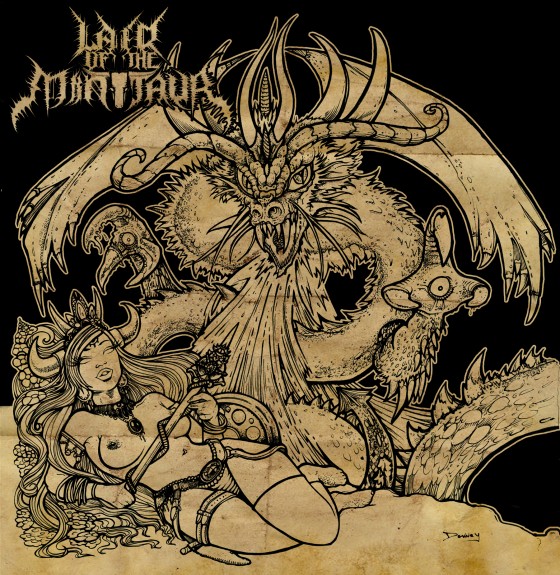 Released for Record Store Day this past weekend, the new 7″ from LAIR OF THE MINOTAUR is now available direct from the band in extremely limited quantities — act now or be forced to live with owning only a digital copy for eternity.
Those who purchase the Godslayer 7″ direct from LAIR OF THE MINOTAUR will instantly receive a free download of the tracks; Stream/purchase/slay now through their Bandcamp.
Celebrating ten years of carnage, and being specifically being released as part of Record Store Day, the two-song Godslayer 7″ is the first new material from LOTM since their crushing 2010-released fourth full-length Evil Power, boasting some of the most gnarly carnage from the trio to date. Mastered by Scott Hull (Pig Destroyer) and boasting cover art by visual artist Tom Denney, Godslayer will see a limited 7″ run of 300 copies as well as digital release through iTunes, Amazon and the like. As with Evil Power¸ Godslayer was unleashed on band's The Grind-House Records.
Following their hometown Record Store Day show at Reckless Records this past weekend, this Saturday LAIR OF THE MINOTAUR will join High on Fire, Municipal Waste, Pig Destroyer, Sweet Cobra and Bloodiest at 3 Floyds Brewery in Munster, Indiana at the annual Darklord Day, where LOTM will also unveil the newest batch of their punishing Evil Power Imperial Pilsner.
LAIR OF THE MINOTAUR Live:
4/27/2013 3 Floyds Brewery – Munster, IN @ Darklord Day w/ High on Fire, Municipal Waste, Pig Destroyer, Sweet Cobra, Bloodiest
"You can never claim you have heard the heaviest music ever until you experienced Chicago Lair of the Minotaur…" – Metal Reviews
"…one hell of an EP, and proof that, even after ten years, Lair of the Minotaur is still pissed off and ready for battle. This two song EP is just over eight minutes, but these two tracks show why this band has had such a strong underground following… 9/10" – Apoch's Metal Review
"Just over eight minutes of raw, ugly and brutal metal that rages with the ferocity of a ravenous beast, Godslayer finds Lair of the Minotaur at their rampaging best. 7.8/10" – Scratch The Surface
"…leaves a morbidly evil lasting impression that audiences won't soon forget… Highly recommended for all, that is if you can handle the sheer unstoppable brutality that lays in wait. 5/5" – Volumes Of Sin
http://www.lairoftheminotaur.com
https://www.facebook.com/pages/Lair-of-the-Minotaur/204157608648
http://thegrind-houserecords.com